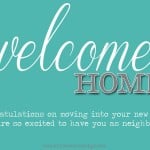 New Neighbor Gift Idea
Hey guys! It's Lyndi with Ellie Bean Design Company! One of my favorite things about my job is to help people build their new custom home. I love helping my clients with the planning, designing, and choosing every single item inside and outside of their new home. I focus on the details and in the end I think that's what makes a home extraordinary and stand out. Once the home is complete and beyond beautiful, I like to leave them with a sweet house warming gift. I have given several different gifts in the past, but here is one that I recently used. This is also perfect for your new neighbor too. You can go big or small and it always turns out looking amazing. I love this idea because it is very practical, but still really cute too! I also have included the "Welcome Home" gift tag to download for free below.
I started with a bunch of products that you would need when moving into a new house. It's all pretty random, but can come in handy when every thing is in a box! I bought all of this from target, including the glass jar!

MY LATEST VIDEOS
MY LATEST VIDEOS
Getting a fun jar of goodies like this would make anyone smile!!
Love Lyndi
---
Lyndi Dunlavy from elliebeandesign.com
Owner of Ellie Bean Design Company and the writer of Ellie Bean Design blog. 5 years ago I found a love for graphic design and now I am passionately involved in interior design and new home building design. I am the mama of four perfect children. My kids are my life and they keep me very busy, but I still find time to be creative. I also enjoy cooking, organizing, planning parties, relaxing on a beach somewhere far away!
---