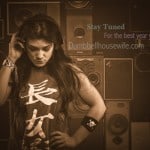 New Year Workout Routines & Recipes
Happy New Year my Over The Big Moon Friends! It has been an amazing year at Dumbbellhousewife! It was filled with unforgettable experiences and memories. I can not tell you how excited I am about 2014 and I can't wait to rock it out with all of you awesome people. A New Year always brings new goals and resolutions. For many of you, your number one goal is to lose weight, lean out, or just live healthier. That is why I am here! To help you and inspire you to reach your fitness goals. So, buckle in, raise your glass, and get ready for a fun, fit, crazy new year! CHEERS!
One of the most important things to achieving success is making sure that you have an archive of information and options. Here are some of my favorite routines that rocked my life this last year. Try them, rock them, and feel the burn!

MY LATEST VIDEOS
MY LATEST VIDEOS
Now that you have some ideas of exercises that you can try, let's move on to FOOD.
Here are some of my favorite recipes that I have lived on for the last couple of months.
Talking about clean and lean food ideas and BOMB workout routines always makes me happy! I want you guys to take this year by the reigns and rock its world!
Good Luck and much love, Amie
To read more from Amie head on over to Dumbbellhousewife.com or check her out on Facebook!
---
Pam Dana
Pam is a stay at home working mama that enjoys all phases of life! Between her 3 kids, fur baby (a beyond cute Goldendoodle), wonderful husband, friends and working, she stays pretty busy! But, she is loving every aspect of her life! Here on Over the Big Moon, she loves to share DIY's, recipes, printables, organization tips and more!
---