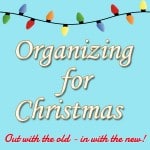 Organizing for Christmas
Happy Monday everybody! I love December and all the fun traditions and activites that come along with it! You can see a full list of activities my family likes to do HERE, but here are a few favorites:
– Write Santa a Letter
– Watch Home Alone

MY LATEST VIDEOS
MY LATEST VIDEOS
– Sledding and Hot Chocolate
– See Nativity at the Temple
– Send out Christmas Cards
– Clean out kids toys and activity closet
Say what?!? Clean out kids toys and activity closet isn't on your list? I'm not lying when I say it's not only on my to-do list, but it's something that I look forward to.
I have one of those personalities that can't handle clutter and a non-stop mess in my house. I wish I could… but I can't. So, in order to keep control of the toys and kids activities I basically created 2 areas in my house that have all the kids stuff!
The first area is the Boys Loft! The boys loft is a huge den in our house that is divided into a bed area and a family room/playroom. The toys and couch, etc take up 1/2 the loft and the boys beds take up the other 1/2.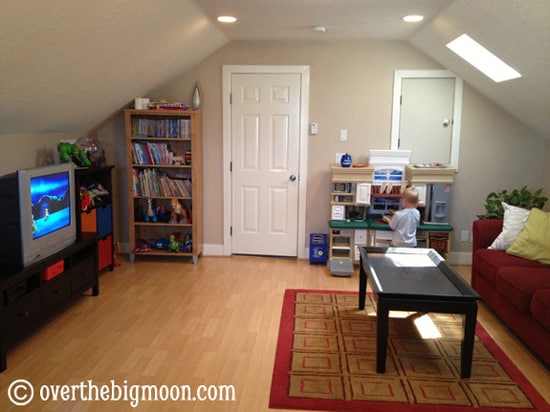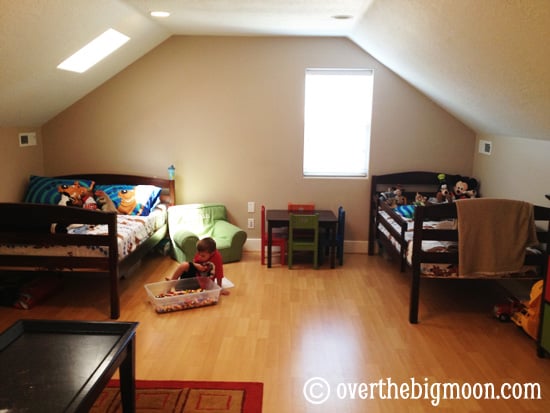 So, when I start this job I go in with the concept that I am creating areas to house the new toys and activities that I know my kids are getting for Christmas. This year we are actually kind of on an anti-toy movement, so cleaning out the toy area was really more about packing up or giving away any toys that I call "mess toys" or that my boys just don't play with very much. I also made my boys clean out their "special" bins that they fill up with things from school, trinkets, etc. We went through every drawer, bin, shelf, etc. We ended up packing away a set of toys that they don't play with anymore and downsizing their dinosaur and animal collection a tiny bit more. For Christmas they're getting a lot of Lego's, so they will just go in our Lego bin! This area wasn't too bad, because I went through it good a few months ago when Lisa went through her Purge Obsession!
Next up – the activity closet. This is a small closet in a hallway downstairs. I dream of having a closet 2-3 times bigger someday for this kind of stuff! It is an understatement when I say I LOVE THIS CLOSET! Anytime my boys are bored I just tell them to go choose something to do out of the Activity closet and instantly they are creating and using their imaginations and HAPPY!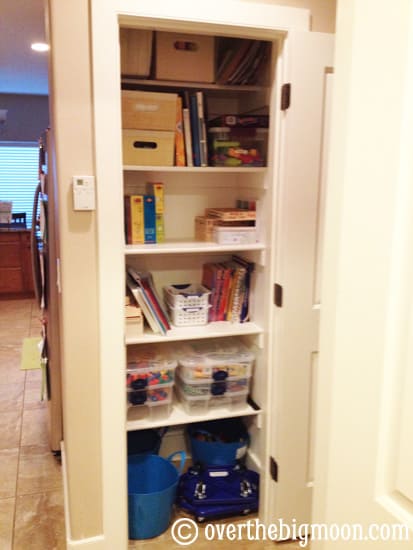 Here is the activity closet after I went through it and made room for some of the activities we're getting them for Christmas! One of the other things I love about this closet is the boys know that they have to ask before doing some of the activities. Some of the stuff is simple and doesn't make a big mess and other items are something that I know I will have to help clean up.
The top two shelves have items that I use pretty regularly when crafting/creating. On the 2nd to top shelf I also have the boys Playdough Bin and Bendaroos.
Here is a quick look into my bins: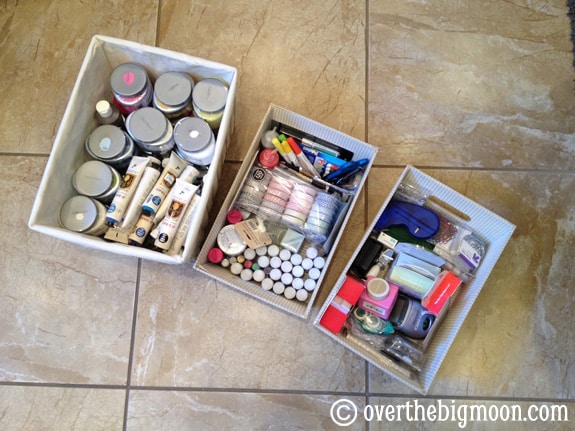 Bin 1: Paint- I love getting Valspar Samples. They are like $3 and last forever for crafts, etc!
Bin 2: Glitter, Bakers Twine, Ribbon, Markers, Scissors, etc.
Bin 3: Organization stuff – double sided tacky tape, glue dots, punches, paper clips, pins, etc.
In that area I also have all white paper, card stock, extra craft paper/cardstock, labels and paper cutter!
The 3rd shelf is all our worksheet books, Bob Books and Melissa and Doug Stamps and Stamp Pad. As you can see I have created a spot to put new items from Christmas!!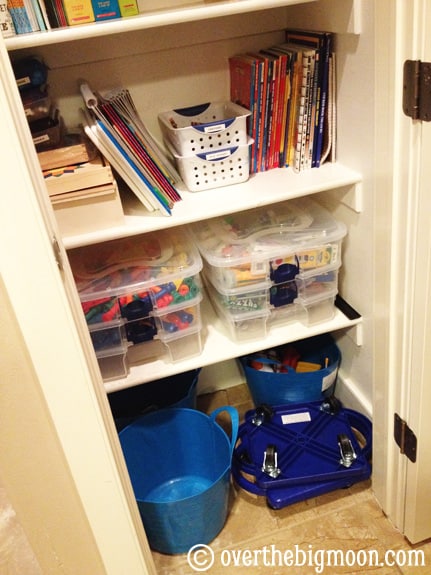 The 4th shelf holds activities and art stuff. This is the most used shelf in our house! On the left you see our containers of Dry Erase Markers & Crayons, Markers and Colored Pencils! They sit on top of our Lacing Beads, Pattern Blocks and Boards, and Puzzle Set! To the right of them are ABC Magnatabs, Dry Erase Activity Center and just a bunch of Dry Erase books, blank boards, tracing sets, etc. In the middle is our big basket of Crayons and to the right is all our coloring books, sticker books, and How-To-Draw books!
The bottom shelf is 2 sets of stacking bins! I scored these on a clearance at Target for $6 a piece! They have been great! My only complaint is that they take more effort for the boys to do themselves. I have plans to find new bins for this shelf in the near future – something like this. The left bin is all building activities!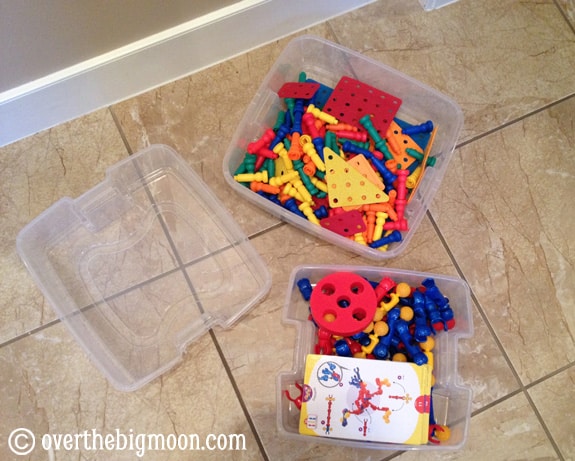 As you can see I emptied one bin in prep for the new Zoobs they are getting for Christmas. The other 2 bins hold their Zoob Jr (which they still love, but are limited on what they can create with them) and Lauri Tall Stacker Pegs. The Zoob Jr's are great for 2-3 year olds, but I would recommend going straight to the plain old Zoob Set if your kids are 4+. I would have gone straight Zoob last year, but Jeffrey was just too young to use them and I wanted something that both my boys could do.
The ground holds bins with other activities: Misc Toys (Remote Control Cars, Walkie Talkies, etc), Balls, and our Little Paradise Car Set!
Isn't it amazing that so many different activities for my kids all fit in one tiny closet?!? It's all about organizing it and MAKING SURE THAT EVERYTHING HAS A PLACE!
So, go and make a list of everything that your kids are getting for Christmas and prepare a place in your house for it! Get rid of the stuff your kids don't use or play with anymore! All it does is make messes and take up space in your house, which in turn makes you CRAZY!
Have a great week everybody!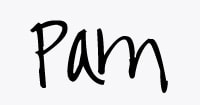 Want to keep up with us at Over the Big Moon….click here to learn how to subscribe!
---
Pam Dana
Pam is a stay at home working mama that enjoys all phases of life! Between her 3 kids, fur baby (a beyond cute Goldendoodle), wonderful husband, friends and working, she stays pretty busy! But, she is loving every aspect of her life! Here on Over the Big Moon, she loves to share DIY's, recipes, printables, organization tips and more!
---