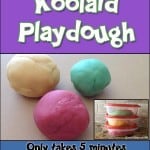 Our Favorite Homemade Playdough Recipe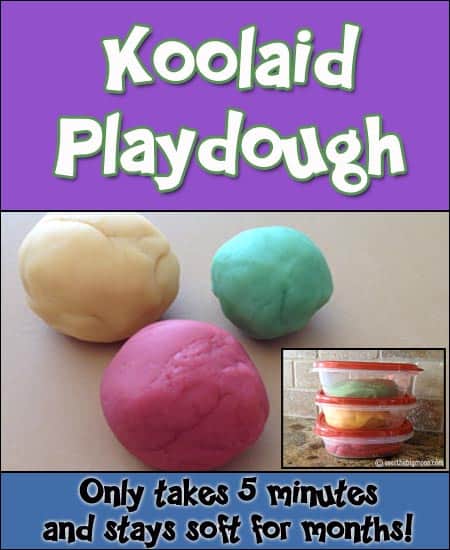 We had cousins over the other day and they were wanting to play with the playdough! So, we decided to make a couple new colors! I have tried probably 3 or 4 different Homemade Playdough Recipes with my boys. I originally made homemade playdough to just have a fun activity to do with Nathan when he was younger. Nathan had such a blast, that he would request to do it often. The other recipes I tried weren't necessarily awful, but when I saw this one, it just jumped out at me. It is the recipe that we have used the last 2 years and WE LOVE IT! It smells SO good and stays soft for months, plus it only takes 5 minutes from start to finish!
I originally saw it posted over at No Ordinary Moments! Thanks so much Jolanthe for sharing it!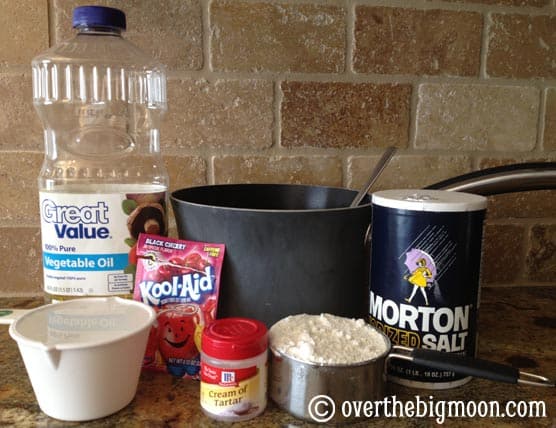 MY LATEST VIDEOS
MY LATEST VIDEOS
Ingredients:
1 cup flour
1/4 cup salt
2 Tbsp cream of tartar
1 envelope unsweetened Koolaid
1 cup water
1 Tbsp. vegetable oil
Instructions:
1) Combine 1 cup Flour, 1/4 cup Salt, 2 TB Cream of Tartar, 1 Envelop Koolaid and 1 cup Water.
2) Turn on medium heat and stir in 1 TB Vegetable Oil and keep stirring for 3 to 5 minutes until the mixture forms into a ball. The mixture will darken in color.
3) Remove from heat and knead for a minute or two.
4) Store in a air tight container or ziplock bag.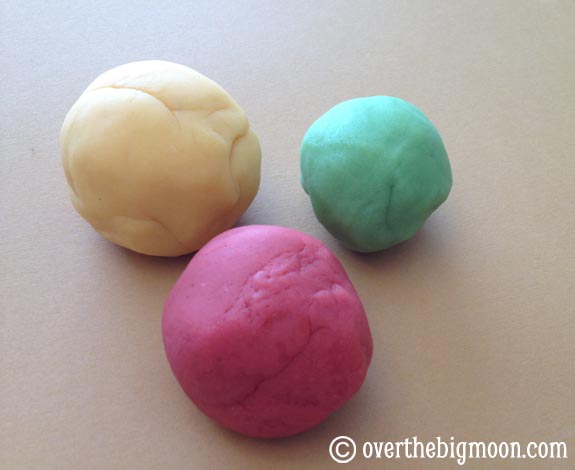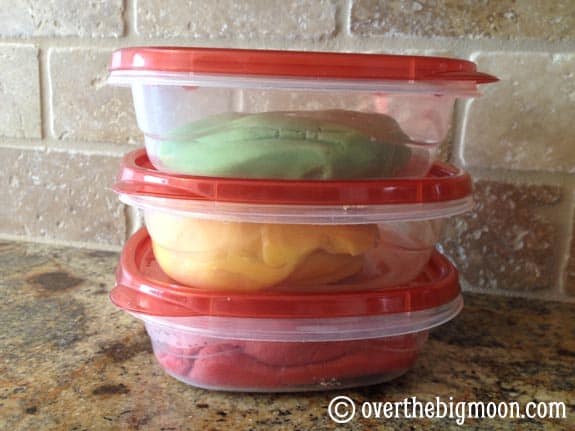 We keep ours in little containers and our playdough stays soft for months of play! Just use different flavors of Koolaid to get all your color options! They have this great Koolaid variation pack on Amazon.
If you haven't ever tried to make your own playdough I highly suggest you try! Your kids will love it and it is so fun to see them so excited about it! GOOD LUCK AND HAVE A BLAST!
Want to keep up with us at Over the Big Moon….click here to learn how to subscribe!
---
Pam Dana
Pam is a stay at home working mama that enjoys all phases of life! Between her 3 kids, fur baby (a beyond cute Goldendoodle), wonderful husband, friends and working, she stays pretty busy! But, she is loving every aspect of her life! Here on Over the Big Moon, she loves to share DIY's, recipes, printables, organization tips and more!
---