Peanut Butter Substitute
One of our boys is allergic to peanuts. What a sad life….I LOVE PEANUT BUTTER! We tried almond butter, but he hated it. My friend, Andee, told me she found a good substitute, Biscoff Spread. I was pretty skeptical, but she gave us a jar anyway!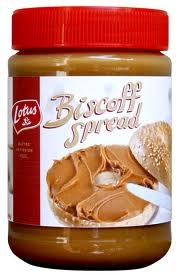 Biscoff Spread
YUM! We all love it. It kind of tastes like graham crackers and it has the same consistency of Peanut Butter. Now he can have a "peanut butter and jelly sandwich!" It makes packing his lunch so much easier and gives him more variety!

MY LATEST VIDEOS
MY LATEST VIDEOS
I can even find it at our Walmart now. Life is so much happier for us all! YEA!
---
Lisa
Previous author of Over the Big Moon. I shared my passion for home and family life! I love graphic design, DIY projects, cooking, and working in my garden! My favorite role is taking care of my husband and our 3 amazing and busy boys!
---