Pool/Splash Pad Bag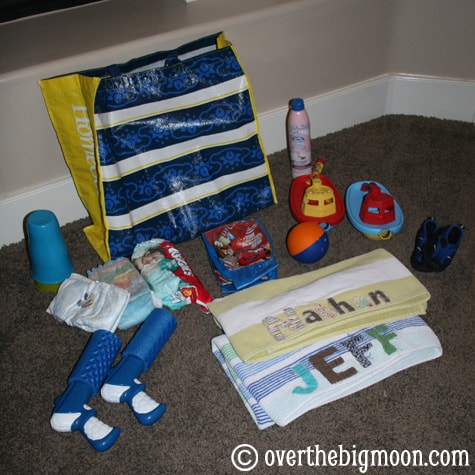 Southern Utah summers get really hot, so the splash pads and pools are full by lunch time!  But, they are an essential to surviving summers here!  hehe 🙂  So, we go at least 2 or 3 times a week during the hot weather months!  Being that I've had little boys the last few years, I can't really keep track of them once the splash pads are too busy.  So, I've made it a habit to go first thing in the morning!  So, I have a summer bag that I keep stocked with all the essential items I need for my boys to have a good time at the pool or splash pad!
The bag I use I actually got from my SIL, Ashley.  She said she bought it at our local TJ Maxx for $1!  It is the perfect material!  It can get wet and wipes off so easy!  I needed it to be big and easy to clean and it is seriously perfect!  I did find this bag on Amazon that would be comparable!
Of course, I always have to have diapers, wipes and swim diapers in there.  Then I keep the boys squirt guns, a few cups, floaties, a ball, sailboats, Jeff's swim shoes (he always demands shoes on), sun screen, a sun screen facial stick and their personalized beach towels in there!

MY LATEST VIDEOS
MY LATEST VIDEOS
I'm telling you the cups get used just as much as all the rest of the toys!  They LOVE to use the cups when we go to Town Square… and we go there a lot!  I will grab plastic cups sometimes too, cause all their little friends want one too.  They are the toy in demand I'm telling you!  haha 🙂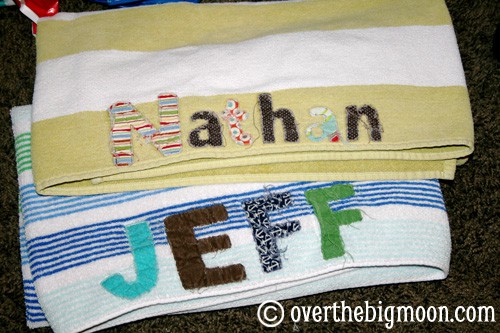 I love our personalized Swim towels!  Sundi from Cheap Chickadee actually made them for me!  I even had some for Lisa's boys, a few other friends kids made too!  They are such a fun gift! I think I'm going to tackle making them each a few more for this summer (and a few gifts too)!  Kids love them!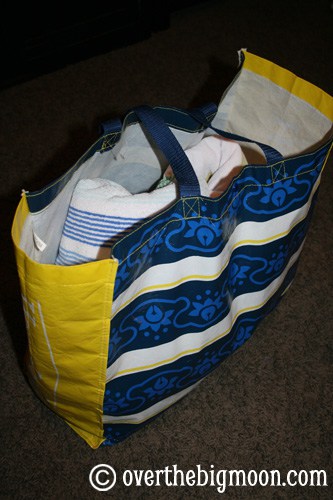 It's not all pretty when it's put together, but that's the beauty in it!  It's simple – you just throw everything in there.  There doesn't have to be organization (wow, never thought I would say that)!!  hehe j/k!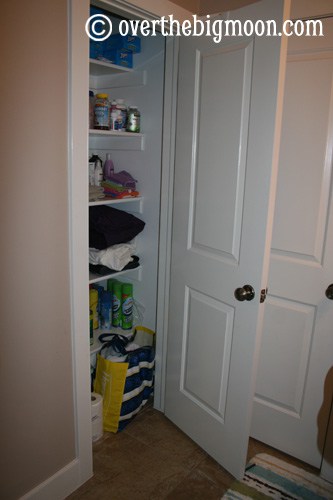 I just keep it in the little hidden storage closet in the boys bathroom!  The other reason I love having it all put together, is cause then if I am not home and want my hubby to grab it.  I don't have to be ranting off a list of items for him to grab!  I just tell him to grab the boys suits and the swim bag!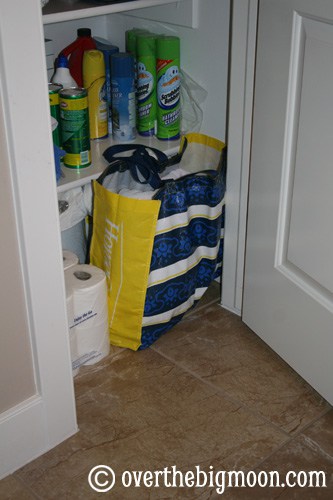 My boys almost always change into their suites before we go.  But, if you generally have your kids change after you get to the pool, then I would just put their suits right into their swim bag!
Then while the kids are eating breakfast and getting their suits on, I throw in some snacks.  Some of my favorite are squeezeable applesauce, grapes, granola bars, fruit leather, fishies and suckers!  Oh and of course WATERS!  All super easy to just throw in the bag!
Sometimes I'm jealous of the point Lisa's life has hit… she can just tell her kids to grab a toy, get there suits on and they're on their way.  All she has to have in her bag is towels, sunscreen and a little zipper bag for her keys and wallet!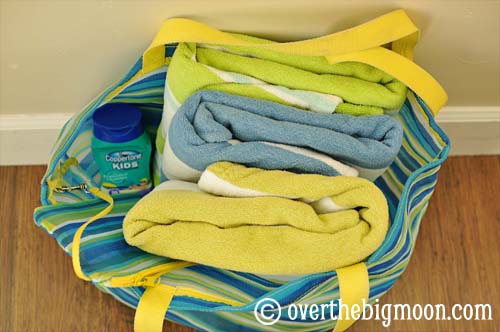 What are your essential pool/splash pad items?  Happy summer fun everybody!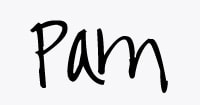 ---
Pam Dana
Pam is a stay at home working mama that enjoys all phases of life! Between her 3 kids, fur baby (a beyond cute Goldendoodle), wonderful husband, friends and working, she stays pretty busy! But, she is loving every aspect of her life! Here on Over the Big Moon, she loves to share DIY's, recipes, printables, organization tips and more!
---