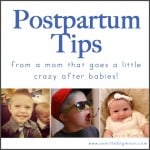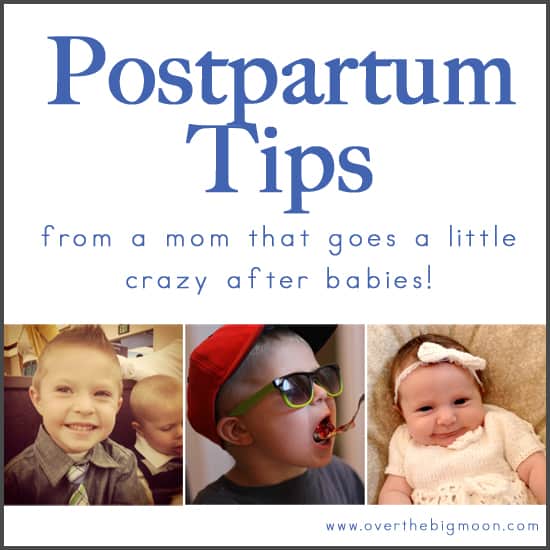 Postpartum Tips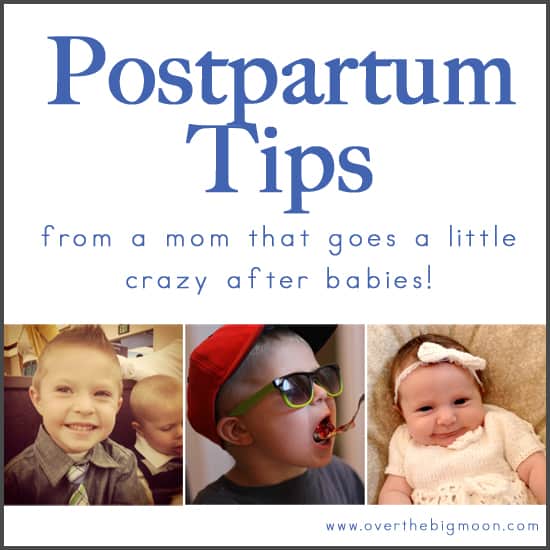 Postpartum – the term post partum doesn't always mean that you are depressed or sad or even a little crazy! Although, if you ask my husband he would quickly tell you that after our 1st and 2nd child I was in fact a little crazy. Postpartum can simply just be the term that is used to explain the period in which you are adjusting after having a baby. So, this article isn't just tips on avoiding postpartum depression, but on adjusting back to real life.
Quickly, let's back up to 5 years ago – I had just had my first born son, Nathan, and I was a crazy person. I had always dreamed of being a mom and thought that I would be a natural. Before he was born I had everything all planned out in my head – how the delivery was going to go and how great nursing was going to be. HA! Then I had a 16 hour labor to end in an c-section. Which was so beyond frustrating, because my sisters have such easy deliveries. Their babies basically fall out of them. Nothing went as planned and I got postpartum depression BAD! It literally hit me while I was still in the hospital and stayed for several months. I cried.. and cried… and cried! And, generally I had NO idea why I was crying. My poor husband could never do anything right, I was tired and generally didn't want people around me. My own sisters and sister-in-laws were almost afraid to come over and actually did really limit their visits for the first few months. No one ever talked to me about postpartum depression – I hadn't even prepared myself that it was even a possibility.
With my second son my post partum was different. I had prepared myself for some postpartum depression, but it didn't arrive as quickly. It wasn't me crying daily over nothing. It came a couple months after he was born and more in the manner that every little thing that didn't go as planned just overwhelmed me and then I would just become an emotional wreck. If my husband had to stay late to work, if people were late to an event we had planned, sick kids, etc. I couldn't handle chaos or be flexible with anything. Even 5 months after my son was born I remember a family Halloween party that I totally got irritated with. It was running super late and made me feel so overwhelmed, that I just grabbed my boys and left. It was all just a bit dramatic, but at the time was such a big deal.
Now here I am… my baby girl is 10 weeks old and I am somewhat feeling back to normal. To be honest, I didn't think it would take me this long and I still have a little ways to go too. I'm sure that it being summer hasn't helped, since we are lacking a schedule, which is what I prefer. But, in between my boys fighting (which is a lot right now) and baby girl getting older I have seen little glimpses of light at the end of this postpartum tunnel!
I have handled this postpartum period differently then the last two. First, I recognized that because my hormones were to blame for the emotional roller coasters I had experienced with the first two babies that I needed to address them. I have used a Phytoestrogen Complex. It has made a BEYOND huge difference this round. Because I got my hormones balanced it allowed me to really recognize and accepted my limits. I will be the first one to say that I can be a little bit of a hot mess after I have babies. But, this time I have been 100% fine with the fact that I am not super women! Before, I would try to make it look like I was handling everything well, but in reality I wasn't. This time I have had no problem saying 'No' to people and not feeling guilty if dinner isn't made that night. Lucky for me, my hubby is awesome at making scrambled eggs and toast for our boys! haha 🙂
We are ALL different and have different needs to thrive as a person. Some people shine in motherhood and some people become crazed mama's for a while (like me). There is no right and no wrong. But, I truly believe that in order to make it through post partum with the least bumps, you need to balance your hormones and then recognize your limits and not try to exceed them. The truth of the matter is that none of us really have it all together. We're all just trying to make it look like we do. We all need to have enough self confidence to know that we are okay just the way we are – whether we can have a baby and keep on with life like nothing changed or we check out and are MIA for a few months. Again, there is no right and no wrong!
I personally need to still hold on to some "Pam" in order to thrive and I think that is why the newborn stage is a harder for me. I have a hard time being "mommy" 24/7. Prior to having baby Dylan, I had hit a stage where my boys were able to do a lot of stuff independently and I was able to sit down and work for a few hours during the day or clean bathrooms and mop. Then Dylan was born and I got thrown back into being needed almost all the time between her and my boys. It is very rare that I am now able to work during the day (and if I do it's for little 10-15 increments) or even change the laundry without being interrupted. It was and still is something that is hard for me.
When I had the boys I didn't have Over the Big Moon or a demanding mommy schedule. Both are things that I love and have a passion for. But, finding time to work has become very difficult. And, until a few weeks ago I was even too tired to do it at night after the kids were in bed. Luckily, baby girl is starting to sleep longer at night, so I am getting a few hours of "me" time before I have to go to sleep, which allows me a little time to work. Plus, I sneak in a little work time during the day if I can.
With having two businesses, being a mommy, wife and homemaker though, time was my enemy. There just wasn't enough of it in the day. I was sick of going to bed feeling like I failed at one or two different areas in my life. I especially got sick of feeling like between the baby, trying to keep up on my house cleaning and squeeze in a tiny bit of work that my boys were just getting activities thrown at them or they were sitting in front of the TV too much. I missed sitting down and spending time with them. So, one thing I recently did to help alleviate some of my responsibilities and stress was I hired a cleaning lady to come twice a month to really scrub my house. I tell you this not to brag, but to show you that you don't have to do it all yourself! I have seen many of my friends struggling recently with the stresses of being a mother of young children and work and be a wife and homemaker. We all put some much stress on each other to be perfect and to be able to do it all ourselves. But, guess what?!? YOU DON'T!
Here are a few tips that I have learned through 3 'post partum' experiences:
-IT'S OKAY TO SAY 'NO'! Don't be afraid to say no to playdates or babysitting or taking someone dinner. Simplify your life by only putting on your plate what you HAVE to. You don't have to be super woman!
-LIMIT VISITORS AND/OR TRAVELING. This is a major one for me. With a newborn, nothing stresses me out more then not having my home (my comfort zone). This year all my in-law family was gathering in my husbands hometown for the 4th of July. Being that Dylan was going to barely be a month old I chose not to go. Don't get my wrong – there was a lot of back and forth that took place. I hated missing all of the fun, but I knew it would put me over the edge. So, instead I had my husband stay home for the actual 4th and then he and my boys headed up the next morning to spend the weekend with everybody. Dylan and I stayed home and had the most awesome QUIET weekend! It was the best thing I could have done for myself!
-SLEEP! Sleep any second you can – the first few weeks especially! Have friends or family take the other kids for playdates and take every little 15 minute nap that you can! Don't be afraid to ask your husband to help at night. I know a lot of women don't like to ask their husbands to help, because they have to get up and go to work the next morning. HELLO WOMEN – what do you call taking care of 2 or 3 kids? In my opinion, it's just as much work! I'm not saying have him get up every night, but it's okay for him to help a few nights out of the week! If you aren't nursing, then at least let yourself have a full night sleep once a week! Because I didn't nurse Dylan at all I even let my mom take her overnight when she was like 3 weeks old. That was an awesome 12 hours of sleep!!
-REWARD YOURSELF! Set a few SMALL goals that you can then reward yourself with something nice when you hit them! Like, if you if you have 10 lbs you want to lose – then reward yourself when you've lost 5 lbs and then reward yourself again when you have lost the last 5! Us moms don't nearly get told thank you enough and I know that sometimes I get in bed feeling like all I have done that day is serve my family with almost zero recognition. Sometimes just going out and getting a pedicure or buying myself a new shirt makes me feel better. Does it always make sense? No. But, it works! hehe 🙂
-PICK UP. A messy house makes me feel like I'm doing a crap job. And, it seems like when the house is messy it also makes it feel dirty. So, do yourself a favor and try to keep the house just picked up. Take 15-30 mins in the morning and straighten beds, pick up, start a load of laundry, etc! Then after that I just try to do a little 5-10 minute maintenance each hour throughout the day. Then in the evening or after the kids are in bed I do another 15-30 minute pick up.
-LET PEOPLE HELP YOU! I wasn't very good at this the first two babies! But, it comes back to the YOU DON'T HAVE TO BE SUPER WOMAN! If someone offers to bring you dinner, take your other kids for a playdate or even come help clean your house – then graciously accept it!
-SHOWER! Even if you just plan on putting your pajama pants back on and pulling your hair into a wet bun! It WILL make you feel better! I found that baby girl loves the sound of the bathroom fan and shower running! My morning routine sometimes consists of me feeding her and then putting her in the vibrator chair in my bathroom. She almost always immediately falls asleep and then just takes her morning nap in there!
-GET OUT! Go out to dinner and a movie with friends or on a date with your husband. If that's too much just to do, go grab an appetizer with a friend or even just take a small drive and grab yourself a soda! A few minutes to yourself, a little adult talk and a second to relax can make you feel like a new person!
Congrats if you made it through this crazy long article. haha 🙂 I hope this advice helps you through one of the hardest, most trying, most exhausting, most REWARDING times of your life!
Want to keep up with us at Over the Big Moon….click here to learn how to subscribe!
---
Pam Dana
Pam is a stay at home working mama that enjoys all phases of life! Between her 3 kids, fur baby (a beyond cute Goldendoodle), wonderful husband, friends and working, she stays pretty busy! But, she is loving every aspect of her life! Here on Over the Big Moon, she loves to share DIY's, recipes, printables, organization tips and more!
---