Potting Flowers Tips & Suggestions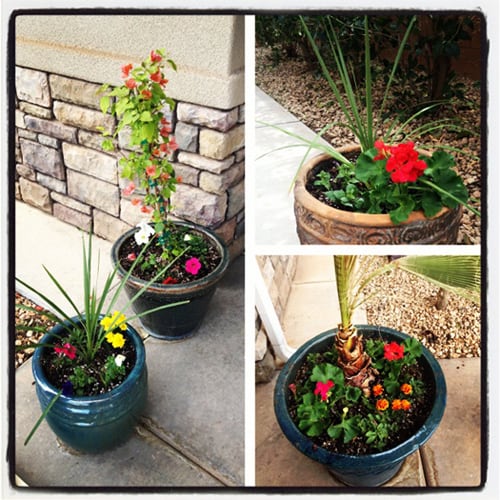 One of my favorite things to do every spring is pot flowers! I grew up with a momma who always had colorful flowers covering our front porch starting the spring, all summer and all fall! I posted a picture of my freshly potted flowers on Facebook the other day and I had a few people ask about how I go about potting flowers, etc. So, I decided to do a very simple post on it. I am, by all means, not an expert. I don't really look at the tags when I buy flowers. I just buy what has grown good in the past for me here in Southern Utah, which was also what my momma always had in her pots!
I did find this really good article from Real Simple for beginners. If you are starting with no experience, it is worth a read!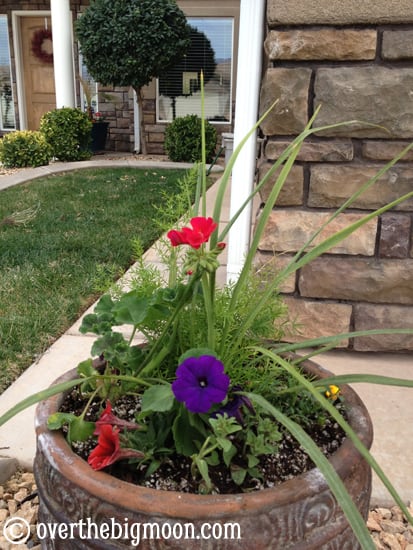 MY LATEST VIDEOS
MY LATEST VIDEOS
I start off with putting something tall in the center of my larger pots! I generally like Spikes, but in my really large pot I have a small palm tree. Spikes come in many different types and sizes. I'm usually get the Dracaena Spike, but one of the smaller sizes. They come in different sizes, so look around or ask the person at the Nursery where their smaller Spikes are. The small palm tree I don't water during the winter, then in the spring I just trim the dead branches and start watering it again. It will come back big and beautiful. In the smaller pots, I don't usually put anything special in the center, just maybe a larger flower.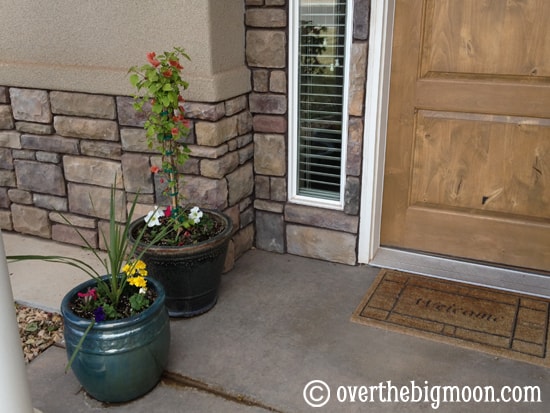 In my medium sized pots I like to add an Asparagus Fern too! It fills area really nice and always compliments the flowers. I wouldn't add it to smaller pots, cause it can get big. Also, in the extreme hot summer, the ends can burn a little, which results in them turning yellow. I will then trim the branches back a bit. I just don't think the water can get to the whole plant, before it dries up.
In the large pots and medium pots I just circle the flowers around the center. In the smaller pots, I usually put a flower I know will get big, like a Geranium in the center, and then circle the other flowers around it.
Here is a list of the flowers that I generally purchase and have had a good experience with!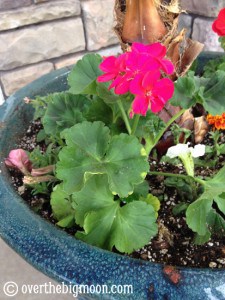 Geranium – Geranium is one the most hardy flowers I use. Everything I read says it needs a lot of sun. The only thing I have noticed, when I put Geranium in shaded pots, is they don't flower quite as much. They have still gotten big and filled my pots nicely though. They will also handle the cooler weather good.
Pansies– I ended up not planting any Pansies this year, cause it got so warm so fast here. Pansies are your best cool weather flower. They'll be your first to die out once the warmer weather comes. You could get them to last longer in pots that are shaded most of the time. But, here in Southern Utah, they won't last into the summer.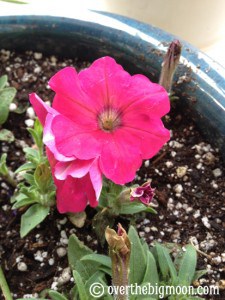 Petunia- I plant a lot of Petunia's in my first planting. You will always want to buy them from a nursery, cause they require a lot of heat to start off and create good flowers. If you plant them in a full sun pot, they will die out once the hot summer heat comes. My pots that keep Petunia's alive all the way through fall, generally get more shade then sun. But, because they are cheap and colorful, I always start with a lot of them. If they die, then I replace them out with a flower that handles the hot Southern Utah heat!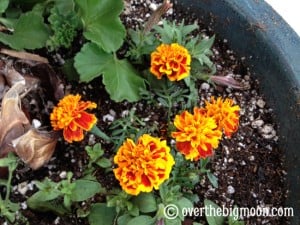 Marigolds– I always plant a few Marigolds, because they are easy to care for. But, they aren't my favorite flower to look at. So, I usually buy a pack or two and use them for fillers or in my full-sun pots. Marigolds like the sun and usually do fine into the hot summers. But, again, they are affordable. So, I will often times pull them in the hot summer and replace them with a Vinca!
Vinca– Vinca's are my #1 favorite flower for here in Southern Utah! They are SO easy to care for and do sooooo good in the HOT HOT summer's we get here! They get large and come in so many colors and I just love the look of their flower! You don't plant them this early in the year though. So, once the heat comes I go and buy up a bunch of fun colors and then just go through all my pots and replace anything that I can tell isn't going to keep well in the heat. They do get really tall and large, so you don't need a lot of them. In a small pot – 3 will fill it full!
Snapdragons– The Snapdragons didn't look awesome when I was buying flowers this year. But, I plan on adding a few still. I really like Snapdragons! They are fun! They do better in the cooler weather though, so they won't last into the hot summer here. They will begin to wilt and I will end up replacing them with a Vinca I'm sure. They like sun, so I generally plant them in a pot that gets a partial or full sun!
Begonia– I plant Begonia's in area that is going to get indirect sun generally. It is probably the easiest plant there is to keep alive. THey just personally aren't my favorite looking flower. They most commonly come with dark leaves and bright flowers, but you can find a green leafed version sporadically.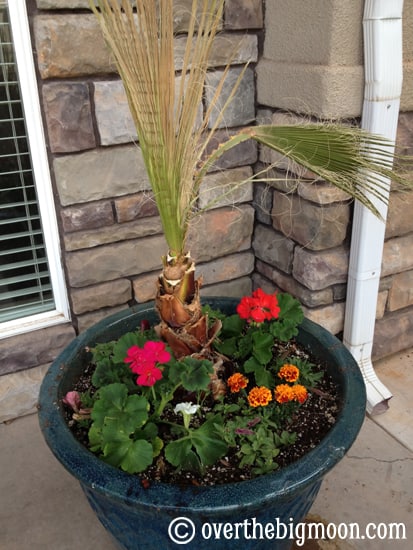 My little palm tree may not look so pretty right now, but give it a month!!
Honstly, all my pots get at least partial sun, so I really don't stress about that what I'm planting where. Of all the kinds of flowers I listed above, I didn't have to specifically plant something in a certain pot cause of the sun exposure. However, in my last house I did have one pot that got all shade. So, I did have to be mindful of it.
I water my plants just once every 24 hours. Sporadically in the middle of the HOT HOT summer I'll throw in a 2nd SMALL water. I just try to make sure my soil is never super dry. You want it damp. Make sure your pot has a drain on the bottom too.
Go with your gut and just have fun with it. Flowers are fun and make your home so welcoming and full of love! Let your kids get involved and help! Yes, they'll end up covered in dirt and make a mess everywhere. But, just grab your hose afterwards and spray everything off! You'll for sure want to check with your local Nursery on what grows good in your area! Again, I am not an expert. This just just based off my experience with potting flowers! If something dies, just replace it! Flowers are fun and don't let it become a stress for you!
Another quick tip, if you are starting from scratch – don't feel like you have to go out and buy a ton of pots and fill them all. Start out this year with 2 and then add 2 more next Spring. I now have 7 pots, but that took me quite a few years to build up. The actual pots are the most pricey thing you'll have to buy. Check places like TJ Maxx or Costco. That is where I got mine. Also, you'll want to get ceramic pots. Plastic pots hold in the heat and it can ruin your soil, which results in your plants struggling. Also, they will discolor from the sun and will end up not looking fabulous quick.
Also, don't get discouraged if you don't do perfect this year! It's a trial and error thing! Feel free to leave any questions, if you have any! Happy planting!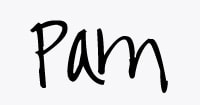 ---
Pam Dana
Pam is a stay at home working mama that enjoys all phases of life! Between her 3 kids, fur baby (a beyond cute Goldendoodle), wonderful husband, friends and working, she stays pretty busy! But, she is loving every aspect of her life! Here on Over the Big Moon, she loves to share DIY's, recipes, printables, organization tips and more!
---