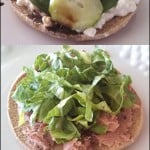 Quick, Easy, and Healthy Summer Sandwiches
Hey Over The Big Moon readers, Amie from DUMBBELLHOUSEWIFE here.
Can you believe how fast summer crept up on us? If you are like me, summer is the hardest time to come up with easy 'COLD' meals. Who wants to eat something hot when it is in triple digits? NOT MY FAMILY! I have been in prep mode the last month coming up with easy and cool ideas for my clients and my family of healthy recipes that will satisfy the COOL factor.
I do not like bread! I feel like there is not a lot of room for bread in a clean eating diet. Oatmeal, sweet potatoes and brown rice are my carbs of choice, but a piece of bread every once in awhile is just fine. These are sandwich thins and have 22g of carbs for a full roll. Pictured below is only half of a roll which makes it 11g of carbs. Wahoo, that is amazing!

MY LATEST VIDEOS
MY LATEST VIDEOS
The Lean Green Sandwich
Ingredients
-Multigrain flax seed THIN-22g carbs for the entire roll. 11g for one side like the picture showed above
-Cottage cheese- I literally used about 2 teaspoons
-Spinach on top of the cottage cheese
-Top with cucumbers
-Drizzle with balsamic vinegar
Find full post here: LEAN GREEN SANDWICH
The Fruity Thin
Ingredients
-A flax seed sandwich thin
-Cottage cheese(2 table spoons)
-Topped with a few blueberries
Summer Tuna Delight
Ingredients
-Flax seed sandwich thin
-Lemon pepper tuna
-A thin layer of Sriracha
-Topped with thinly chopped lettuce
These recipes are not only delicious, but easy too! Give them a try and let me know what you think.

*Don't forget that we have been busting out some amazing fitness challenges the last couple of weeks. Join in these crazy, sweaty, intense workouts with us, IF YOU DARE.
New Fitness Challenge #1-Toes To Bar
Fitness Challenge #2-Jump Rope
No Gain Without A Little Bit Of Pain-Planks, High Tuck Jumps And Burpees
Much Love, AMIE
---
Amie from Dumbbell Housewife
Amie is the author and owner of www.dumbbellhousewife.com! Amie has been an instructor and personal trainer for 13 years! She is a fitness freak and is passionate about healthy living. She is small in structure, but be careful because she packs a powerful punch. Martial arts, self defense, spin and bootcamps are some of her methods of torture.
---