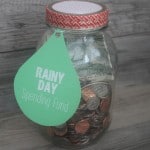 Rainy Day Spending Fund Jar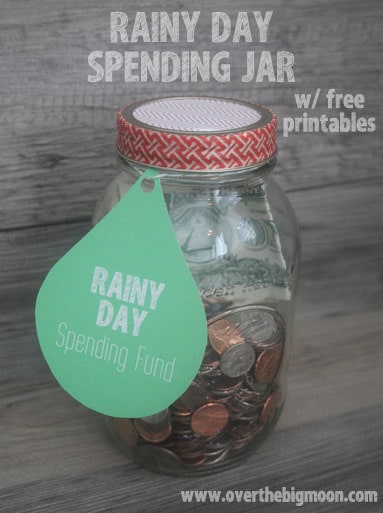 I am excited to be participating in this fun A-Z Craft Month hosted by Steph @ Crafting in the Rain!! The letter I chose was the letter 'R' – so I am going to be sharing this fun tutorial for a Rainy Day Fund Jar for my kids! My boys are getting older and naturally the stuff they want to do is costing us a little more money! So, I thought it would be fun as a family, to start a little money collection for activities that cost money!
Now, when they wake up and it's a rainy day, they can be excited because they know that they'll get a little field trip that day! Maybe ice-cream, mini golf, bowling, going to the skating rink or even just a trip to the gas station for a candy!
Items needed:
Canning Jar
Washi Tape of Choice
Scrapbook Paper of Choice
Printed Tag (available below)

MY LATEST VIDEOS
MY LATEST VIDEOS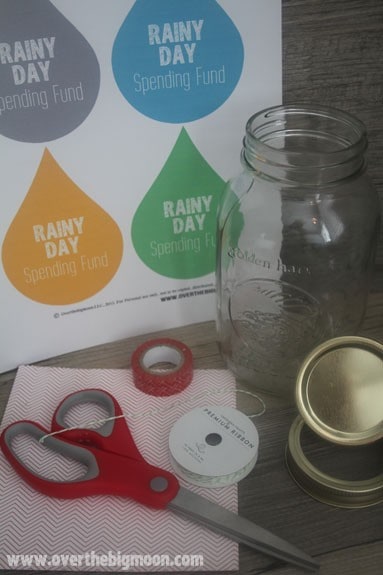 Step by Step Instructions:
1) We started by going to our local craft store. I let my boys each pick out a single sheet of scrapbook paper and a roll of Washi Tape that matched.
2) Print the free printable tag that is available below. If your kids are old enough have them cut out the tag, otherwise go ahead and cut it out yourself. Use a hole punch to punch a hole at the top of the raindrop.
3) Take the canning jar flat lid and have the kids trace around the outside onto their scrapbook paper. Then have them cut out the circle. Tape the cut out circle onto the top of the lid.
4) Tape around the outside of the canning jar ring with the coordinating washi tape.
5) Put the jar together.
6) Use your bakers twine or ribbon to tie the Raindrop tag around the top of your jar and you're done!
I am offering the tags in the 4 color options and they are all on one page! So, you can decide if you want just one jar for the whole family or if you want each child to have their own! Just print and cut the tag you want!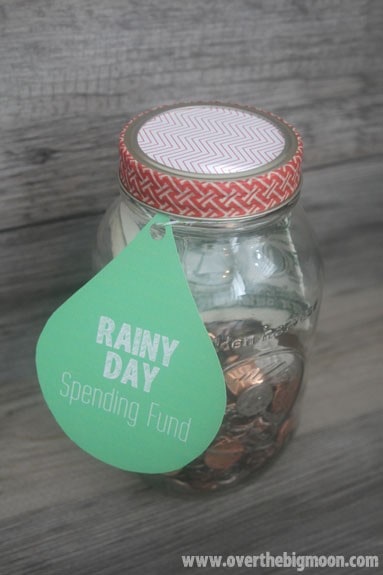 Be sure and check out the rest of the posts that are in Round 3 of Crafting in the Rain's A-Z Series!
N is for Number Stamped Coasters by Organize and Decorate Everything
O is for Ombre Paint Chip Paint Art by Organized Island
P is for Polka Dot Wood Sign by Shaken Together
Q is for Quiver of Arrows Printable by Liz on Call
R is for Rainy Day Spending Fund by Over the Big Moon
S is for SupHERB Spring Gift by Stuffed Suitcase
---
Pam Dana
Pam is a stay at home working mama that enjoys all phases of life! Between her 3 kids, fur baby (a beyond cute Goldendoodle), wonderful husband, friends and working, she stays pretty busy! But, she is loving every aspect of her life! Here on Over the Big Moon, she loves to share DIY's, recipes, printables, organization tips and more!
---