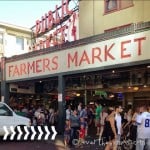 Seattle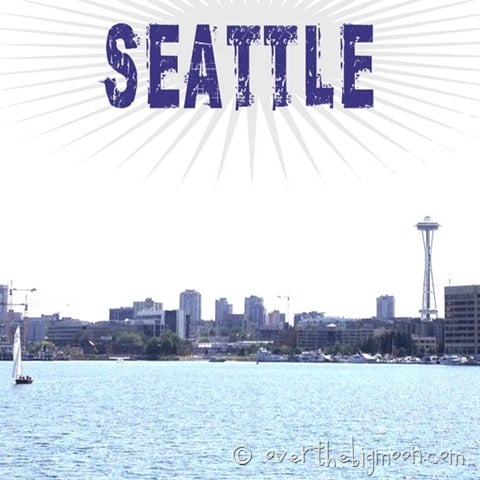 I love Seattle! Like I REALLLY love it! I went every summer growing up and lived there for 3 years after I graduated college. I love the culture, the flowers, the greenery, the beach, the boats, and the restaurants! The food it to die for! We took an 8 day trip to visit our family, play, and show our kids the city. Here is brief (or not so brief) summary of what we did. If you are planning on visiting Seattle this should give you a few ideas of what there is to do!
Greenlake!

MY LATEST VIDEOS
MY LATEST VIDEOS
My Dad grew up right next to Greenlake. It has such a fun park, swimming areas, and an amazing walking path!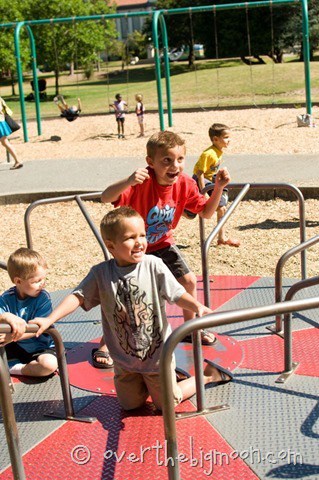 This merry-go-round has been at Greenlake since I was little girl!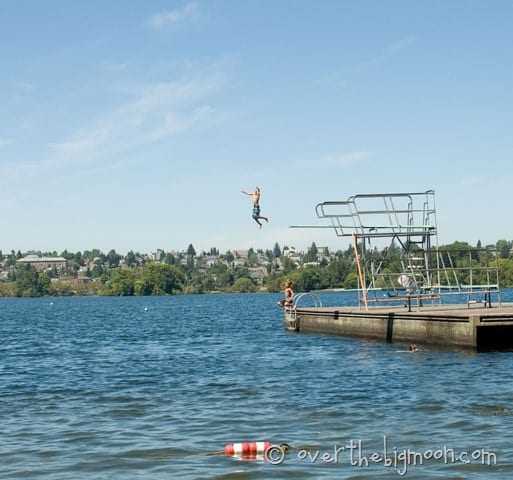 It's a great place to take little kids to swim because they have a huge swim hole for toddlers and babies. Or if you have preschoolers they have stairs that go down into the water and then a good shallow area for them to swim in. With older kids they can go out to the platform and go off the high and low dive. Best part about Greenlake is that Spud Fish and Chips is right next door. I don't love fish but I could eat Spuds for breakfast, lunch, and dinner. Its that good!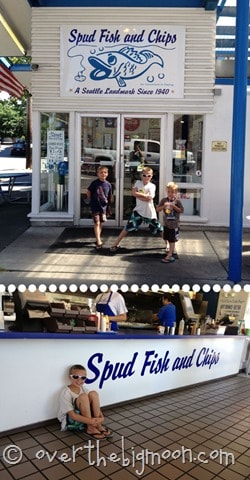 Ballard Locks and Fish Ladder!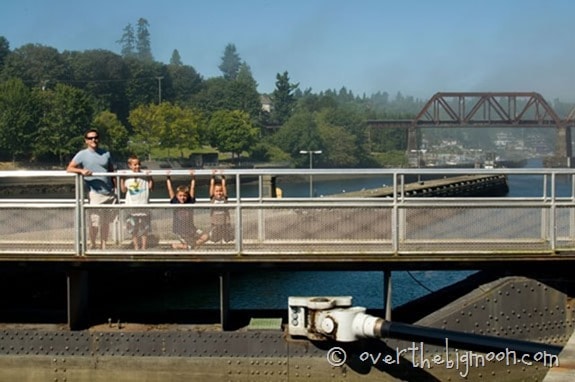 This is another place I went to growing up. Its located where the Puget Sound and Lake Union meet. One is salt water and one is fresh and their water levels are different. They basically have built a boat elevator and its fun to watch! You can also head over to the fish ladder where you can watch the salmon and other fish migrate up from the Puget Sound to the fresh water of Lake Union.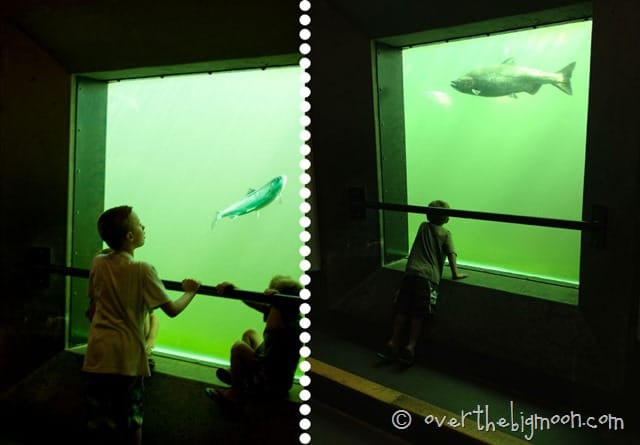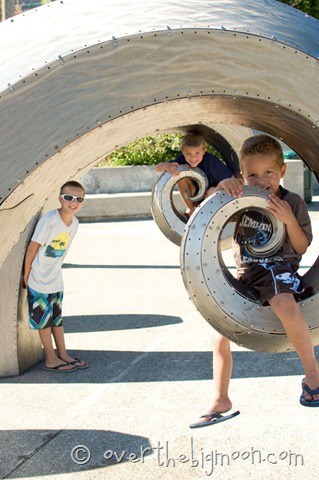 Freemont!
Freemont has some cool old buildings and yummy restaurants. It is also home to the famous troll under the bridge. My boys loved that you could see the slug bug in his hand.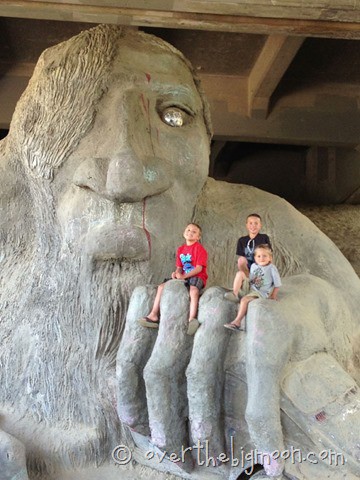 Its also fun to watch the bridges go up and down while they let boats through.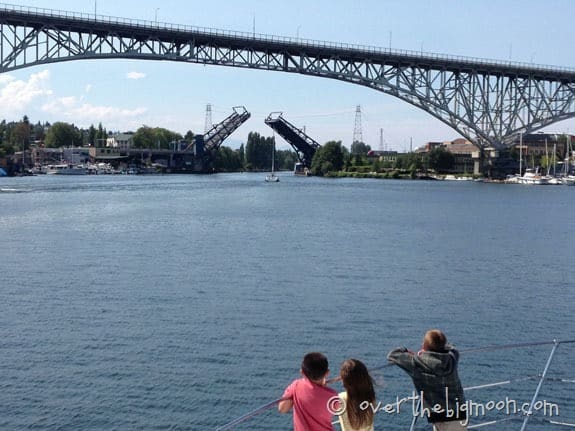 Downtown!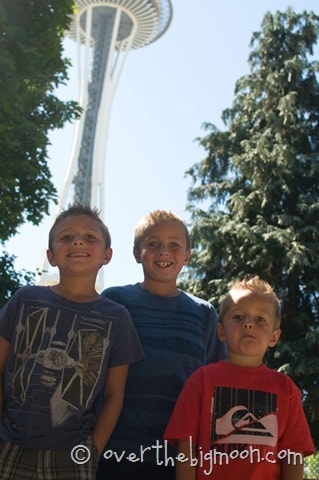 Of course there is always the Space Needle! When you stop to see it though be sure to bring bathing suits for the International fountain. Its like the worlds biggest and best splash pad ever!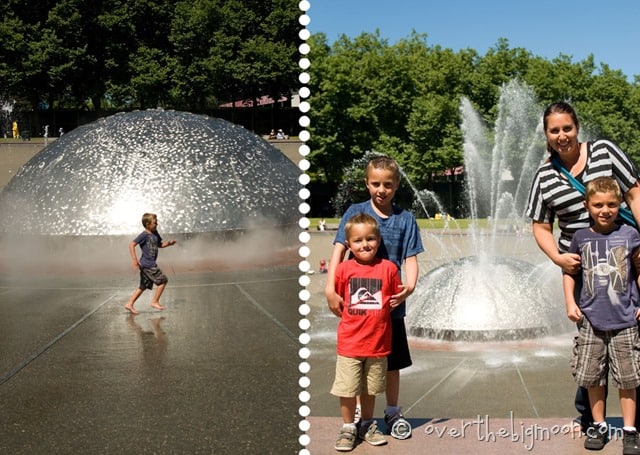 Pikes Place Market is always fun!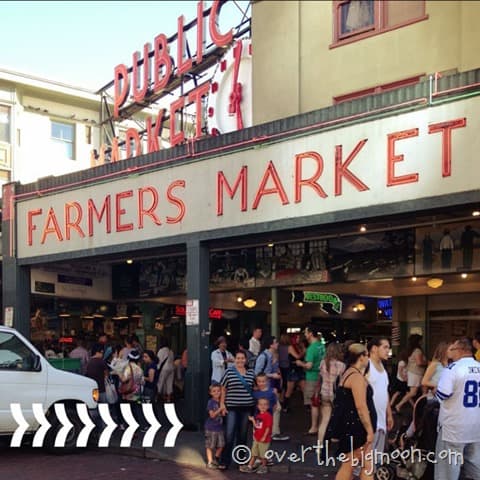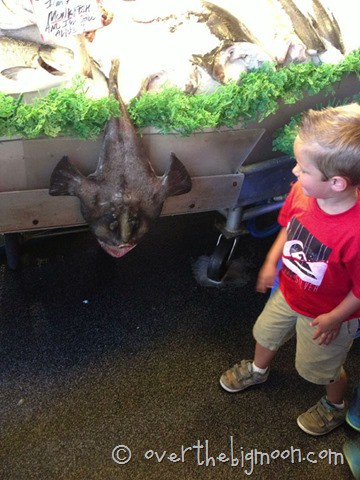 Make sure your kids go touch this "fish." Its at the booth where they throw the fish. The guys behind the counter pull a sting and it makes it move. Very fun and funny to watch. Also be sure to go downstairs into the marketplace.There are some fun shops down there. We love the magic shop!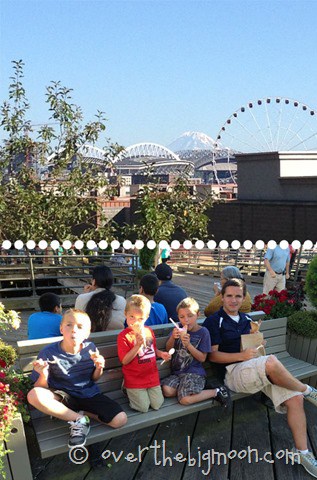 Down the stairs from Pikes place has a great waterfront too. You can catch ferries to ride, ride the Ferris wheel, or go to the aquarium. We mostly just ate ice cream for dinner and found jelly fish in the water!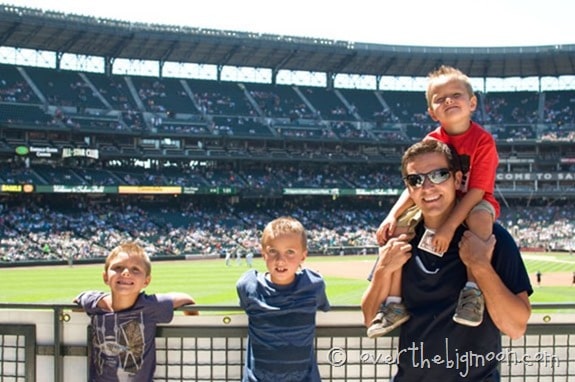 And if they are in town the Mariners are always fun to watch!
Maltby Café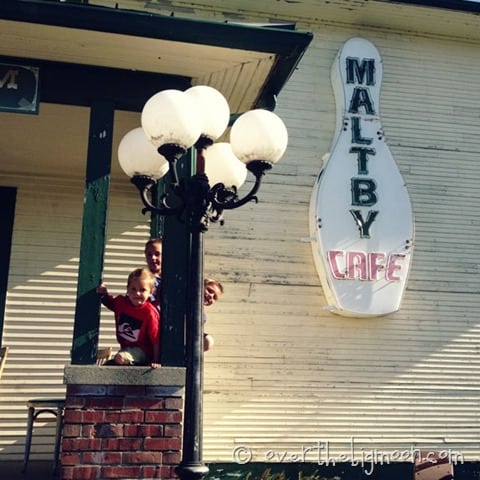 This is up near Woodinville but it is worth the trip! Its busy on Saturdays so be prepared to wait. I think they have a better menu on Saturdays. It is worth the wait! They are famous for their cinnamon rolls because they are huge. I think they are dry and would rather make my own soft and squishy ones. My favorite on the Maltby menu is the Swedish Pancakes with berries and Crème fraîche. To die for! If you are an omelet person get the Bacon Florentine omelet. I don't love eggs but I order a cup of the filling on the side. Its so delish!
Beaches!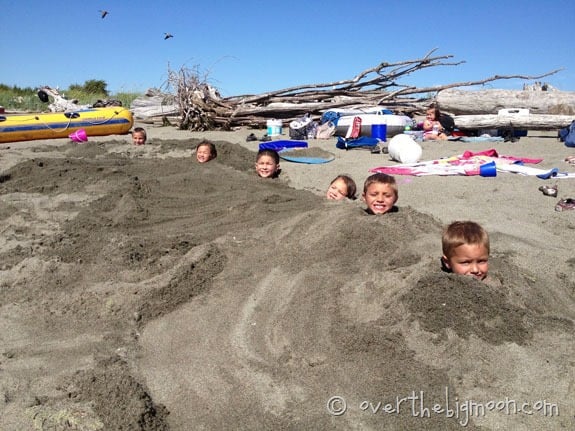 You have to hit the weather just right to be able to play on the beaches and luckily we did! I love the beaches in Washington though. They are so pretty. I really recommend going up to the San Juan Islands. We visited Anacortes this last trip but Friday Harbor is so fun to rent mopeds to ride around on.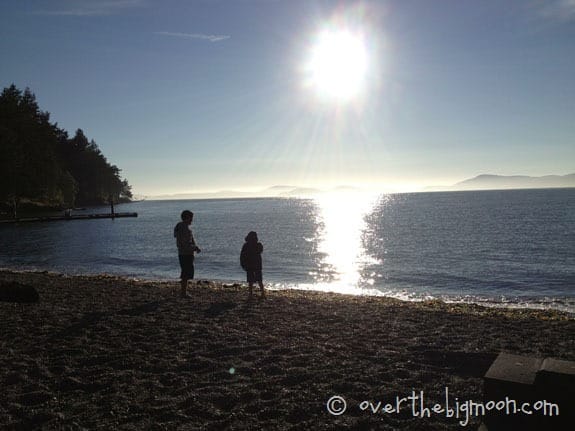 Here are the other fun things we did on our trip!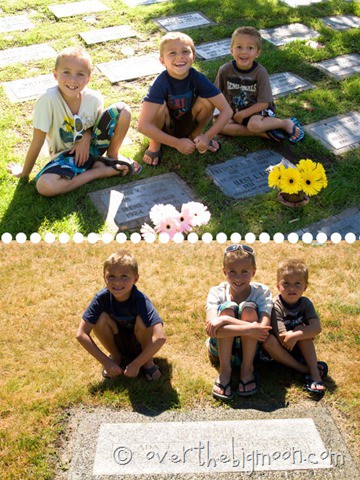 We visited our grandparents graves! And no – Over the Big Moon did not die – although that watermark makes it look that way!
We also went to visit Lake Cavanaugh where our family had a cabin for over 50 years. Its where the happiest of my childhood memories were made.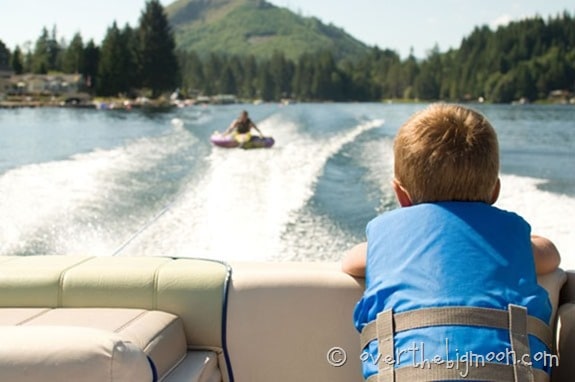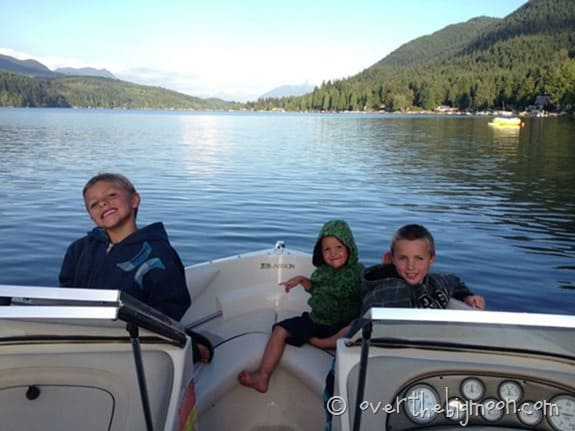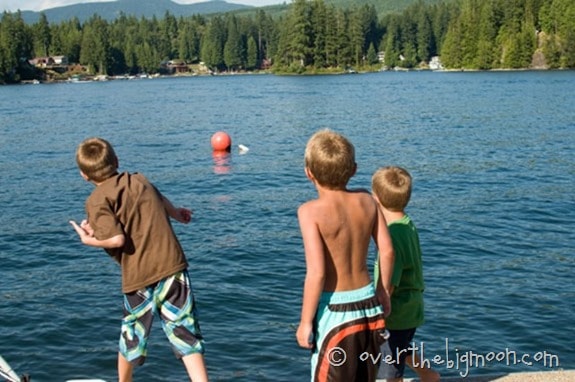 This is an old lake tradition, throwing rocks to try and hit the buoy. I am shocked there is not an island under our buoy yet. My dad use to offer the first person each summer that hit it with an ice cream cone in Arlington.
We also spent lots of time with our cousins!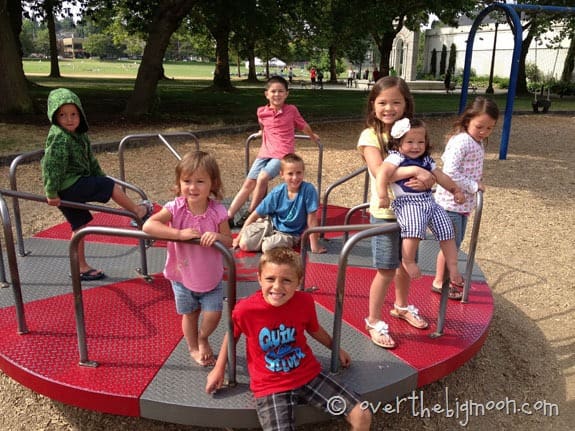 And we played with their new fun toy! I found out that John is a little crazy in the driver seat!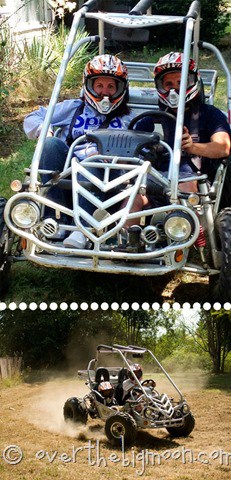 One of the most special parts of the trip was going out on a yacht through Lake Union up into Lake Washington to spread our wonderful Grandpa Henderson's ashes by their old home. It was such a fun tour of the lakes but also it was so fun to remember Grandpa and meet and chat with his friends.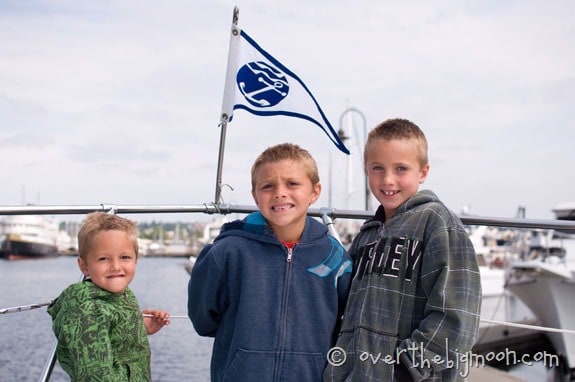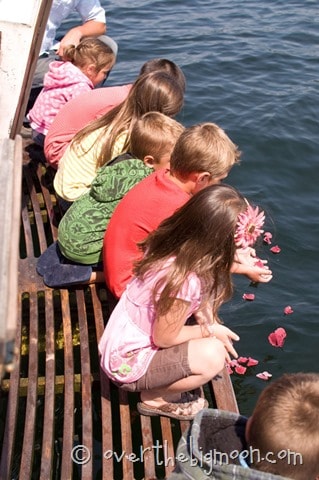 The great-grandkids spreading roses pedals into the water.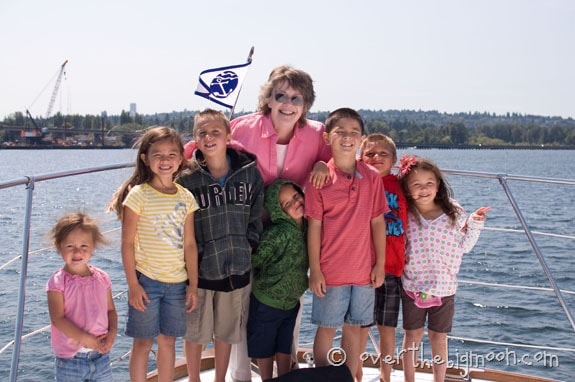 Grandma with the great grandkids.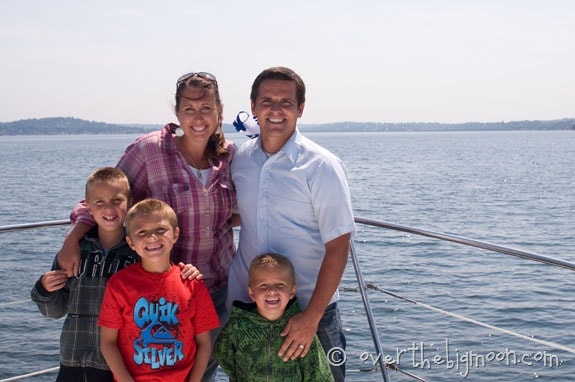 Love my family so much! This was such a fun trip to take together. Its so fun now that naps, diapers, strollers are history! They were troopers because John and I were determined to do and see a lot so they got dragged around all day for over a week! If you are thinking about visiting Seattle – Go! I think it is one of the most beautiful and interesting places to explore!
You can keep up with all of our family adventures during the week on Instagram:
Want to keep up with us at Over the Big Moon….click here to learn how to subscribe!
---
Lisa
Previous author of Over the Big Moon. I shared my passion for home and family life! I love graphic design, DIY projects, cooking, and working in my garden! My favorite role is taking care of my husband and our 3 amazing and busy boys!
---