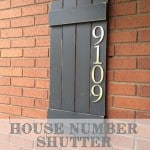 Shutter With Your House Number
Hello Over The Big Moon readers! I am excited to be here for my first time as a contributor for Pam and Lisa! My name is Amanda and I blog alongside my husband, Spencer, over at The Contractor Chronicles. We love to share our love of tools, our projects and stories of our house remodel. Today I wanted to share a fun and simple project anyone can make for their home – a shutter with your house number!
I started by buying a couple of 1x4x8 at Home Depot and cut them down using my Ryobi miter saw. You will need (4) four pieces cut at 30″ and (2) two at 14.5″.

MY LATEST VIDEOS
MY LATEST VIDEOS
I decided that I wanted my cross pieces to be about two inches from the top and the bottom. I used wood glue and glued the back of each piece…
… then I used my Ryobi Airstrike Nail Gun and nailed the cross piece into each of the longer pieces. I nailed it in at least twice on each board – sometimes I felt I needed one more nail!
And then the building was done!!
At first I decided that I wanted to stain it cherry, so I did but then I changed my mind and decided to paint it instead! I used DecoArt Chalk Paint in Relic.
When the paint was dry I used my cornercat and sanded it down a bit to rough it up.
I then used the cream wax to protect the whole piece. Since I knew it was going outside, I used a couple coats to protect it against the elements.
I used the house numbers I bought at home depot…
… and screwed them on.
I flipped my shutter over and screwed in two screws a few inches apart. Make sure you do this over the cross board so you don't screw through the front of your shutter.
I wrapped wire inbetween the screws and then I tightened the screws up. Now it's ready to hang up.
Last fall my husband drilled some anchors into our brick so I simply hung it up on the anchor that was already by our front door.
I love it!! It is rustic and darling perfect for the space!
Thanks so much for having me today and please stop by and say hello and see what other projects we have been working on!
Faux Drawer Console Table – Toy Truck Bookends – Blanket Ladder
You can also follow us here on our social media as I am always showing sneak peeks at the projects we are working on!
Have a great day!!