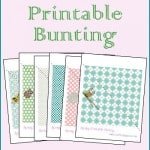 Spring Mix-N-Match Printable Bunting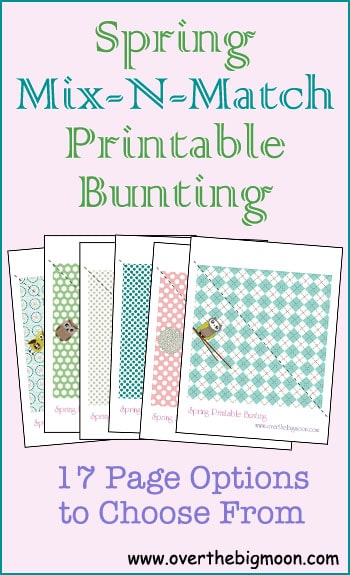 Being that Easter was SO early this year, I decided to keep my Easter decorations up for the first part of April. Then, I was super patient (or you could call it lazy) and just let it hang out a little longer and a little longer! haha 🙂 My Easter Egg Bunting and Easter Sign were still up in my family room, until just yesterday! Can I play the pregnancy card? I do only have less than 5 weeks now after all!!
I wanted something simple, with no words and a little bit of a different shape then I've done in the past. With my lack of energy and motivation, I decided to just make a printable bunting set vs something from fabric. I think it turned out super cute, simple and fun! I quite like the "fat" flags!
There are actually 17 different color/pattern options for you. You can go through and pick and choose which ones you want and what order you want them in. I put a "springy" image on one side of each bunting page. That way, you can fold it in half and choose to use the image or not. As you can see on mine, some bunting flags I chose to show the image and others I chose to have it be the paper only.

MY LATEST VIDEOS
MY LATEST VIDEOS
To put mine together I chose to use a twine and put it on the inside of the bunting flags. I just hot glued the twin up in the fold of the bunting. I then used a tiny dot of hot glue at the bottom of the triangle, so hold it together and to give the flags a fun bubble. I think it would also be super cute to use a coordinating ribbon and hot glue it to the front and have it incorporate into the design!
All and all I am super happy with how the colors turned out in my family room! I hope you and your home enjoy it as much as we did!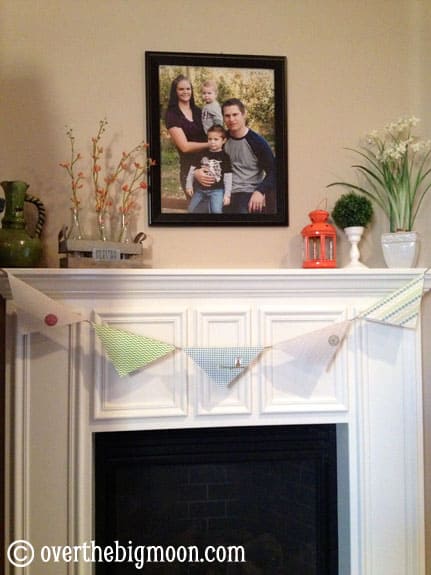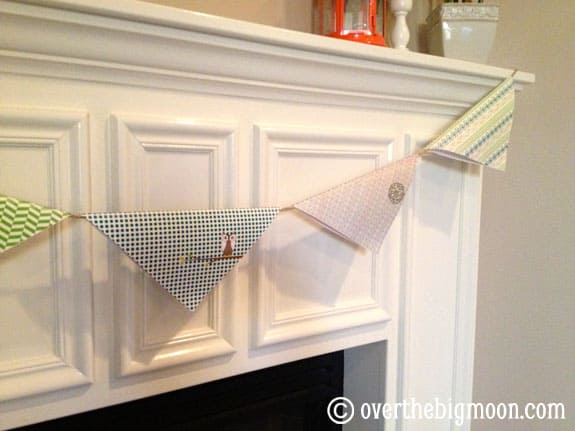 Want to keep up with us at Over the Big Moon….click here to learn how to subscribe!
---
Pam Dana
Pam is a stay at home working mama that enjoys all phases of life! Between her 3 kids, fur baby (a beyond cute Goldendoodle), wonderful husband, friends and working, she stays pretty busy! But, she is loving every aspect of her life! Here on Over the Big Moon, she loves to share DIY's, recipes, printables, organization tips and more!
---