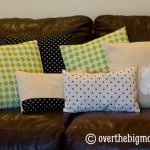 St. Patrick's Day Pillows
Happy Monday! I hope you all had a great weekend. Ours was awesome! I was able to put most of our Saint Patrick's decor up on Saturday. Last night I was feeling frustrated though because I felt it wasn't pulling all together. So today after church I busted out my sewing machine and got sewing! I made 6 pillow covers and love the way they turned out. I didn't want it to be too much so I used a really subtle look instead of plastering clovers everywhere. Best of all I hardly spent anything to get it done!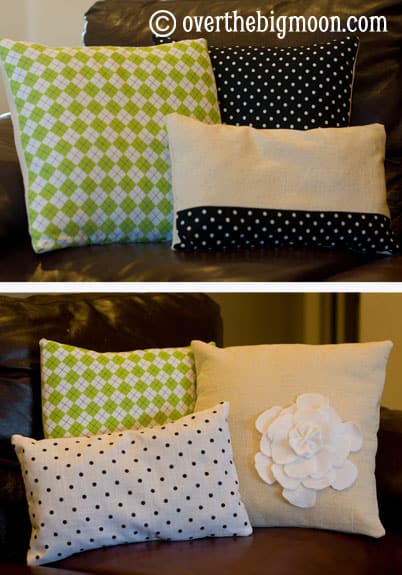 I used the same pillow tutorial from Ucreate that I used for my Valentines pillows but this time I made the overlap quite a bit larger. This is how I measured for the 2 back pieces: width of pillow divided by 2. Then add 3 inches (2 inches for the edges you finish and then another inch for the 1/2 inch sewing allowance on each side.) For example my pillow was 16 inches wide, so I divided that by 2 – equals 8 and then added 3 – which equaled 12. So for my 3 pieces I had one that was 17×17 (front) and then 2 pieces that were 12×17 that I used to make the back. I also sewed the pieces together this time so that the overlap went along the back horizontally rather than vertically. I liked that the top edge looks totally smooth. Hope that made sense!
I found the green fabric a couple of weeks ago in the scraps section of a quilting store. It was 50% off and there was about 3/4 of a yard. The black polka dots was a fat quarter I liked with the green. I used it for 1 full pillow cover and was left with 1 small strip. I sewed that to another scrap to make the little pillow cover. The white polka dot material was a scrap Ive held onto forever and was perfect! As for the rest of the material I used the canvas drop cloth
I had left over from when I made my Valentines pillows. I used it for the back of all of the pillows. I love drop cloth not only for the look but because its so cheap. I have a lot more left!
I saw the Petal Pillow Tutorial on Pinterest from Char over at Crap Ive Made. So cute! I really needed to pull the cream and the white together so I used some white felt I had on hand with the drop cloth. Her tutorial is super easy to follow and it turned out so cute! I will for sure be making more of them in the future!
There are so many fun possibilities with pillows. If I can make them – ANYONE can! It helps that I inherited my Moms machine and she had just bought a new Singer Simple Sewing Machine
and it is super easy to use! She use to have a fancy machine and anytime I got anywhere near it – it freaked out!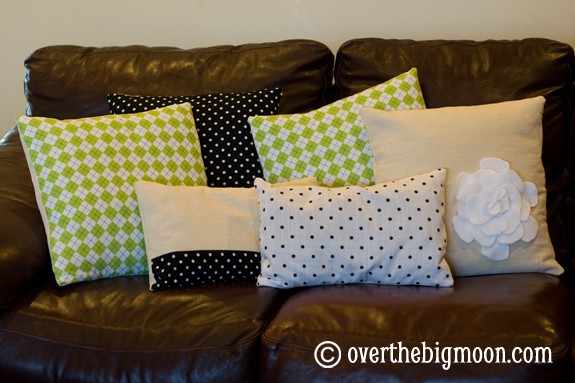 I cant wait to show you the rest of my decor, but you will have to wait until Wednesday because tomorrow Pam is releasing the St Patrick's day Pre-K pack! Yea!
---
Lisa
Previous author of Over the Big Moon. I shared my passion for home and family life! I love graphic design, DIY projects, cooking, and working in my garden! My favorite role is taking care of my husband and our 3 amazing and busy boys!
---