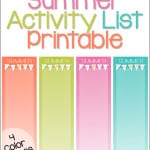 Summer Activity List Printable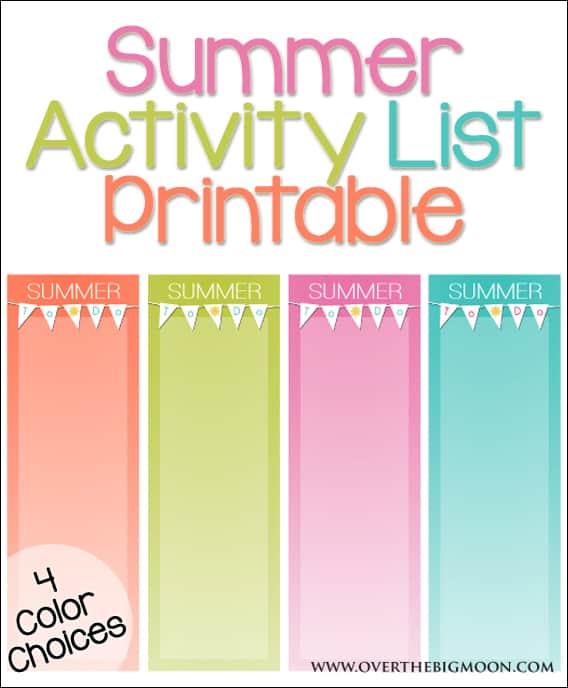 Please tell me I'm not the only mom with some major Spring Fever going on!! Friends… I am seriously struggling right now! I can't believe I'm about to say this…. because I generally love structure. But, I'm so over spelling words, math worksheets and rushing out the door to school in the morning! I'm ready for water ballon fights til dark, late movies, lazy mornings and some fun family memories!! So, this week I'm pulling out our Summer Activity List and going to get it loaded with tons of fun activities for us to do this summer!! I'm going put mine in our MudRoom – where I normally keep our Weekly Schedule!
Supplies Needed:
-Tape (if you're piecing the 12×18's together)
-Marker
Directions:
For printing you have the option of printing the single 12×36 or you will need to download and print the Top and Bottom 12×18's of your color choice. To get the 12×36 printed you have to take your file down to Costco on a jump drive and upload it from the computers there that they have at their counter. You can't upload the file from your computer. From what I understand, WalMart does not offer 12×36 printing. I haven't check any other places. If you don't have a Costco, then just print the two 12×18 files and piece them together.
Then write your Summer To-Do list on the glass of the frame using a black sharpie (don't worry, it wipes off easy using some Windex or a Glass cleaner). Then, let your kiddos check them off as your complete all your Summer Fun activities!!
To get you started on your list here are a few Summer Fun Ideas:
Swimming
Splash Pad
Water Balloon Fight
Bowling
Mini Golf
Anti-Gravity Place
Sand Art Project
Amusement Park
Water Park
Camping
Camp in the backyard/sleep on the tramp
Watch a movie outside
Movie Marathon (perfect for bad weather or sick day)
Neighborhood Games
Lemonade Stand
Craft Project
Go through kids clothes and pack or giveaway the clothes that don't fit anymore
Make a bird feeder
Fishing
Neighborhood Bike Wash
Zoo
Go on a Hike
Make a blanket tent
Baking Day w/ Mom
Make Homemade Playdough
Breakfast Party w/ friends or cousins
Playground
Sidewalk Paint
Fingerpaint
Dinosaur Ice Hunt
Picnic
Fireworks
Build a Fort
Play board games
BBQ w/ friends
Go to the Library
Treasure Hunt
Go on a Nature Walk
Go on a Family Bike Ride
Let the kids choose a fabric and make them pillowcases
Family Vacation
Go to a movie
I hope that list gets your brain going w/ ideas! Feel free to add to it throughout the summer. There are lots of other things will be doing several times in the summer, for example like going to the pool and splash pad. To download, click on the files you need below. Then you will just right click the file and 'Save As' to your computer.
---
Pam Dana
Pam is a stay at home working mama that enjoys all phases of life! Between her 3 kids, fur baby (a beyond cute Goldendoodle), wonderful husband, friends and working, she stays pretty busy! But, she is loving every aspect of her life! Here on Over the Big Moon, she loves to share DIY's, recipes, printables, organization tips and more!
---