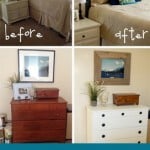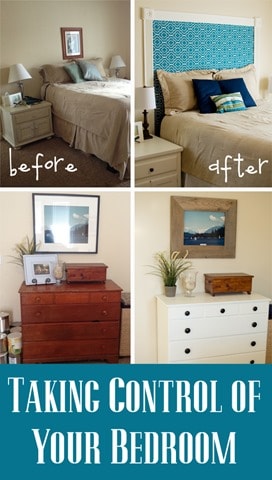 In all the years of decorating and organizing, somehow our master bedroom always got ignored. It turned more into a storage catch all room than a relaxing Master bedroom. A few months ago I realized how embarrassing our room really was. It was a big project with a little budget so here are some of the things I learned along the way.
First set your budget. Mine was $300
Next set your priorities. Spend your money where it will make the biggest impact.
Look around for inspiration. I made a board on Pinterest all for the ideas that I liked and then let the ideas marinate for a while as I formulated my plan.
Declutter! Get rid of things that are just in the way. If you haven't used it – stop storing it! Check out this post if you need some help getting rid of stuff!
Here is the before….it's a little embarrassing but I'm keeping it real for you!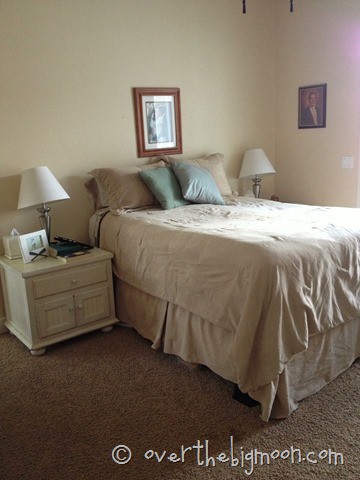 MY LATEST VIDEOS
MY LATEST VIDEOS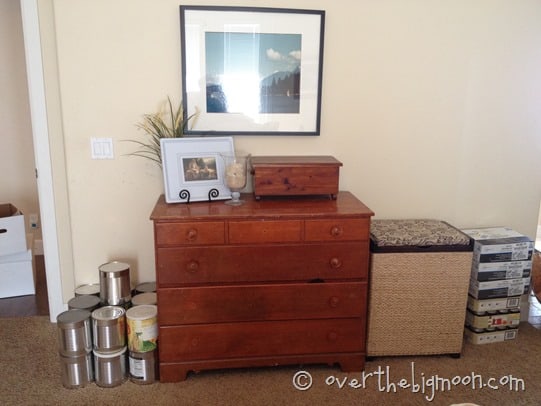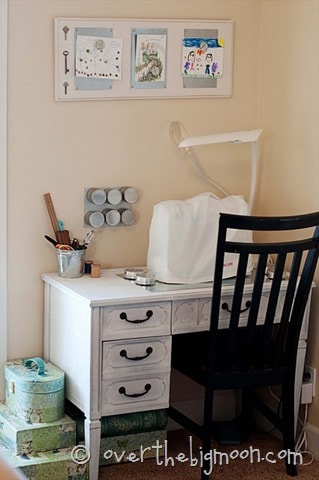 My priorities were:
A headboard
A bed skirt that was long enough to cover all our storage under the bed
Paining all the furniture to match
New lamps that are actually for bedsides and fit on them!
Finding somewhere else for all my canned goods
New sheets
Our head board was the first project and I love how it turned out!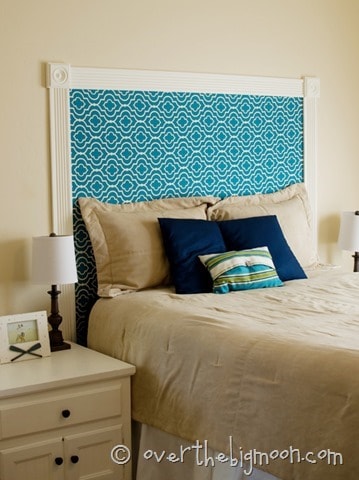 All for just under $75! You can view the full tutorial here.
I also painted all of our furniture Behr Creamy White.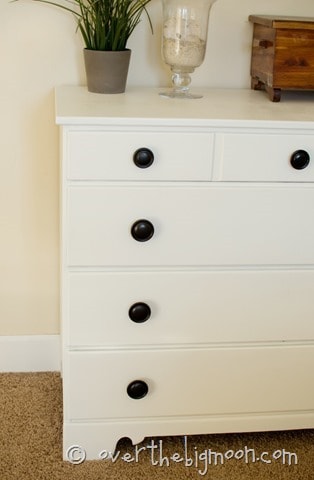 I just took our original hardware and painted it Rust-Oleum Oil Rubbed Bronze which turned out perfect and gave a good contrast. I found our new lamps at Target! Our last lamps were way to big for bedside tables!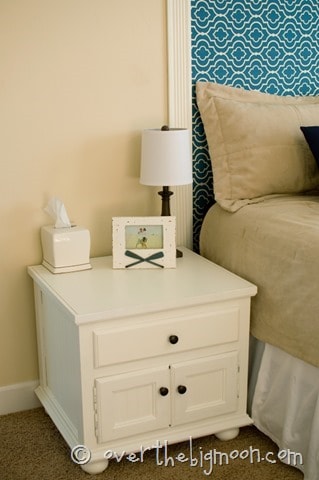 I also rearranged the things on our bookshelf to make things look more orderly.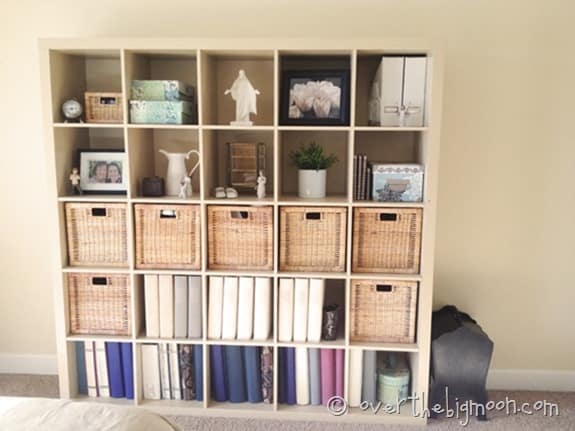 I love it so much! It shows off so many things that are meaningful to us. For example this is my Grandma Irene's jewelry box. I remember staring into it when I was a little girl looking at all of her lovely things. Those are also my first pair of shoes when I was a baby, and the Willow tree angel was give to me when I got back from Romania by one of my dearest friends.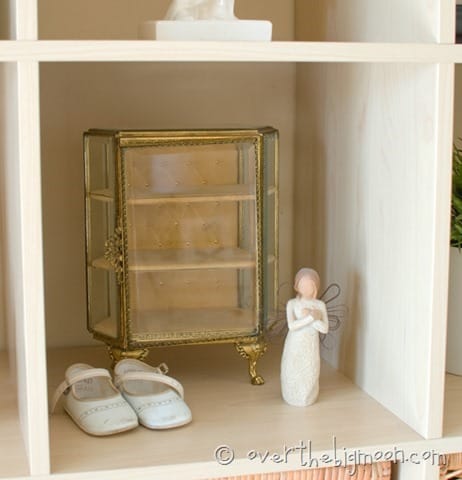 Everything on the shelves means something to me and John and it makes me happy that it looks so much better now!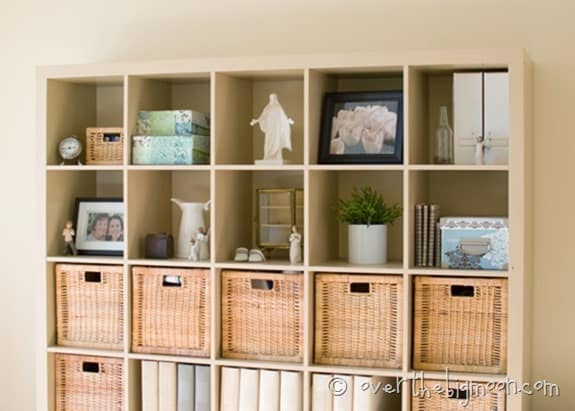 The little black box on the ground was made by my Grandfather for his mother to hold her sewing supplies. I use it to hold all my essential oils.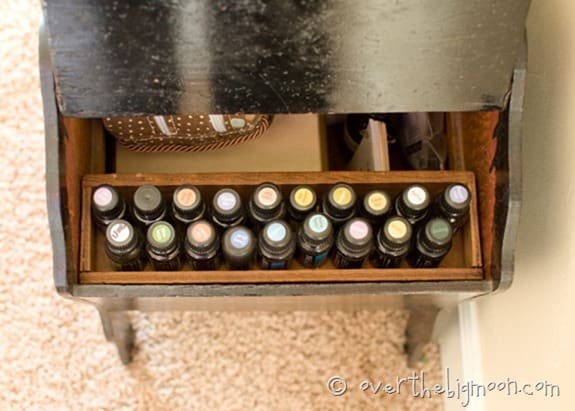 Lastly over our dresser I wanted a new frame for the picture of Lake Cavanaugh. This is where my family had a cabin for over 50 years and where John and I had our first date! At this point I was out of budget though so I raided our wood pile for wood and John cut it for me. I glued it together using Wood Gorilla Glue
which is my all time favorite glue. Its amazing!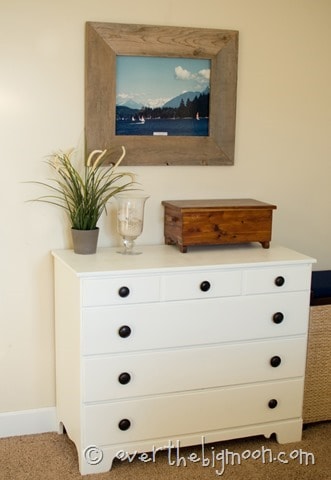 I love how the frame turned out and added to the casual beach feel of the room.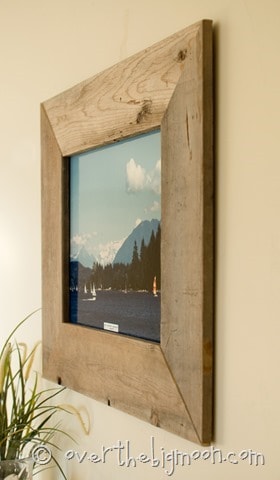 I sewed some new pillow covers for our bed and recovered our laundry basket top to match the new fabrics in the room.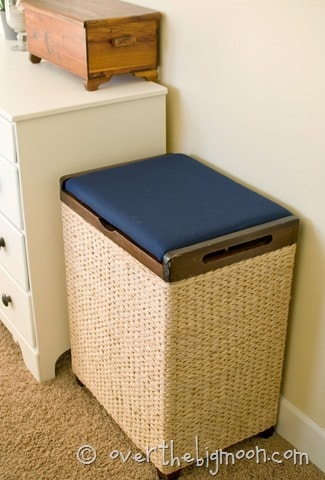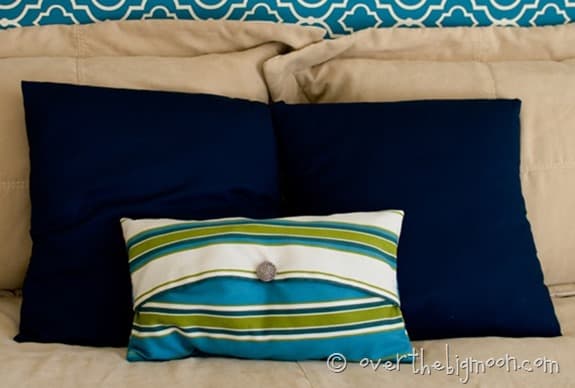 On the front pillow I used an vintage button from my Moms old button jar to add just a little bling.
Lastly I simplified our sewing area too!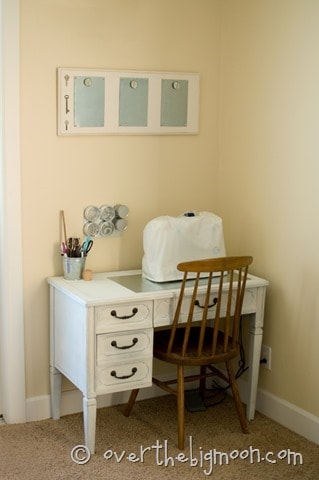 Total cost of the whole redo $330. Just $30 over budget.
Cost breakdown:
Headboard – $75
Paint/supplies for furniture – $70
Lamps – $50
Fabric – $30
Bed skirt- $55
Sheets – $50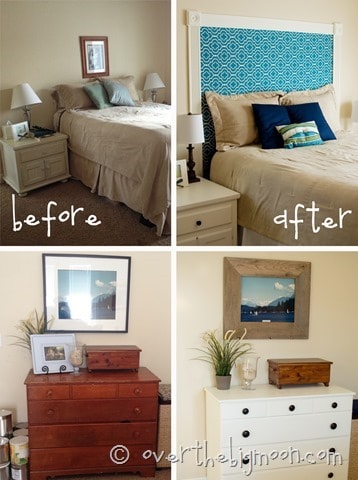 Its amazing what a difference you can make with a small budget, a little work, and some creativity.
Want to keep up with us at Over the Big Moon….click here to learn how to subscribe!
---
Lisa
Previous author of Over the Big Moon. I shared my passion for home and family life! I love graphic design, DIY projects, cooking, and working in my garden! My favorite role is taking care of my husband and our 3 amazing and busy boys!
---