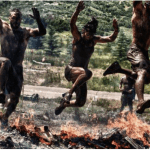 THE SPARTAN RACE – The Most Famous Mud Run!
Hello everyone, Amie from Dumbbellhousewife.com here!
THIS IS SPARTA!
This week is a big week for me. For the fourth year I will be running the SPARTAN RACE. This race is an obstacle adventure race, where burpees, mud, and fire are the name of the game. I can't even tell you how excited I am! This year will be especially exciting considering it is my first race after my back injury last year. If you haven't done a spartan race before, I highly suggest that you sign up for one. DON'T WATCH THE VIDEO ON THE SPARTAN RACE WEBPAGE! If you do, you might run away from the computer crying. Unless you're like me, and like pain and craziness.
True story! 🙂 I was getting ready to jump into the shower and pulled off my sports bra and sticks fell out of it and onto the floor. Yep! (The sticks in the picture are bigger for drama)
YOU KNOW YOU'RE A SPARTAN CHICK (or fitness chick) WHEN….
-Your car looks like it is where water bottles and Tupperware go to die.
-Every time you leave the house you not only have enough meals packed to last 2 days and enough water bottles to survive Armageddon but you also have a bag with 2 sports bras, an extra pair of socks, an extra set of gym cloths, deodorant, baby wipes – because who knows when you'll get your next shower. A hat to hide the ever so sexy 'Drown Rat' look after spin, Ibuprofen, Make Up and of course a never-ending supply of perfumes and hand sanitizer.
-Your trunk looks like a sporting goods store complete with; a camel bak – cause we all know Amie's got some crazy crap up her sleeve! Dumbbells – 8lbs and 15lbs just in case you want to pick it up to crazy status. Spin shoes, sunscreen, a towel, and of course a change of shoes.
-You get to the gym, change, and realize you've accidently packed the 'camel toe' shorts but class is about to start … so screw it.
-You catch yourself screaming 'Aroooo' at your kids sports games.
-Your husband is totally grossed out by the movie '300' but you're busy taking play by play notes of every scene.
-You realize you haven't shaved in 5 days!
-You schedule your hair washings around training sessions. But despite your best efforts realize you've got some serious dreads starting.
-Your body is covered with bruises and scrapes!
-You get excited about training in the rain!
-You randomly find yourself doing burpees and push ups at different places. The grocery store, coffee shops, and kids school activities are a few of my favorite places.
As you can tell, spartan chicks are hard core! Don't be scared though, anyone can do this race. All you need is some drive, and heart!
As seen in my post EVERYONE NEEDS TO DO A SPARTAN RACE ONCE IN THEIR LIFE, it can take a little work, but like my friend Ash, I hope I can convince you that this race is for you.
She responded with a….I don't think so, it looks horrible.
You can find the rest of the comic here…..Spartan
Now, I'm sure some of you have no interest in the race part, but would love to train like you're going to run one. If this is you, then I have good news! We have been doing a 20 day summer booty challenge. A crazy workout everyday for 20 days. Most of the things can be done at home, so you have no excuses. 🙂 These routines are an extra little bonus and should be done on top of your normal workout schedule. I promise you will love these workouts!
All the routines can be found here – GET THE BUTT AND LEGS THAT YOU HAVE ALWAYS WANTED.
In closing, life is too short to not try fun and different things. Get out there, experience and LIVE!
Much love, AMIE
---
Amie from Dumbbell Housewife
Amie is the author and owner of www.dumbbellhousewife.com! Amie has been an instructor and personal trainer for 13 years! She is a fitness freak and is passionate about healthy living. She is small in structure, but be careful because she packs a powerful punch. Martial arts, self defense, spin and bootcamps are some of her methods of torture.
---