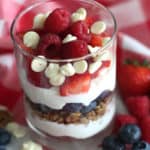 One of my family's favorite ways to celebrate big events is by doing big breakfast bars! The other day, we started talking about how we are going to cheer on Team USA as they go for the gold this upcoming month in Rio! The obvious choice for our family was to come up with a fun breakfast bar idea! So, we decided to create a Team USA Breakfast Parfait!
We headed up to a nearby Super Saver by Albertsons to get all the things we needed to make some fun USA breakfast parfait and breakfast bar!

MY LATEST VIDEOS
MY LATEST VIDEOS
I love shopping at Super Saver all year long, but right now if you buy $50 in participating products, you save $10 on your next shopping trip! PLUS, you can qualify to enter for a chance to win a U.S. Olympic Training Camp Experience just by buying your favorite brands (more on that later)!
When you're making these at home, feel free to customize yours however you want. Here's a look at what we used:
Chobani 0% Greek Yogurt
Granola
Raspberries
Strawberries
Blueberries
White Chocolate Chips
Then put them together by layering top to bottom: yogurt, granola, blueberries, yogurt, strawberries and raspberries. Top with some white chocolate chips! If you have a taller cup or want to make them bigger, feel free to add a layer of yogurt between the strawberries and raspberries!
Don't they look amazing? Well, I'm telling you – THEY ARE! Here are a few other things that I like to sometimes add: coconut to the top (in place of the white chocolate chips) and sometimes a light layer of honey on top of the granola!
Then to finish setting up the breakfast bar I added a few other things:
Simply Orange
Simply Apple
Fairlife Chocolate Milk
Chobani Almond Coco Loco Flips
Pop Tarts
NutriGrain Bars
Then of course here was our parfait section, before assembly!
You better believe that we'll be supporting team USA while they compete for the gold in Rio this upcoming month! What are your favorite events? We'll be watching most of them, but our favorites are gymnastics, swimming, diving and volleyball! I'm sure these Team USA Yogurt Parfaits will make a few appearances this month in celebration!
Do you want a chance to win a trip meet some of our favorite athletes? All you have to do is cheer on our nation's top athletes! #GetReadyForGold by purchasing themed items from your local Super Saver with brands like Coca-Cola, P&G, Smuckers, Kelloggs, Hershey, and Chobani!
You can win a trip for a U.S. Olympic Training Camp Experience. The sweepstakes runs from June 29, 2016 – August 22, 2016. Here's how to enter:
How to Enter:
ONLINE:

Make a qualifying purchase at a participating store location before August 22, 2016. Here is a list of the items: http://bit.ly/1NmI4vb.
Be sure to save your receipt and upload it at www.cokeplaytowin.com/readyforgold by September 5, 2016 at 11:59pm EST.

The image must be clear and legible and must include the purchase date, showing the qualifying products that you purchased.
Follow the links and instructions provided on the site in order to submit the registration form, including providing a valid home address. Note, P.O. Boxes are not permitted.
You will also be required to select your Albertsons Companies store location.
FREE MAIL-IN METHOD OF ENTRY:

During the Promotion Period, to enter without making a qualifying purchase or uploading a receipt:

Hand print your full name, street address (no P.O. Boxes), day/evening/cellular phone number (if any), email address, and date of birth on a 3″ x 5″ pieces of paper and mail it in an envelope with proper postage to "Get Ready for Gold Sweepstakes – Sweeps Entry," P.O. Box 5941, Department 825877, Kalamazoo, MI 49003-5941

You must also include your Division Prize Pool number on the outside of your envelope. Locate the name and number of the Division Prize Pool associated with your local store here.
Sweepstakes Prizing:
20 GRAND PRIZE WINNERS will be selected to win an Olympic Training Camp Experience.
100 SILVER PRIZE WINNERS will be selected to win prize packs featuring a beach towel, beach ball, umbrella chair with cooler, and an Under Armour bag c/o P&G.
200 BRONZE PRIZE WINNERS will be selected to win prize packs featuring a soccer ball, waterproof bluetooth speaker, and 20oz. bottle.
Review the official rules here: https://cocacola.promo.eprize.com/readyforgold/public/fulfillment/rules.pdf
If I won a trip to the U.S. Olympic Training Camp, I'd be all over meeting the Women's Gymnastics Team! And I wouldn't be able to go without taking my sister, Jamie! She was a gymnast her whole childhood and has coached since! There is NO WAY I could meet Simone Biles without her by my side!
Although I have been compensated for this post, all opinions are my own.
---
Pam Dana
Pam is a stay at home working mama that enjoys all phases of life! Between her 3 kids, fur baby (a beyond cute Goldendoodle), wonderful husband, friends and working, she stays pretty busy! But, she is loving every aspect of her life! Here on Over the Big Moon, she loves to share DIY's, recipes, printables, organization tips and more!
---