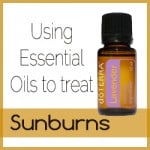 Using Essential Oils to Treat a Sunburn
Its summer and despite all precautions I ended up with a sunburn last week. I hate trying to sleep at night when your hot and cold all at the same time! I finally had enough and got up and rubbed lavender all over me and within minutes I was back to sleep! Lavender oil really take the heat out of the burn. I think it works WAY better then Aloe Vera. It will actually works on any burn – not just sunburns.
If you are burned really bad you can also soak in a tub with a mixture about 10 drops lavender oil, 5 drops peppermint oil, and 1 tsp jojoba oil. Just make sure the water is not too warm.
If I could only have 1 oil for the rest of my life -it would be lavender! This is what we use lavender for in our house:
Burns – all non major types
Aches and pains – rub directly onto where you hurt
Restlessness and Insomnia – rub on legs and feet at night. Funny story – my kids call this "sleepy oil" because it helps them sleep so much better. At one time Caleb hid my bottle so I couldn't use it to make him go to sleep faster 🙂
Cuts – my boys love this on their minor cuts. It helps cut the pain and also helps fight infection, as well as help scarring.
Earaches. For babies with ear infections you can add a few drops of lavender oil to coconut oil or olive and rub that into the skin around their ears
Menstrual cramps – rub lavender oil into your lower abdomen and then place a heating pad over where it hurts
And because we love our readers here so much at OTBM we are giving away a bottle of lavender oil in our group giveaway this week! Click here to enter!

MY LATEST VIDEOS
MY LATEST VIDEOS
Want to keep up with us at Over the Big Moon….click here to learn how to subscribe!
---
Lisa
Previous author of Over the Big Moon. I shared my passion for home and family life! I love graphic design, DIY projects, cooking, and working in my garden! My favorite role is taking care of my husband and our 3 amazing and busy boys!
---