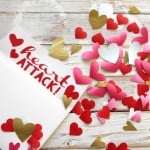 Valentine Envelopes
Hi! I'm Kimbo–aka.. a girl and a glue gun! I love to craft…mostly things that are super fast, easy, and usually FREE! (cause I'm crazy cheap!)
I have so many blank envelopes left over from old christmas cards, and photo paper that comes with my ink…I literally have about 100!
and I love to decorate them up a little bit for each holiday to make them extra special!!! And luckily…there are a ton of fun ways to do this!!!

MY LATEST VIDEOS
MY LATEST VIDEOS
You can also make these kid friendly and a little less messy by using these paint pens from elmers!
next up….
stamps!
the licked with love one is my favorite…so gross and funny all in one!!
and of course…crafting isn't crafting without some washi tape!!!
and last but not least….VINYL!!!! and easy way to add a fun message….
You can go here to see how to send a fun heart attack with vinyl hearts in the mail!
Go throw in your Valentines in these fun envelopes and pop in the mail to make someones day!!!
Thanks for having me girls!! You can come stalk me here:
agirlandagluegun.com II twitter II facebook II bloglovin II instagram
---
Pam Dana
Pam is a stay at home working mama that enjoys all phases of life! Between her 3 kids, fur baby (a beyond cute Goldendoodle), wonderful husband, friends and working, she stays pretty busy! But, she is loving every aspect of her life! Here on Over the Big Moon, she loves to share DIY's, recipes, printables, organization tips and more!
---