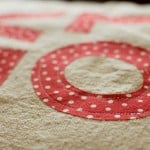 I do not sew.. Apparently, sewing machines can sense fear and whenever I get near they think they can just completely freak out on me! I saw Kari from U Create's pillow of the month and really wanted a new fun pillow for Valentines day! Her tutorial looked easy enough and I had some red and white fabric leftover from my Mom's t-shirt quilt that was perfect. So, I decided to give it a try.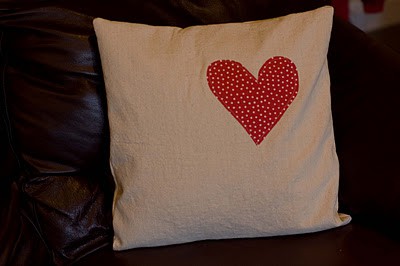 Guess what? It was super easy! I had bought some outdoor pillows for $2 at Home Depot in the fall and they made the perfect form to put the covers on. I even decided to try to appliqueing on them. I followed the tutorial I found on Sew Like My Mom. There were a few things that I didn't quite understand, but thankfully Sundi from Life of a Cheap Chickadee had just posted a video tutorial that saved me and answered all of the questions I had!
Since these tutorials were easy to follow, I won't do a full tutorial here. But, here are a couple of questions I had along the way as well as their answers.
My pillows were 16 inches rather than 18 inches like Kari's, so I just cut all of the measurements down by two inches and the cover fit perfectly.
Before I sewed down the sides of what would become the flap I ironed down about an inch, so that it stayed down and it made it super easy to sew nice and straight.
I sewed two lines down the edges of the fold and I liked how strong it was and how nice it looked
In order to do the applique, I had to reverse the letters. I used Photoshop Elements to flip them around and then I did traced them lightly straight from my screen onto the Heat and Bond Light.
I wasn't sure when I got to sewing the right sides together if I should sew the overlap of the pillow the entire length. The answer is yes! Here is what I'm talking about.
I did stitch around the letters and heart. I need a lot more practice, but it was fun to try and I love the way it looks!
I even made a little matching applique to put in my frame to tie it all together.
I am so excited about how easy this was. If you are afraid to sew this is a great project to start on. I cant wait to make pillows for each holiday and season! Here is a look at some of my other V-day decor.
I love that Valentine's is in the winter months. It's fun to combine the glitter of snow and winter with a pop of red. I found an awesome silver garland on clearance after Christmas for $1 and I love how it looks on my chandelier!
Here is an up close look:
It's the perfect combo of winter and Valentine's! Now I'm off to make more pillow covers! Give them a try – I promise they are easy!
---
Lisa
Previous author of Over the Big Moon. I shared my passion for home and family life! I love graphic design, DIY projects, cooking, and working in my garden! My favorite role is taking care of my husband and our 3 amazing and busy boys!
---