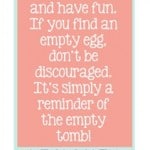 We are Going Egging
I saw the cutest idea from the blog Living a Redeemed Life. I am so excited to do this to a few families that live around us. All you do is hide 12 eggs with fun things inside. I did some with candy and some with dimes, nickles, and pennies in them. Make sure to leave 1 egg empty to help remind them of the resurrection. I made a tag to leave on the door and just wanted to share it today just in case any of you want to pass some Easter spirit around your neighborhood too! There are 3 notes per 8.5×11 sheet.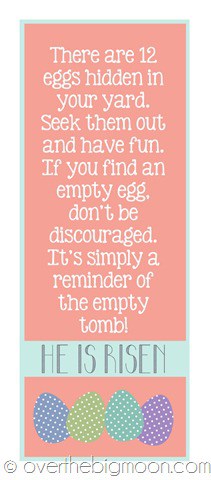 Want to keep up with us at Over the Big Moon….click here to learn how to subscribe!
---
Lisa
Previous author of Over the Big Moon. I shared my passion for home and family life! I love graphic design, DIY projects, cooking, and working in my garden! My favorite role is taking care of my husband and our 3 amazing and busy boys!
---