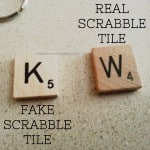 Wood burned Scrabble Tile Pendants
Hello, again! This Krista from While He was Napping. I hope all is well. I'm in survival mode with this last month of pregnancy. So, while in limbo waiting for this kid to decide my rib cage is not the best home, I've been trying to keep myself occupied (pre-occupied?) and just get through these last few weeks.
I have a problem: hoarding, uh…er, I mean collecting… Scrabble tiles and I have been trying to figure out some things to use them for. I have nothing but boys, so I didn't really want jewelry. However, I'm all girl at heart and just couldn't shake the temptation. And I love the whimsy of the dandelion. So, I combined the two and came up with this:
Materials:
– Scrabble Tile. I used a fake scrabble tile I got in bulk and an authentic tile, just for comparison.
– Woodburner Pen
(this is a link on Amazon to the pen I have, just so you know what I'm talking about. I got mine at Michael's, but it's slightly cheaper on Amazon than what I paid. It was still less than $15)- Small Eye Hook or Jewelry Bails. I used 1/2 inch eye hooks. If you can find a little smaller, I'd go with those, but this was the smallest my husband could find at Home Depot.- Ribbon, Necklace Chain, or Keychain
Directions:
– Choose a tip option for your burning pen – I prefer the pointed tip. Make any tip switches you need to now. Plug it in and turn it on. Let it warm up for about five minutes.
– Carefully hold the Scrabble tile by one edge and lightly run the burner pen over the surface of the tile. Always keep a watch on where your fingers are. The pen will get very hot, it will burn and it will hurt.
– Draw your desired design with the burner pen by lightly pressing the tip of the pen into the tile. Move slowly and consistently to get a fluid line.
– Take an eye hook and carefully press the sharp tip into the top of the Scrabble tile until it makes an indent. Begin twisting the eye hook into the tile until it is securely embedding in the tile. A pair of needle-nosed pliers can help you get a better grip on the hook, just wrap a small piece of paper towel or paper around the hook before you grab it with the pliers. That way you won't score or scratch up the hook. You can try to drill a small hole, but I usually cause more damage that way than just twisting it in.
– Thread your ribbon or necklace chain through the eye hook or attach your key chain to the eye hook and ta-da! That's it. You're finished. I chose ribbon because it's easy to change out and I can match or coordinate the pendant to any outfit. A chain would be a piece of cake. A thin leather cord would make a nice natural alternative as well.
Tips:
– It may take a little practice with the woodburner pen, so have a few extra tiles on hand or a piece of similar wood to practice on. It feels unnatural at first to hold the pen so high up (but you'll get burned if you don't).
– Remember to move slowly and consistently for the most solid line.
– Draw whatever your little heart desires (and can fit in such a small space)!
– Try not to let your pen get too hot. The longer it's on the hotter it will be. You'll have to hold higher up on the pen shaft so it doesn't burn your fingers and you'll have less control over the pen. Work in batches of 5-10 tiles if you're doing multiple necklaces or key chains and let the pen cool between each set. The tile on the left was done using the pen heated for about 5 minutes, the ones on the right were done with the pen heated for about 10-15 minutes and I had to hold it higher up. The lines are less fluid.
One tile took about 7-10 minutes to completely assemble. You could probably do a batch of 5 in 10-15 minutes. They are easy and totally personalizable. And if the letter on the back of the tile doesn't fit with your initial, you can cover it with some cute paper
Thanks for having me over again, Pam and Lisa. I hope all of you have a wonderful day and I'd love to have you drop by While He Was Napping.
---
Lisa
Previous author of Over the Big Moon. I shared my passion for home and family life! I love graphic design, DIY projects, cooking, and working in my garden! My favorite role is taking care of my husband and our 3 amazing and busy boys!
---