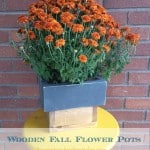 Wooden Fall Flower Pots
Hello Again! It's Amanda from The Contractor Chronicles and I am here today share a fun little fall project with you that is just perfect for sprucing up those fall porches – wooden fall flower pots! Plus, we get to use power tools so it is a win-win!
All you need for this project is a 1x6x6 and a 1x4x6 – unless you want to make a few (like I did) and then you need a little more!
CUT LIST:

MY LATEST VIDEOS
MY LATEST VIDEOS
(4) 1×6 @ 5 1/2″
(1) 1×6 @ 7″
(2) 1×4 @ 5 1/2″
(2) 1×4 @ 8 1/4″
Use your miter box and cut your 1×6 into square pieces. A 1×6 is actually 3/4 x 5 1/2 so cut four (4) 5 1/2 pieces.
Glue and nail your pieces into a square.
Your piece for the bottom will be 7″ long.
Cut, glue and Pin nail it on!
I stained the bottom of my box cherry and painted my border pieces using DecoArt Chalk Paint in Relic. When everything is dry, glue and pin your border pieces onto the box. I attached my 1″ from the top.
Drill holes in the bottom so the water will drain. Also, I took a sponge sander to mine and roughed it up a bit – just to make it look a little more rustic!
Fill it with your favorite fall flowers and you are done!! I found my mums at Walmart for $5!
I love how simple the boxes are but how much personality it add to my porch. You could paint them any fall color or stain them any color too! I think a gray stain, orange paint and yellow/red mums would be darling too!
Other Fall projects include:

25 Fabulous Fall Porches – Fall Wreath – Best Ever Pumpkin Bread
You can also follow us here on our social media as I am always showing sneak peeks at the projects we are working on!
Have a great day!!

You may also like –