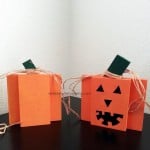 Hello, again Over The Big Moon Readers!  Hopefully you enjoyed the DIY Chalkboard last month and were able to download the printable version.  If not, it's not too late and you can find it HERE.
Okay, this month I wanted to something that would be fun for Halloween, but could also last more than just the 31 days of October, or what's left of those.  A little off topic: We recently upgraded our fish to a 55 gallon aquarium and needed a cabinet to put the tank on.  My handy hubby whipped one up as easy as 1, 2, 3… 97, 98, 99…  It was a pretty big project and he didn't have as much time to work on it as he thought he would; but, it's finished and he did an awesome job on it.  My point is this: we had a big bucket of scrap wood pieces.  It seemed a shame to just throw them out.  So, I started brainstorming and inspiration hit!
Materials:
– 1″x6″ Pine Board, pieces cut to various lengths (between 3-7 inches works best).  You'll need 2 pieces for each pumpkin.
– Scrap molding board for the stem, cut on an angle at about 1-1.5″ long.
– Wood glue
– Acrylic paint in orange and green
– Clamps (or other heavy objects – books, pickle jars, etc)
– Sandpaper (optional)
– Black vinyl (optional, could also use paint)
– Raffia (optional)
*As mentioned, all of my boards were scrap pieces, but you can get whole boards at any home improvement store (Lowe's, Home Depot and the like) for about $6.  They'll even cut it for you (sometimes they charge a small fee, but I've never had to pay for it).  Make a whole pumpkin patch or have a girl's night and everybody gets super cheap Fall decorations and a fun night.
Directions:

MY LATEST VIDEOS
MY LATEST VIDEOS
– Take the small piece of 1″x6″ and put wood glue on one side of the board.  Don't get too close to the edges of the board or you'll need to clean the glue off before it dries.  Lay it on top of one of the large boards.  Just eyeball it, it doesn't need to be perfectly centered.  Real pumpkins aren't perfectly symmetrical, after all.  Repeat for as many pumpkins as you wish to make.  When the glue is dry, unclamp the wood.  If you have enough clamps, go onto the next step once you've clamped the two boards together.
– Put glue on the slanted side of the small stem piece.  Again, don't get too close to the edges.  Arrange it on top of the pumpkin however you like.  Clamp the stem in place and let that dry.
–  When everything is dry, get out your paint and paint your pumpkins.  Orange on the 1″x6″ and green on the molding.  I didn't have orange, so I had to use a mix of yellows and red.  Let the paint dry.
– Cut a jack-o-lantern face out of your black vinyl.  I just used scissors and free handed it.  You could use a craft cutter and a cute font (punkinhead would be a fabulous font – for personal use) or use an X-acto knife.  You could paint the face on as well, but I liked that I can remove the vinyl on November 1st and still use the pumpkins.  No vinyl? Consider putting small boards on both sides of the large board and make the pumkins reversible.  Jack-O-Lanterns on one side and plain ole pumpkins on the other.
– Tie some raffia strings around the stems.  I ended up using a little drop of hot glue to hold it in place, but that was mostly to keep my boys from pulling it off!  I ended up going back and sanding the edges of the Jack-O-Lantern for a more rustic look… but I ended up liking it better without.  Your call.
That's it.  Aside from the drying time, it's a pretty quick and super easy project.  I love that I can pull them out in September and leave them out until the Christmas decor makes it's debut.  Which one is your favorite, the Jack-O-Lantern or the plain pumpkin?
See ya next month!  Thanks again, Pam and Lisa!
---
Lisa
Previous author of Over the Big Moon. I shared my passion for home and family life! I love graphic design, DIY projects, cooking, and working in my garden! My favorite role is taking care of my husband and our 3 amazing and busy boys!
---