You Make Me Happy Fabric Board
First things first, I just have to say thank you to these two wonderful ladies at Over The Big Moon. Aren't they amazing? I have loved following their blog and have learned so much from them. I am always excited to see what they will post next!
 I am Jessica from Pretty Providence!
Me and one of my best friends, Sarah, started our website to encourage living frugally and prove that you can still have nice things and a full life while living on a budget! We are still new and we would love your support and encouragement :).
One of my favorite things to do is make my house feel warm and happy. So, for my guest post today I thought I would share one of the many DIY projects I made for my son, Luke's nursery (he's nine months old now and crawling around like crazy)!
When it comes to having a baby (at least a first baby), there are plenty of things you can spend money on. As soon as I started browsing around I realized that nursery decor could be seriously pricey. I really wanted Luke to have a happy space. I wanted lots of bright colors and visual stimulation. I wanted his room to be personalized and I basically had no budget for it!
My parents donated the rocking chair and crib
, and my MIL sewed Luke's bedding and recovered the rocker to match the nursery better. Obviously this helped a ton to get things started. We already had the white shelf (Walmart special, $20), so the only thing in the nursery we had to pay for was the dresser. It is from the HEMNES series at IKEA and I absolutely love it. Even though it was a splurge it was worth every penny ($299). In addition to these staples I made 5 decorations that help tie the room together. I am going to share the first of those with you today!
"You Make Me Happy" Fabric Board:

MY LATEST VIDEOS
MY LATEST VIDEOS
This is without a doubt my favorite piece in the room. It is so personal to me. Bryce and Luke are definitely "my sunshine," and I have always loved this song. Heaven knows I can be moody, and pregnancy did nothing to lessen those hormones I can assure you. When I would become overly grumpy or irritated I would start working on this craft and it helped me to be soothed. It was really basic to make, but admittedly a little time consuming.
Here's how to make your own if you like it (sorry I don't have a ton of pictures, I wasn't planning on ever doing a tutorial):
-First things first, pull out your fabric scraps bin.
-Find a piece of fabric that you love, a little bigger than you want your board to end up.
-Decide what you want your board to say.
-Get on the computer, find a font you like, and type out what you're saying in the actual size you want the writing to appear on your board, only typing letters that appear multiple times once. If you have a Silhouette or Cricut, this will be much easier for you by using one of them.
-Print out and cut out your letters.
-Take a piece of fabric that is big enough to fit your first letter and iron on some Heat'n Bond Ultra Hold
 or any other fabric adhesive, then pin your letter on and cut around it. Repeat for all letters. (*I liked to lay my letters out as I went so that you can see the saying coming together and you can make sure you don't end up with a cluster of the same fabric unless you want it that way.)
-After all the fabric layers are cut, lay your letters exactly as you want them on your fabric backdrop (pinning if necessary) and iron on one at a time.
-After your letters are all ironed on top stitch around each letter. You may be tempted to skip this step, but I promise you, it will add definition and make your board ten times cuter.
-Finally, stretch your fabric around your board of choice and hot glue the edges in place on the back.
Wahlah!
If you want to see the rest of Luke's Nursery Reveal be sure to follow us over at
Pretty Providence
!
Pam  here, thanks Jess for sharing with us that adorable project!  I can attest to you how cute the board really is… especially in person!  I'm lucky enough to live across the street from Jessica and her cute little family (oh my gosh Luke is a cutie)!  Go check out there cute blog and start following them!  They've got some great info to share!  Thanks again Jess!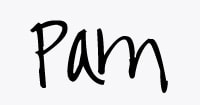 We may be linking up at THESE great Linky Parties!
---
Pam Dana
Pam is a stay at home working mama that enjoys all phases of life! Between her 3 kids, fur baby (a beyond cute Goldendoodle), wonderful husband, friends and working, she stays pretty busy! But, she is loving every aspect of her life! Here on Over the Big Moon, she loves to share DIY's, recipes, printables, organization tips and more!
---