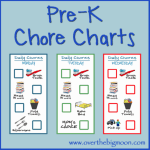 Pre-K Chore Charts
Chores….I know there are a million different ideas and methods out there already. BUT, most of them are for older kids. I needed an introduction to the responsibility of having chores for my Nathan, who is 3 1/2.
I love Lisa's Boys chore chart that she uses for her boys, but it still was a bit much for my Nathan. I even attempted to simplify her version for him about six months ago, but having them all on one page overwhelmed him a bit I think. His little 3 year old brain just saw a BUNCH of boxes and it made him not want anything to do with it after a few weeks.
Nathan really doesn't necessarily need jobs yet. I mean he is only 3. But, I wanted to start teaching him the idea that everyone in our family contributing to our home is what makes it work. I have this vision in my head of all of us having dinner and then my boys getting up from the dinner table, plate in hand, taking it over to the sink and then beginning to help with clean up. YES, I understand that that vision will probably not be so pretty when they get older, but hey a mom can dream!
So, I created a new little system. I wanted something very simple and that had each day on a separate checklist. Being that Nathan is so young, I wanted majority of what was on his list practical skills that he needs to improve at. Then I have a skill or two that he can complete from start to finish without any help from me and then a skill that challenges him and that he will have to work at be able to do all on his own.

MY LATEST VIDEOS
Brush Teeth:
We help Nathan brush his teeth still morning and night. But, he always wants to do it himself. So, I have a one minute timer (from Ikea) in his bathroom and he sets it and then brushes his teeth himself for the entire minute. I remind him to brush all over and for the entire minute. This way we are getting in an extra teeth brushing session, plus his ability to brush himself is improving!
Read 15 minutes:
This means alone! Being that he isn't reading yet, it is mainly books that we have read and he knows the stories already or books that are mainly pictures. He loves his dinosaur book right now and he goes through and tries to name all the dinosaurs, etc. This will be such a great habit to already have in place, when he is learning sight words and beginning reading books. I also think it is good for him to be able to sit and stay focused on a task like reading for that time frame!
Fold Towels:
When it comes to laundry, this is the area he can help. He is a pro wash cloth/dish cloth folder, but still struggles a bit with hand towels and bath towels. So, we are working on that currently!
Silverware:
Unload the silverware. We generally run the dishwasher at night, so this is one that I have him do in the morning, before or after breakfast. It is a simple enough task for him now, but one that he can complete start to finish without help from me. I will probably keep this on his chore chart for another 3 months and then introduce something new that he will have to learn.
Make Bed: This is an area that I have very little expectations. I just want him to start working on pulling up his sheets and bedspread and then arranging the pillows and his few stuffed animals, best he can! From what I hear from my older sisters, this will be an area we will ALWAYS be working on! hehe 🙂
Mom's Choice: This is just that… MY CHOICE! Clean up the backyard, entertain your little brother for a 1/2 hour, clean up 15 toys…. really whatever I want!!
I am offering the PSD's, PDF's or JPG's of my files – complete and blank. If you have a 3 or 4 year old and want to just use the ones I have offered, then go for it. Or you can import the blank files and then import your own images and words! If you don't have Photoshop, then remember you can go to http://www.aviary.com/ and edit them there. They have a lot great free clipart at www.clker.com and that is where I got all mine! To customize them in Aviary, you will need to download the JPG files.
Also, I personally laminate all mine and then put magnet strips on the back. I put all of them on the side of the fridge and the appropriate day Chore Chart on the front of the fridge. Then, Nathan uses dry erase markers or dry erase crayons to mark off the job once it is completed! That way he is only looking at the tasks that I expect him to complete that day and no others!
I also just re-did my personal chore chart that I have hanging on my fridge. Since I moved into this house (Sept), I haven't kept a great schedule. But, with 2012 here, I thought there was no better time then now to get back in a good routine! You can download the adult Chore Chart that Lisa made HERE!
Want to see more from us? Find out how to subscribe to our site here.
---
Pam Dana
Pam is a stay at home working mama that enjoys all phases of life! Between her 3 kids, fur baby (a beyond cute Goldendoodle), wonderful husband, friends and working, she stays pretty busy! But, she is loving every aspect of her life! Here on Over the Big Moon, she loves to share DIY's, recipes, printables, organization tips and more!
---