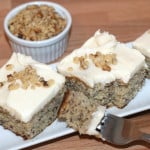 Frosted Cream Cheese Banana Bars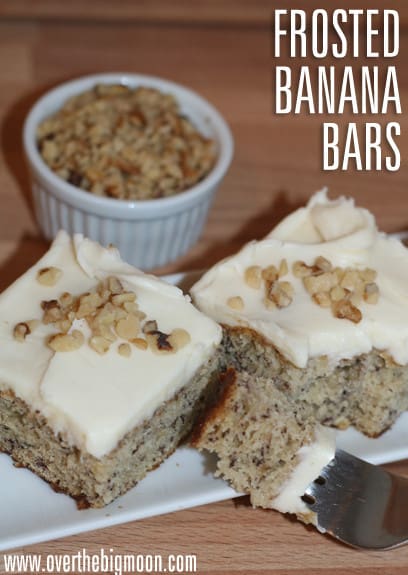 This is a treat we enjoy year around in our house – Frosted Cream Cheese Banana Bars! Anytime I have some bananas going bad then these get made. In fact I swear my kids purposely don't eat our bananas so that I will make these! They're that yummy!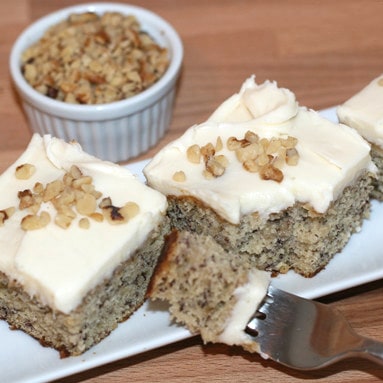 Banana Bars with Cream Cheese Frosting
2015-09-30 06:12:13
Serves 15
A dessert like Banana Bar with a yummy Cream Cheese frosting!
Bars
½ cup butter, softened
2 cups sugar
3 eggs
1-1/2 cups mashed ripe bananas (about 3 medium)
1 teaspoon vanilla extract
2 cups all-purpose flour
1 teaspoon baking soda
Dash salt
Cream Cheese Frosting
1 package (8 ounces) cream cheese, softened
½ cup butter, softened
4 cups confectioners' sugar
2 teaspoons vanilla extract
Instructions
In a large mixing bowl, cream butter and sugar until light and fluffy. Beat in the eggs, bananas and vanilla. Combine the flour, baking soda and salt; stir into creamed mixture just until blended. Transfer to a greased 15-in. x 10-in. x 1-in. baking pan. Bake at 350° for 20-25 minutes or until a toothpick inserted near the center comes out clean. Cool in pan.
For frosting, in a small mixing bowl, beat cream cheese and butter until fluffy. Add confectioners' sugar and vanilla; beat until smooth. Frost bars.
Adapted from Taste of Home
Adapted from Taste of Home
Over The Big Moon https://overthebigmoon.com/

Start by mashing up the bananas! The recipe calls for 1 1/2 cups of mashed bananas (about 3), but I generally do more like 4 bananas! But, we like it to have a little stronger banana taste. This is a great job to have your little helpers do!
Next, cream the butter and sugar until light and fluffy.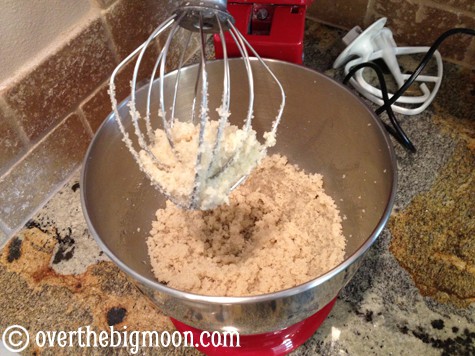 Beat in the eggs, bananas and vanilla next!
Next, mix your dry ingredients (flour, baking soda & salt) in a separate bowl and then add them to your wet mixture and combine.
Once combined, pour mixture into a greased large 15×10 pan. Bake in a 350 oven for 20-25 minutes. While they bake – make the Cream Cheese Frosting!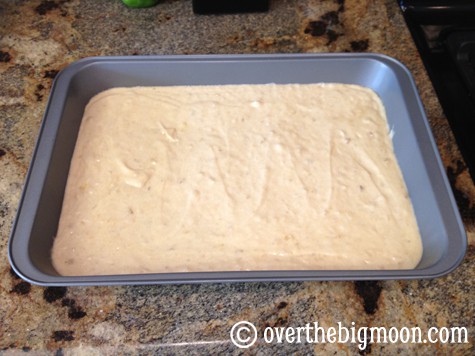 For the frosting, combine softened cream cheese, butter, vanilla and 1 cup of confectioners sugar and mix.
Keep adding the confectioners sugar, small amounts at a time until all 3 cups are added and the mixture is all combined.
Once the Banana Bars are baked and completely cool, frost the bars with the frosting. If you frost them too early, then the bars will melt the icing a bit. After frosted, refrigerate and ENJOY!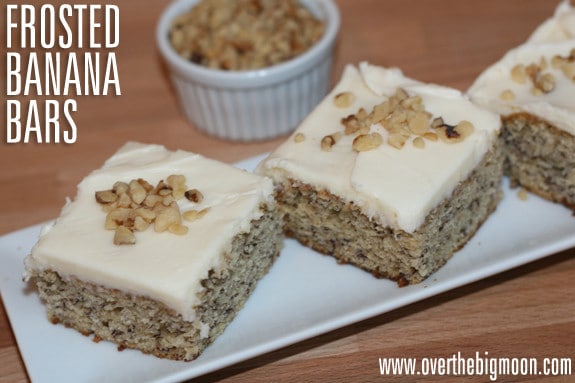 ---
Pam Dana
Pam is a stay at home working mama that enjoys all phases of life! Between her 3 kids, fur baby (a beyond cute Goldendoodle), wonderful husband, friends and working, she stays pretty busy! But, she is loving every aspect of her life! Here on Over the Big Moon, she loves to share DIY's, recipes, printables, organization tips and more!
---