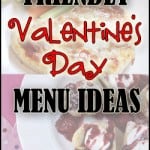 Kid Friendly Valentine's Day Menu Ideas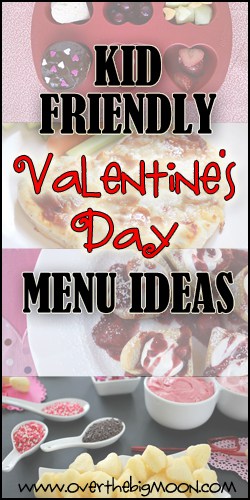 I have always loved how Lisa has her tradition of making super fun meals on Valentine's Day! But, for some reason, the last few years I just haven't had it in me. Maybe it was the age or stage my kids were in, I'm not really sure! But this year – I am ready to be all over it!
For me, I want Valentine's Day to be something that our whole family celebrates and enjoys. Not, just my husband and I – we go out a different night. So, I decided to get to work planning out the meals I'm gonna make for Valentine's Day! I am hoping I can stick with this until my kids are grown. I want this to be something that my kids think back on when their older and it brings a smile to their face!
I'm going to share what I am planning on making along with the top 2 runners up for Breakfast, Lunch, Dinner & Desert!

MY LATEST VIDEOS
MY LATEST VIDEOS
Breakfast: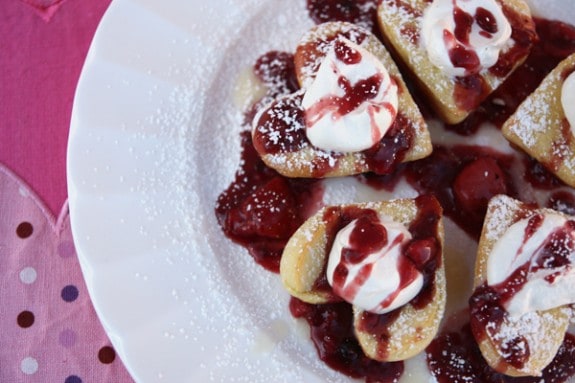 I'm really excited about these Mini Puff Pancakes from Our Best Bites! I mean look at them – are you kidding me?!? We call them Puffy Oven Pancakes in our family, but adding that Berry sauce and making them mini just makes them that much better! My mouth is watering just looking at them! This will be something special for me and my hubby too! I ordered this heart Cast Iron Mini Heart Pan to make our Puffy Oven Pancakes cute little perfect hearts!
2 Runner Ups: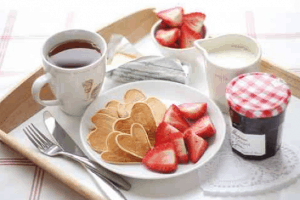 Pic Source: Baby Center
These mini heart pancakes and strawberries for breakfast are a great choice! When I saw this I realized these would be much better than full sized pancakes! I've done pink pink heart pancakes before, but let me tell you the problems I had. First off, my kids are younger, so I basically had the heart pancake cut down into smaller bites within seconds of them seeing the pancake. With the smaller heart pancakes I can actually serve the plate and they can cut each small heart pancake into 2 or 3 bites themselves as they go. The 2nd problem I had in the past, was the pink pancakes weren't that pretty once I cooked them. They'd get a little golden brown on them and it just straight up ruined their cuteness! You can order these silicone mini heart rings to make the hearts more consistent.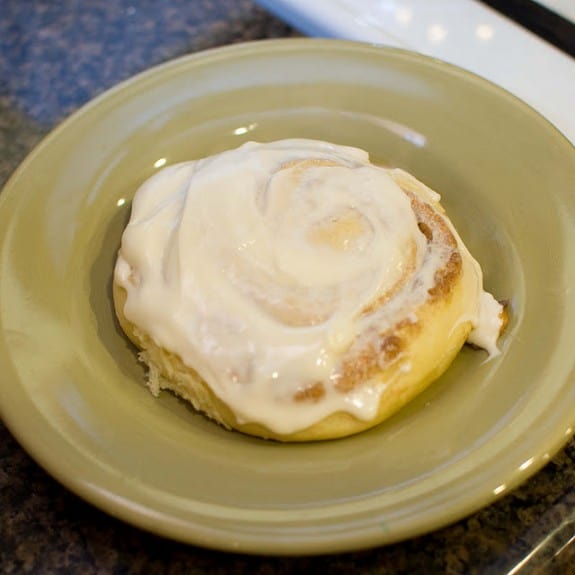 They are a tradition for me and Lisa's family on Christmas morning (Lisa started the tradition and I just copies it-haha), but Lisa's Cinnamon Rolls are NEVER a bad choice! They are seriously THE best! And, the best part is that you can make them a day or two ahead of time!
Lunch: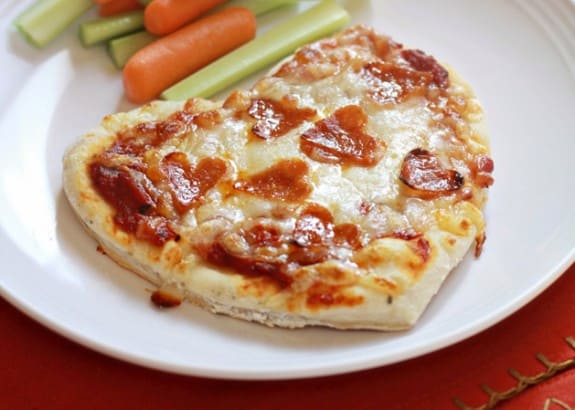 Heart shaped Pizza's is the winner for lunch! My kiddos love pizza, but as a bonus I can pre-make the dough and sauce. That way lunch will be easy! If you've never made homemade pizza, Make Craft has an awesome step by step tutorial here! I will also make my super easy and amazing breadstick recipe that I shared HERE!
2 Runner Ups: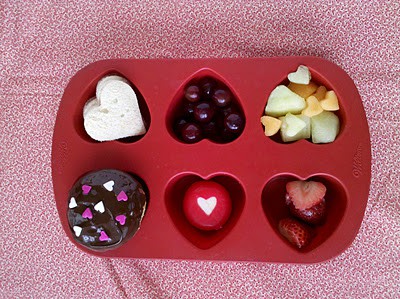 My kids always loved doing Muffin Tin Monday – makes me want to start doing it again just seeing this adorable picture! This would be a great option, especially for those with younger kiddos! Here is a great sample of what you could put in it from Muffin Tin Mom! You can order an adorable heart shaped muffin tin here!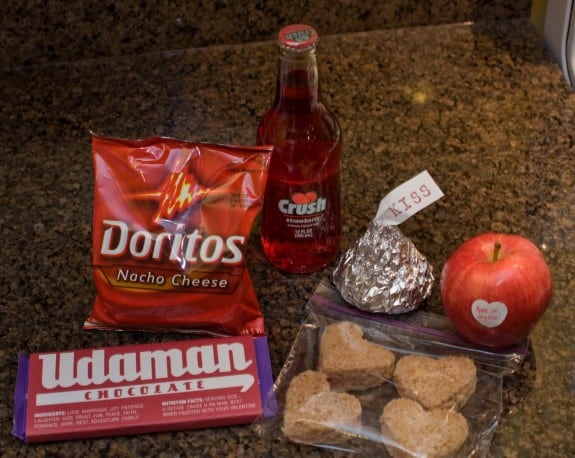 Lisa always packs her kids a cute lunch too! HERE is a sample of her lunch from a couple years ago! I especially love the drinks and hershey kiss. I'm planning on incorporating them into my Pizza lunch!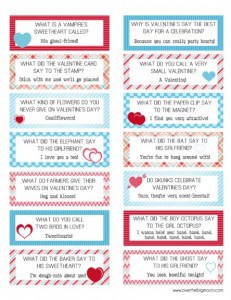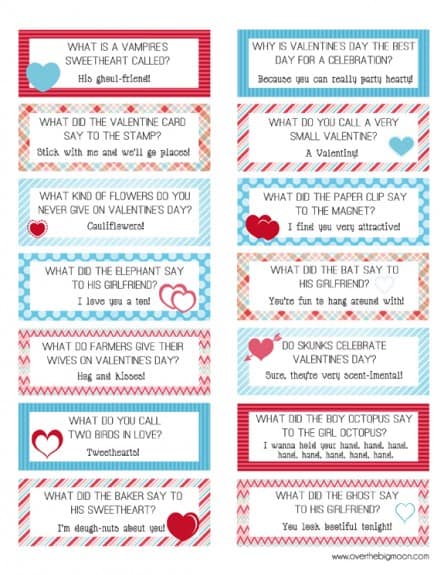 Don't forget to print off our Valentine's Day Lunch Box Joke Cards to put in your kids lunches the whole month of February (til V-Day of course)!
Dinner:
For dinner – I'm not talking about going 3 courses or anything. Although in the future I may make them bigger. For now, being that Dylan will still just be 8 months old, I'm keeping it real! I basic FULL dinner is all I can really pull off! Remember too, this is a FAMILY FRIENDLY dinner! So, I need to make something that my 3 and 5 year old will eat! I know all kids are different and I actually have semi-picky eaters. So, I had to go simple – something that I can leave plain for my kids, but maybe season different for my hubby and I!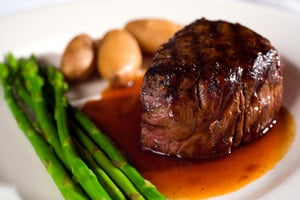 FILET MIGNON – SCOOP OUT POTATOES – GRILLED ASPARAGUS
I decided to go with grilling some nice Filet Mignon, Scoop-Out potatoes (twice basked), grilling some asparagus, making some nice rolls and finishing it with some Brazilian Limeade! My kids love steak – it's something that I never get complaints over! So, that is why I chose it! They don't like potatoes though, so the scoop out potatoes are for the hubby and I. They'll eat an asparagus (with a little push) and of course the roll! hehe 😉
2 Runner Ups: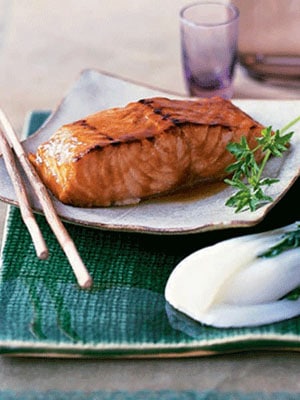 Served with a Orange Glazed Green Beans and Pineapple Rice! My kids are hilarious – they don't like a lot of things, but along with steak they love Salmon! So, this would have been my next option. They also love any rice! They probably wouldn't couch the green beans though – those would have been for the hubby and I!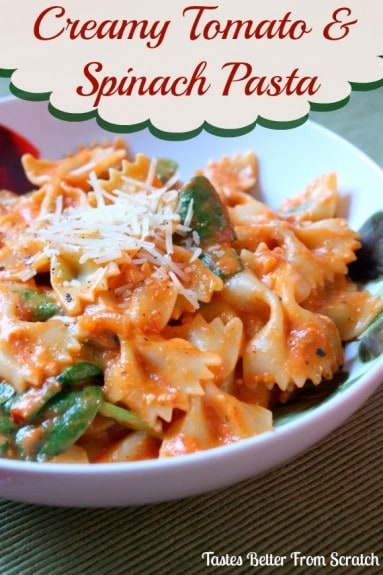 Creamy Tomato & Spinach Pasta from tastesbetterfromscratch.blogspot.com!
Served with a nice Green Salad and your favorite veggie! I included this, because most kids love Pasta! I thought this would be simple enough that kids would love it, but it isn't just a plain spaghetti for the adults! You could also cut back on the spinach or pick around it if your kids wouldn't like that part. My sister made this for her family (kids ranging from 3-14) and they liked it. The younger ones just didn't eat the spinach part.
Dessert: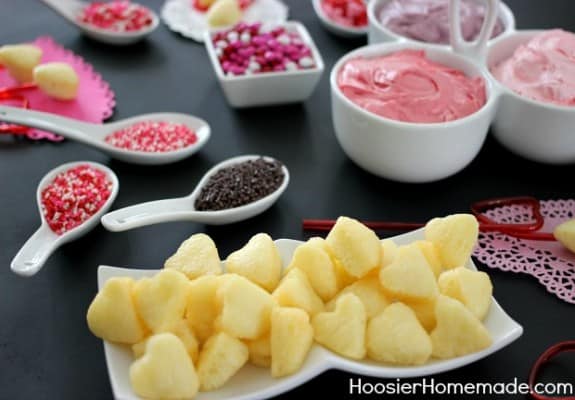 I am dieing over this Valentine's Day Cupcake Fondue idea from Hoosier Homemade! My kids are going to LOVE LOVE this! This would be a great for a kids party too!
2 Runner Ups: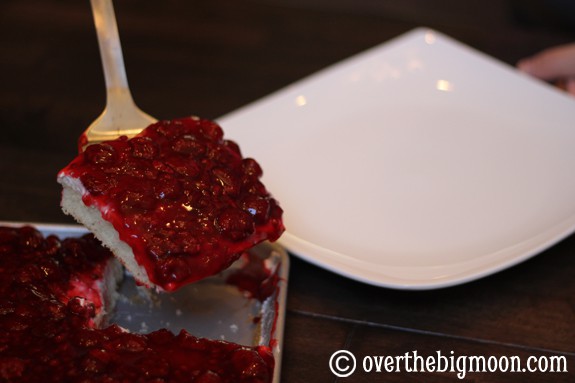 Raspberry Sheet Cake is one of my families favorite desserts! It is so rich and yummy! You can't go wrong with this!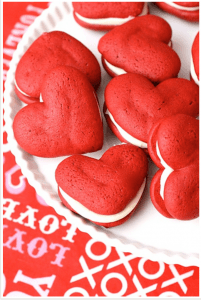 Red Velvet Whoopie Pies from Annie's Eats! How delish and fun do these look? I might have to make these for a fun middle of the day treat! hehe 🙂
I hope that this list can help you plan your Kid Friendly Valentine's Day Menu!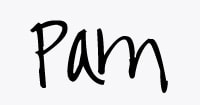 Want to keep up with us at Over the Big Moon….click here to learn how to subscribe!
---
Pam Dana
Pam is a stay at home working mama that enjoys all phases of life! Between her 3 kids, fur baby (a beyond cute Goldendoodle), wonderful husband, friends and working, she stays pretty busy! But, she is loving every aspect of her life! Here on Over the Big Moon, she loves to share DIY's, recipes, printables, organization tips and more!
---