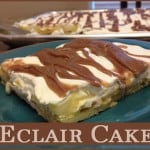 Eclair Cake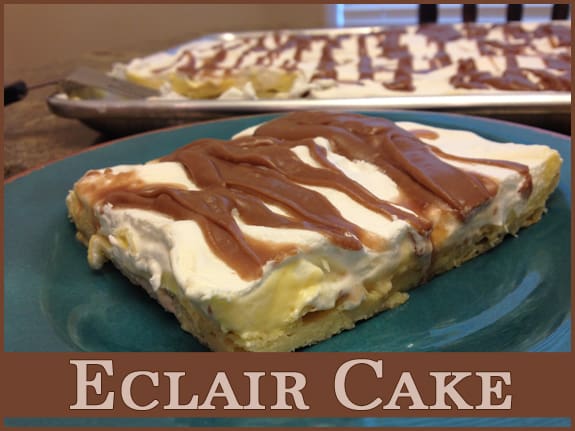 One of the major bonuses I received when marrying into my husbands family was all the amazing recipes my mother-in-law has shared with me!  She is one amazing cook and one of my my favorite desserts is her recipe of Sheet Eclairs, better known as Eclair Cake!
It is seriously so yummy and people always LOVE it!  So, it's always a fun recipe to take for a party or BBQ!  My MIL was down this last weekend for my baby Dylan's baby blessing and was nice enough to make a couple pans for the luncheon after the blessing!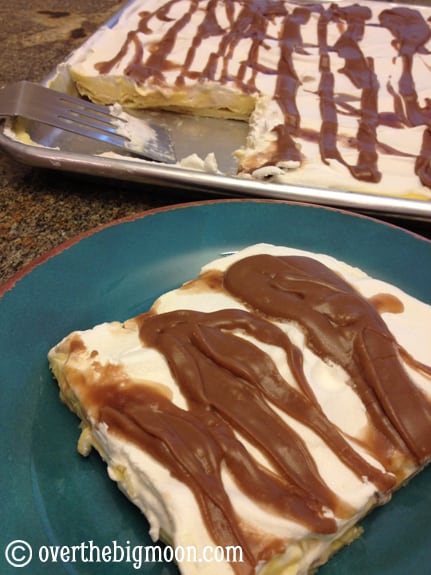 MY LATEST VIDEOS
MY LATEST VIDEOS
 Here is the recipe:
Pastry Base:
1 cup water
1/2 cup butter or margarine
4 eggs
1 cup all purpose flour
pinch of salt
Bring water, salt and butter to a boil. Add flour and stir until mixed. Remove from heat and add one egg at a time and mix until no longer glossy.  This can be difficult towards the end – don't give up. Work those arms muscles! If necessary sprinkle some more flour. Spread on a large greased cookie sheet.  The mixture is very sticky.  I always put a little oil on my hands, so the mixture doesn't stick all over my hands.  It REALLY helps the process!
Bake at 450 degrees for 10-15 minutes or until golden brown. Cool completely.
Pudding Mixture and Cool Whip Topping:
3 1/2 cups milk
1 – 8 oz cream cheese (softened)
2 small boxes of instant french vanilla pudding
1 medium carton of cool whip
Mix pudding with milk as directed (beat with mixer) and blend in softened cream cheese. Spread over the top of the cooled crust. Put in the fridge for a few minutes to let the pudding set. Otherwise the Cool Whip may not spread as easy. Put cool whip on the top. Drizzle chocolate frosting on top.
The below fudge frosting refrigerates very well. If you are lazy (like I am sometimes) then you can use Hershey's chocolate, but note that it DOES NOT refrigerate well.  If I don't have time to make the below fudge frosting, then I generally just have the Hershey's chocolate bottle there for people to drizzle on their individual piece.
Fudge Frosting:
1/2 cup butter
4 Tbs cocoa
1 box of powdered sugar (about 3 3/4 cups)
Milk
Melt together on low heat in a heavy sauce pan. Remove from heat and add 1 box powdered sugar. Then add milk until desired consistency and taste.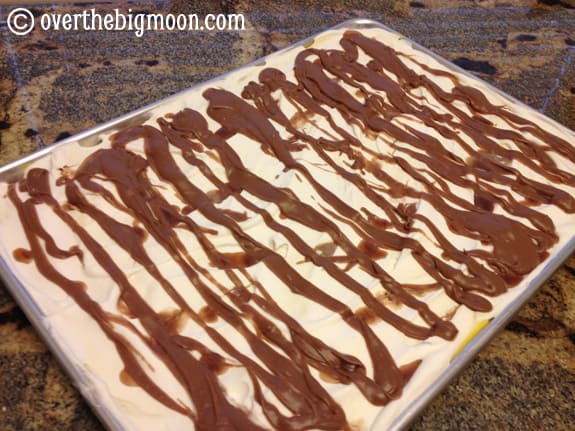 Enjoy – this is such a great recipe!  You and all your loved ones will love it!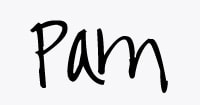 Want to keep up with us at Over the Big Moon….click here to learn how to subscribe!
We may be linking this post up to THESE great Linky Parties!
---
Pam Dana
Pam is a stay at home working mama that enjoys all phases of life! Between her 3 kids, fur baby (a beyond cute Goldendoodle), wonderful husband, friends and working, she stays pretty busy! But, she is loving every aspect of her life! Here on Over the Big Moon, she loves to share DIY's, recipes, printables, organization tips and more!
---