Morning Routine Printables
My Nathan boy is heading to 1st grade this Fall! Plus, my Jeff is headed to a 4 day a week preschool (that incorporates his Speech Therapy). Both need to be to school around 9 am – which means our mornings are going to be a bit busier than we are used to! I decided it's time for Nathan to be on his way to getting ready in the mornings on his own. Last year I can't tell you how many mornings I would catch Nathan doing something he shouldn't (playing, watching TV) and I would have to say, "Nathan, what do you think you should be doing right now instead of ________?!?" He would grin and name the items. Hence the birth of this Morning Routine Printable!
If I have a printable for him to reference, I really believe he will be able to get everything done without me having to remind him or repeat myself 15 times a morning! Especially if I make a strong effort to teach him to reference it first and foremost in the morning!
I am offering the printable completed and blank in both girl colors and boy colors! If you want to customize it, just download the blank version and you can import it into Photoshop or any other editing program that you have and you can add the images and text you'd like!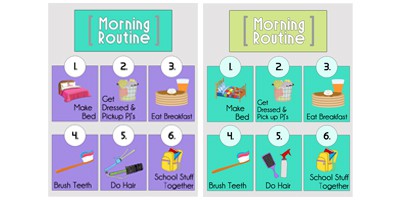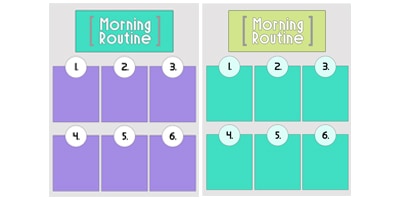 This printable is part of the 45 days of Back to School Series hosted The Benson Street! Be sure to head over there and learn all about the fun series! Also, check out the ideas that have already been shared below in the linky party! It's going to be going on for another month, so don't forget to check back and see the other great ideas that are shared too!
Pam Dana
I am a wife and mom that is over the moon for family, traditions and fun! I love to share lots of printables, DIY's, kids activities and my families favorite recipes! I am married to my husband, Scott, and we have 3 beautiful children and together they are my world!