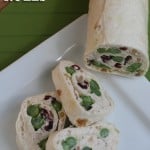 Asparagus Rolls
I got this recipe for Asparagus Rolls from my mom and it is one of my favorite appetizers ever! Sometimes, I'll make it and then eat off it for a couple days for my lunch! It is seriously delish! It has such a great presentation, with the green asparagus and red craisins! Perfect anytime of the year, but especially my favorite for the Holiday Season!
4-6 Large Tortilla's
Large bunch of asparagus (approx 20)
2 Large Can of Chicken (approx 3 shredded breasts)
1/2 C. Chopped Nuts
1/2 C. Craisins
4 oz of Regular Cream Cheese
1/2 container (or so) of Garden Vegetable Cream Cheese
1/4 cup Mayo
Garlic Powder
Start by getting your asparagus cooking. Cook it to your preference. I like mine cooked to be soft, but most like it with a little crunch.
Then chop up your nut of choice (that is if you didn't buy them pre-chopped)! My favorite is walnuts!
Then combine the chicken, nuts, craisins, regular cream cheese, garden vegetable cream cheese, mayo and garlic powder and mix by hand or in a mixer.
Mix, mix, mix!
Once your asparagus is cooked to your liking, drain really good!
Lay out a tortilla and spread your chicken mixture evenly all over it.
It doesn't have to be perfect, but cover the whole surface.
Then lay a piece of asparagus on the end of the tortilla and start rolling it.
Once the asparagus is enclosed in the roll, stop and add another asparagus.
Repeat and repeat until there is no more tortilla!
It will look like this when it is done being rolled!
Then cover the asparagus rolls in plastic wrap or Press N Seal! Place the covered Asparagus Rolls in the fridge for 4-6 hours or overnight. If you need to, you can put them in the freezer for an hour or so, to speed up the process.
When you remove them from the fridge, unwrap them and cut them up in 1/2″-3/4″ thick (or so) pieces. The ends will be ugly when you cut them off, so if you're like me… you just eat them right then and there! hehe 🙂 My favorite part!
ENJOY!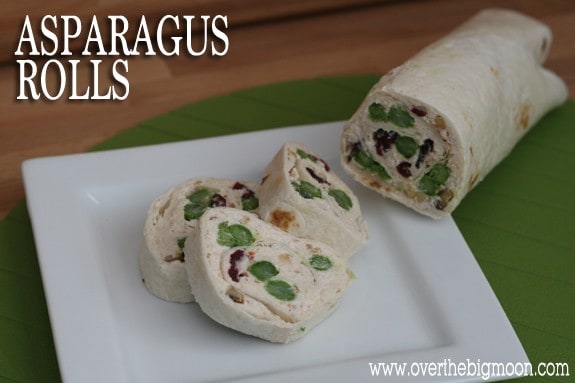 ---
Pam Dana
Pam is a stay at home working mama that enjoys all phases of life! Between her 3 kids, fur baby (a beyond cute Goldendoodle), wonderful husband, friends and working, she stays pretty busy! But, she is loving every aspect of her life! Here on Over the Big Moon, she loves to share DIY's, recipes, printables, organization tips and more!
---