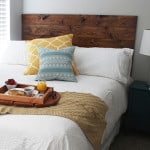 Easy DIY Headboard Hung Using Command Strips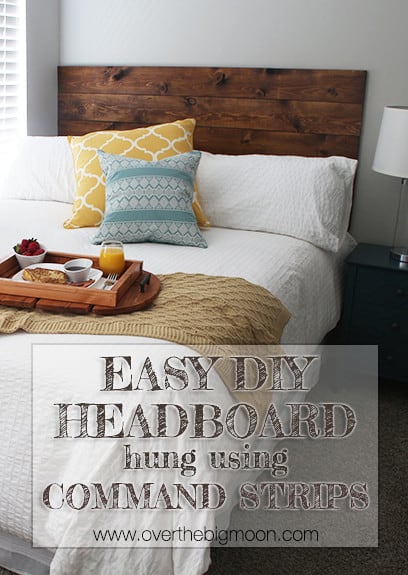 Hey friends! Today I am SUPER excited to share with you this fun project! We've been in our house a year now and I hadn't really done anything to our guest room! Partially out of laziness and partially, because I knew we were going to finish our basement and move the guest room down there. I wasn't sure what I was going to do with the space afterwards.
A few weeks ago I decided I wanted to do something with that room! First up, a head board. I pitched the idea to my husband and he wasn't super stoked, because we are arm deep in finishing the basement. Every extra penny that we have right now is going into the basement cost. But, I just couldn't shake the idea of wanting to make some progress in that room. Then I had this idea pop into my head! Pretty Providence shared this post earlier this year of hanging a gallery wall with command strips! Genius, right? So, why couldn't I do that with a headboard?
Well guys, I did it and it worked! Perfectly I might add!
Supplies Needed:
5 – 1×6 Boards (or as many as you need to create the height you want)
Hand Sander or Sandpaper (for light standing)
Stain or Paint of Choice
20 Sets of Command Picture and Frame Hanging Strips (holds 16lbs)
Level
Start by taking all your 1×6 boards and give them all a light sand. You really only need to work about the top side and the edges.
Next wipe off the boards with a super damp cloth to make sure that the surface doesn't have any dust or debris on it.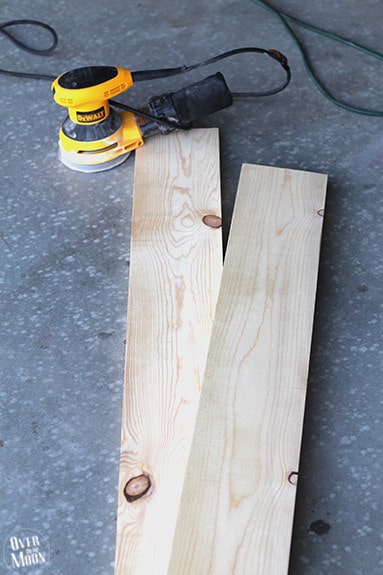 Then go ahead and stain or paint your boards.
I stained mine using MinWax Dark Walnut and then used a Polycrylic to create a protective coat and finish. I wanted different texture and tones in my boards, so you'll notice that in the above picture.
After I finished the boards, I took them inside and laid them out in different order to figure out what order I wanted them in!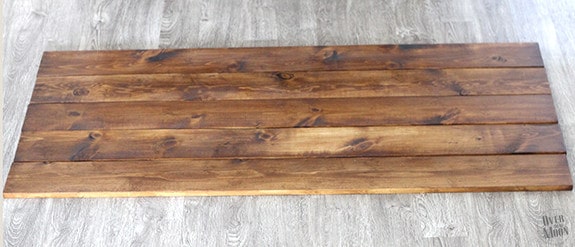 Figure out where you want the bottom of the bottom board and measure and mark that spot.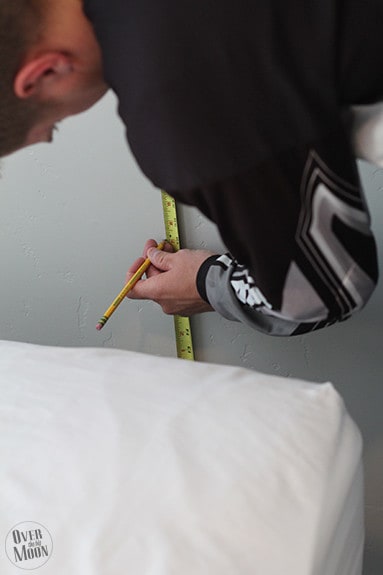 Next, add the Command Picture and Frame Hanging Strips to the back of the boards. I attached the pair of strips to each other, so like put the front on the back. Then I peeled one side of the command strip and attached it to the board. The command strips can hold up to 16lbs each and the boards weight about 5lbs. Honestly, I think that 3 command hanging strips would be totally sufficient to hold the board up. But, I wanted to make sure it was being held level, so I added 4 of the command hanging strips to the back of each side.
I also numbered the boards as I put them up, so I wouldn't have to guess the order if I ever moved the bed!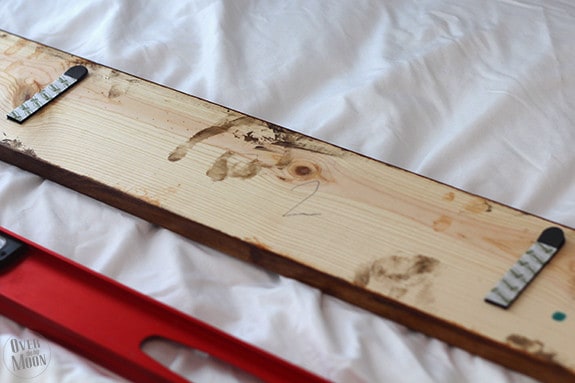 The first board is the trickiest to get hung. We held it up to the wall, made sure it was level. Then just leaned the board back, keeping the bottom of the board still level and touching the wall. Then we removed the backing of the command strips and then attached it to the wall. Make sure and push the board firmly, to make sure that the command strip is totally attached to the wall!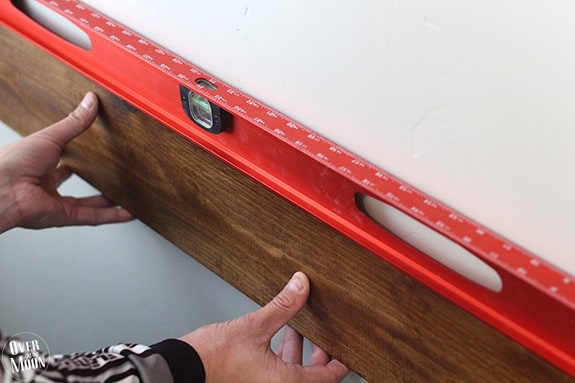 I didn't want the boards touching, but I didn't want a big gap between them either! My husband had the suggestion of getting some nickels to use and it worked perfectly! We placed 6 nickels along the board and then prepped the next board (put on command strips, number it and then remove command strip back). Then we just slowly placed it above the board, allowing the nickels to create the gap I was looking for.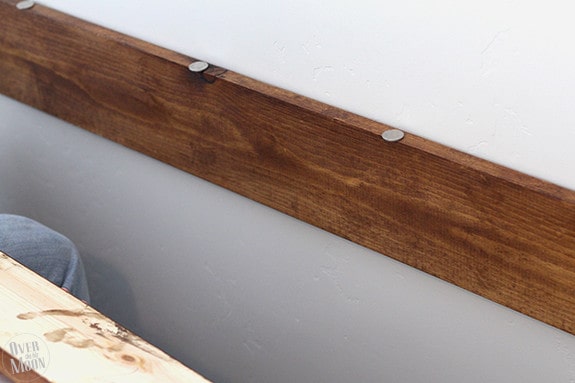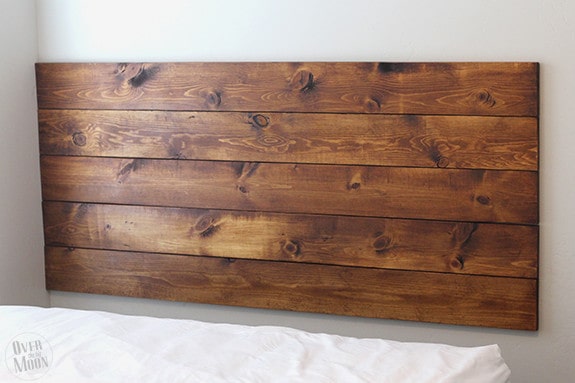 I am so happy with how it turned out! And the best part is that I can move it to a different wall or room at any point that I want too! Woohoo!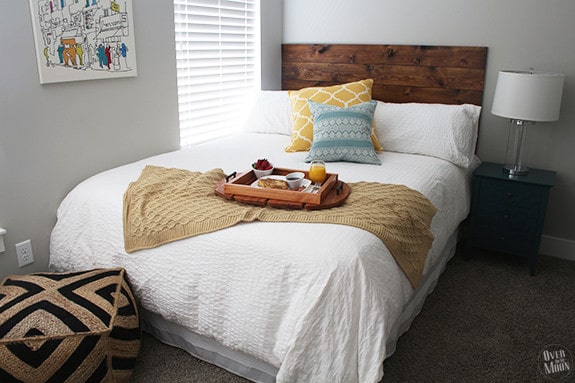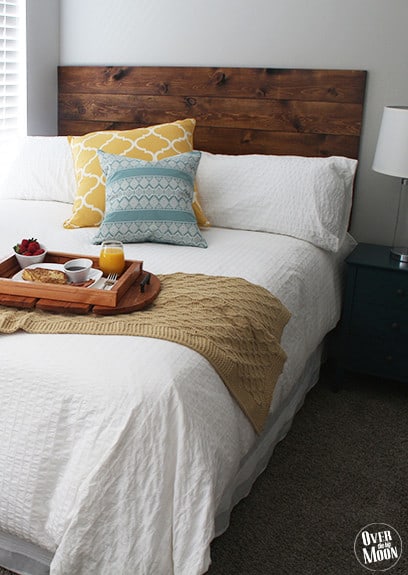 ---
Pam Dana
Pam is a stay at home working mama that enjoys all phases of life! Between her 3 kids, fur baby (a beyond cute Goldendoodle), wonderful husband, friends and working, she stays pretty busy! But, she is loving every aspect of her life! Here on Over the Big Moon, she loves to share DIY's, recipes, printables, organization tips and more!
---