Ben 10 Pre-K Pack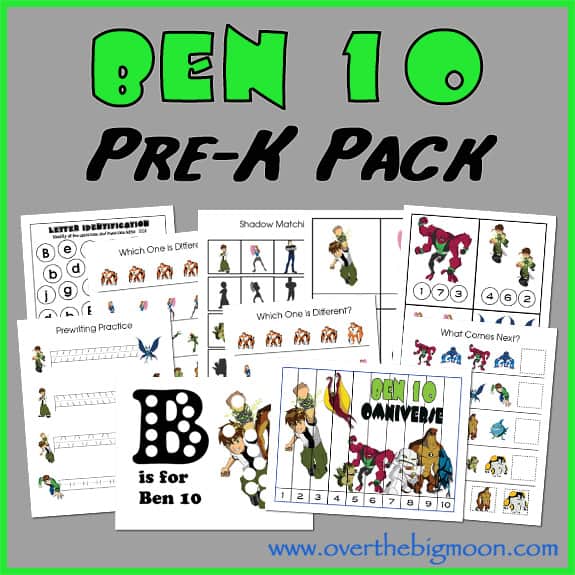 BEN 10! My boys are obsessed right now! It's a show we discovered on Netflix that has apparently been around for a while. From my understanding it was really big in other countries and is just kinda getting popular here in the US! All I know is that it is the one show that both my boys can agree on right now and it has made my life a lot more peaceful! So, to show my thanks to my boys, I decided to make them a Ben 10 Pre-K Pack (Expansion Pack coming soon)! I hope this Pack can entertain some other little kids out there, besides just my boys! A lot of my friends (and their boys) have never heard of it. So, I guess we'll see! hehe 🙂
Included in this Pre-K Pack is:
Prewriting Practice Sheets – Cutting Practice – Which one is different?
Finish the Pattern Sheet – Size Sequencing Sheet – Ben 10 Strip Puzzle
4-piece Puzzles – Sorting Practice -Counting Practice Cards
Color the Ben 10 – 2-Part Vocabulary Cards
Shadow Matching – Letter Bb Identification
Ben 10 Matching – Letter Bb Sorting Page
Pam Dana
I am a wife and mom that is over the moon for family, traditions and fun! I love to share lots of printables, DIY's, kids activities and my families favorite recipes! I am married to my husband, Scott, and we have 3 beautiful children and together they are my world!