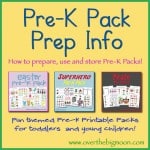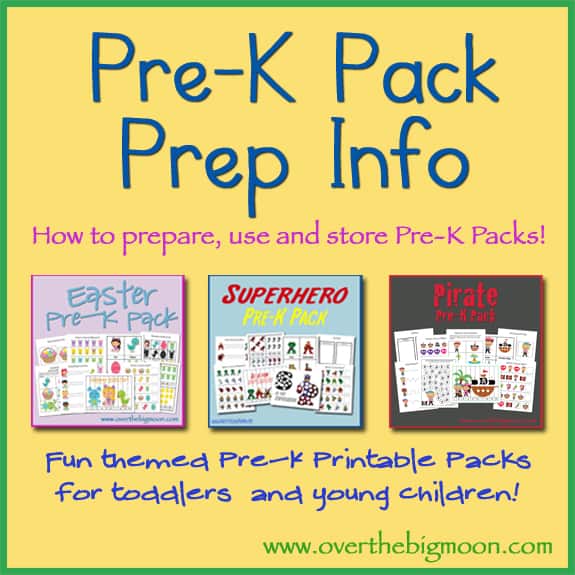 Pre-K Pack Prep
Welcome everyone! I have found over my few years of putting together these Pre-K Packs, that the audience is growing to as many stay at home mom's, as much as the homeschool community! I for one – think that is fabulous! My boys have loved using and playing with the Pre-K Packs! I love that learning and practicing their academics has been a fun and positive thing for them and not a boring thing or punishment!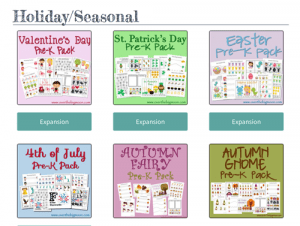 As of April 2014 we currently have 25 Pre-K Packs, with 14 of the themes also having Expansion Packs! We also have other fun learning printables, such as our Full Alphabet Identification Printables, Aa-Zz Alphabet Flashcards, Monster Color Puzzles, Alphabet Stamping Sheets, Pre-K Chore Charts, Letter Matching Printables and Monster Counting Cards!
For those of you that are new to my Pre-K Packs I wanted to quickly go through the pages, as well as explain how I prepare and store them!
First up, I'm going to quickly list the things that I have on hand to help me prepare my packs and also the items we like when we are playing and using the packs!
PREP SUPPLIES I USE:
Scotch Laminator
Laminating Pouches – Scotch makes great ones here, but I usually order these ones They are cheaper and I have never had a problem with them.
Paper Trimmer
Magnet Tape
Velcro Dots or Strips
Storage Folders
OTHER ITEMS I USE:
Crayola Activity Center
Washable Dry Erase Markers or Dry Erase Crayons
Pocket Chart
Maped Koopy Kids Scissors
Baking Sheets
Cardstock and Standard Printer Paper
Do a Dot Markers
Page Protectors
PRINTING:
You can choose to print on regular paper or a standard cardstock. Anything that is going to be handled a lot, I generally print on cardstock and then also laminate.
PREPARING THE PAGES:
The first thing I do after I print the Pre-K Pack is laminate all the pages, except the Cutting Practice Sheet. To laminate the pages I use my Scotch Laminator and Laminating Pouches. If it is a themed unit that I plan on using for years, then I generally just laminate everything. The only time I don't laminate everything is it is a theme that I don't plan on keeping long term. On those I just print the PreWriting Sheets and Which One is Different Sheets just on card stock and the kids use their Crayola Activity Center for those.
If you don't own a laminator then the Crayola Activity Center is a great investment. That way you can just print the pages on cardstock and then just put them in the Activity Center. That way you won't have the print the packs over and over again.
Anything that is going to be handled a lot, I like to laminate. The pages that we print on cardstock and use in the Activity Center are the Prewriting sheets, Which one is Different and the Color pages. However, sometimes I'll just laminate them though. Cause it really is only like 6 or 7 more pages and I am already laminating the rest of the pack, so it doesn't take that much more time or effort.
After I have everything laminated (minus the Cutting Practice Sheet), I get trimming and cutting the pages. I use this American Crafts Paper Trimmer and I LOVE IT! After I cut everything, then I add velcro or magnet strips to what needs it.
USING THE PAGES:
Now I'm just going to go through all the pages and explain how I am going to use them.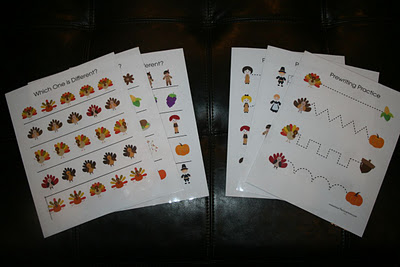 The Prewriting Practice Sheets, Which One is Different and Color Page are pretty self explanatory. If they are laminated you can write just on them straight with dry erase markers or if they are just printed on cardstock, you can use the Crayola Activity Center.
The Counting Cards and Letter & Sound Finding Cards I just laminate and leave as a sheet. If you prefer, you can cut them up into individual cards. I just like to leave them whole for storage reasons. But, once Nathan gets a little more advanced at these activities, I plan to cut them up.
On the What Comes Next and Sorting Pages I trim and cut out all the pieces. I then add Velcro Dots onto the pages. That way it makes it easy for the pieces to stay in place, plus it makes storing the sets in the storage envelopes easy without the pieces being loose.
---
Pam Dana
Pam is a stay at home working mama that enjoys all phases of life! Between her 3 kids, fur baby (a beyond cute Goldendoodle), wonderful husband, friends and working, she stays pretty busy! But, she is loving every aspect of her life! Here on Over the Big Moon, she loves to share DIY's, recipes, printables, organization tips and more!
---