Halloween Pre-K Pack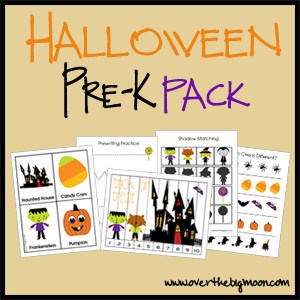 The time is here and I am SO excited! Today I am releasing my FIRST EVER Pre-K Pack! Nathan has enjoyed doing many tot/preschool packs courtesy of some of my favorite homeschool sites, such as 2 Teaching Mommies, 1+1+1=1, Homeschool Creations, Our Little Monkeys, and Lawteedah! I am excited to be able to start offering them as well. I have so many ideas and can't wait to start them, but I wanted to get out a Halloween Pre-K Pack done for Nathan and for all your little ones! I hope you enjoy it and would LOVE to hear what you guys think!
Prewriting Practice Sheets
Cutting Practice
Which one is different?
Finish the Pattern Sheet
Size Sequencing Sheet
Halloween Strip Puzzle
4-Piece Puzzles
Sorting Practice
Counting Practice Cards
Color the Pumpkin
Letter and Sound Finding Cards
3-Part Vocabulary Cards
Shadow Matching
prepare and store them!
If you have any questions, let me know! Enjoy the Pre-K Pack!