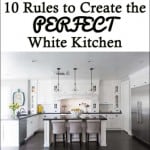 10 Rules to Create the Perfect White Kitchen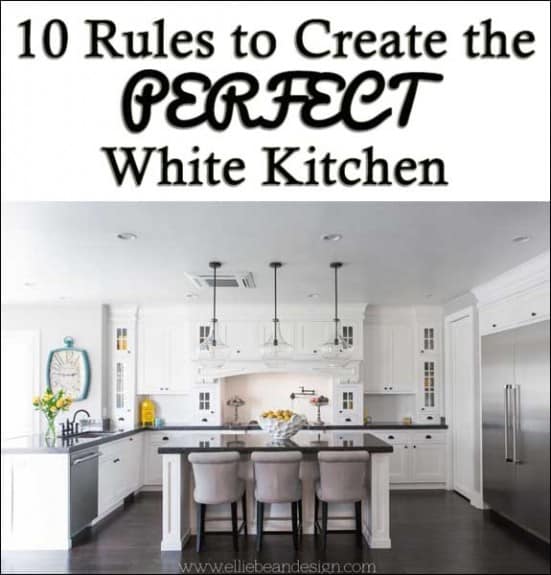 Have you noticed that white kitchens are covering the pages of Pinterest, Houzz.com and home magazines? With my job as designer, a big part of it is helping my clients build their houses. I start from scratch helping them create their house plans to choosing every single detail in their house. Lately, almost every house that I have designed has had white kitchens! I love this look and I urge my clients to go this route. It gives your space such a clean, fresh and happy feeling. These white kitchen are classic and if you do it right, it will never go out of style.
I designed this kitchen from scratch…I had a vision for it from day one and although we had a few hiccups, it turned out beautiful!
Here are 10 rules to remember if you are in the process of designing your own perfect white kitchen:
1. These cabinets go all the way to the ceiling. I absolutely love this because you don't have the awkward space above the cabinets. I don't love decorating above the cabinets because it can look cluttered and always gets dusty and greasy. It will cost a bit more to do this, but I think in the end it is well worth it!
2. I love to decorate with things that I actually use…for example, putting your cookbooks on display or fresh flowers (my favorite) and I always have fruit and veggies in bowls and platters. I like to have everything BIG…a huge bowl with fresh fruit makes a statement.
3. Lighting is KEY! Get large pendant lights for your kitchen island…nothing small. Spend your lighting budget in your kitchen, family room and entry…the rest of your house is fine getting the inexpensive stuff. Also, the lighting does not need to be matching sets. You want different lights, but you must use the same color combinations within the lighting fixtures. For example, here we have used all of the wrought iron (black) on the fixtures. With the wrought iron, it is okay to mix with silver, but that is the only exception. If you are doing oil rubbed bronze then it all must be oil rubbed bronze, along with cabinet knobs, door handles, ect. I also love the vintage style bulbs shown here. It adds more character to the lights (they are available at Lowes).
4. You want your faucets to match your lighting, cabinet knobs and door handle color…so in this case, we did rod iron. I recommend adding a pot filler faucet as well. They are AWESOME and add character to your kitchen. Also, choosing the right granite with your white cabinets is very important. This granite is called Steel Grey and it gives it a great contrast with the white cabinets. I also did a 5mm mitered edge on the granite to give it some thickness.

5. I love that the gas range and hood is in the center of the cabinets and everything on each side is symmetrical. It makes the stove a focal point and you can make it stand out nicely with a great backsplash and detail on the hood. I wanted a large chunky hood and cabinets surrounding the range.
6. When doing white cabinets, you must use a good wood that doesn't ding easily. Most cabinet makers would suggest using Maple, which is what we did here. The cabinet fronts are called Shaker Style, which is a flat panel cabinet. I had my cabinet guy make them approximately and inch wider (all the way around) than the normal shaker cabinet style.
7. Do you see that tall skinny door in front of you…that is my swinging door to the pantry…I LOVE it!! Makes it convenient for going in and out of your pantry with your hands full.
8. I am a huge fan of big fridges and double ovens…cause why not?!? Well, I know…because these fridges are incredibly pricey, but there are a few great alternatives out there. Kenmore and Frigidaire both have a 72″ fridge, freezer combo, that is about $2,500 versus $11,000 for the one pictured here. It's not as good of quality as the more expensive brands, but it will give you a similar look. The appliances pictured are all Thermador, which is currently the best rated brand for upscale appliances.
9. When you are designing your cabinetry, keep this built in spice rack in mind. It is probably my favorite thing about these cabinets. It's incredibly convenient when cooking and keeps you organized!
10. When choosing cabinet knobs, go simple. The more detail you have on the knobs, the faster they will go out of style. Choosing a plain knob will make the overall look much better.
To see more from me, head over to Ellie Bean Design! See you next month!
---
Lyndi Dunlavy from elliebeandesign.com
Owner of Ellie Bean Design Company and the writer of Ellie Bean Design blog. 5 years ago I found a love for graphic design and now I am passionately involved in interior design and new home building design. I am the mama of four perfect children. My kids are my life and they keep me very busy, but I still find time to be creative. I also enjoy cooking, organizing, planning parties, relaxing on a beach somewhere far away!
---