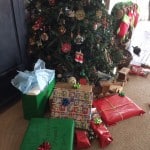 Why "Canceling Christmas" was the Best Decision We Have Ever Made!
I'm afraid by putting my feelings into words somehow it will minimize the feeling we experienced this past Christmas morning. There was a magical and almost sacred feeling in our home and I hope that I can somehow convey that feeling to you reading this.
When we first started this journey (and before it became to the media…whatever it became to the media) it was just a hope. A hope that we could give our kids something more important this year, something they could keep forever. That we could help shape the way they were seeing the world and make them better men for it. I had faith that in future years they would be able to look back on this year with fondness and it would be remembered as being special. I also knew that it would most likely take a few years and some maturity before they could fully understand and appreciate why we did what we did this year. Thanks to a very special 5 year, that wasn't the case.
It started about a week ago when our youngest son, Beckham, started wrapping things up and putting them under the tree. First it was pictures he had drawn, then small toys, and pretty soon he had gone through a whole roll of wrapping paper. His older brothers saw this and suddenly they wanted in. Every box in our house that was empty would disappear within minutes, be filled, wrapped, and placed under the tree. Every time I walked into my room the wrapping stuff had been pulled out and was all over the floor. I wasn't involved at all with what was being wrapped and sat back and just watched as this happened.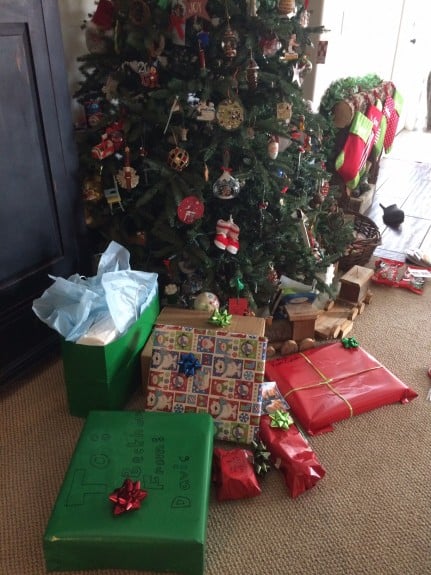 Christmas Eve came and the boys were so excited! More excited than usual. They set out cookies for Santa without waiting for us and were so anxious to place the carrot and rosemary wreath outside for the reindeer. I was getting worried thinking that somehow they hadn't really understood that Santa wasn't coming. We do a slumber party every Christmas Eve in our room. When they had all settled down I told them that I was going to be placing an ornament in their stocking (like we do each year) and reminded them that was all there would be. Santa wasn't going to be coming to our house to leave toys, just to get a snack for him and the reindeer. They said they understood and it was okay.
In the morning they were so happy to find the cookies and wreath had been eaten and Santa had actually left them a piece of See's candy, a sucker, and a special letter to each of them. We ate our traditional breakfast and the boys were giddy to pass all the presents out. There were 8 or 9 presents for each of them, all from each other. And that's when the magic happened. They had not wrapped up small meaningless toys, they had given each other the best of what they all individually had. They gave the things that mattered most to them. You could see they were filled with joy and delight on the looks of their brother's faces when they saw what they had received. I know they also felt loved when they saw they had been given something that meant so much to the brother it was from.
Don't get me wrong, there were still some silly things inside. Beckham is our little pack rat and thinks throwing anything away is a crime. We always find "trash stashes" of things he has confiscated from the trash. It wasn't surprising to see that one of the presents Caleb opened was a lightbulb that we had thrown away a few days before. Caleb's reaction was priceless! He held it above his head and said, "Look Beckham gave me a prop because I always have so many good ideas!" It was so funny and so amazing that something meaningless to most kids was something he actually appreciated and took the time to care about. We tried to tell him it was okay to throw away later and he said, "I want to keep it because Beckham really wanted me to have it." He only relented to sneaking it into the trash when we told it was for safety because of the glass.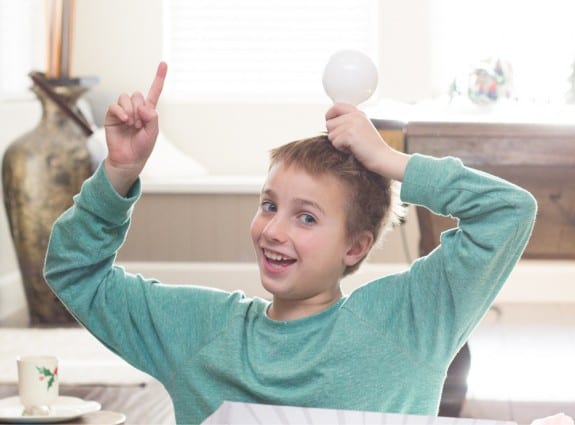 We sought out this month to teach our kids a lesson about giving and kindness, and in the end it was them who taught us. They faced what so many kids would have seen as the worst Christmas ever and turned it into the best Christmas for themselves and certainly for us as their parents. It is no wonder that the Savior wanted us to be like little children.
Matthew 18: 2-4
2 And Jesus called a little child unto him, and set him in the midst of them,
3 And said, Verily I say unto you, Except ye be converted, and become as little children, ye shall not enter into the kingdom of heaven.
4 Whosoever therefore shall humble himself as this little child, the same is greatest in the kingdom of heaven.
There is more I want to write about the logistics of how we deliberately created giving opportunities for them throughout the whole month. I do not think you would get the same results if done in anger, and if you did not take the time to still make Christmas magical. But when done in a positive and loving way I think "Canceling Christmas" can be a wonderful, life changing experience.
Most of all I am very grateful for my boys. They got a bad reputation that they did not deserve at all. They truly are amazing! I am also grateful for a better appreciation of the power of love and sacrifice. I felt the true message of Christ's birth and life permeate my heart in a new and powerful way.
I hope you all had a Merry Christmas and that this new year you find joy and happiness!
---
Lisa
Previous author of Over the Big Moon. I shared my passion for home and family life! I love graphic design, DIY projects, cooking, and working in my garden! My favorite role is taking care of my husband and our 3 amazing and busy boys!
---