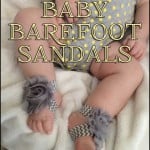 No Sew Baby Barefoot Sandals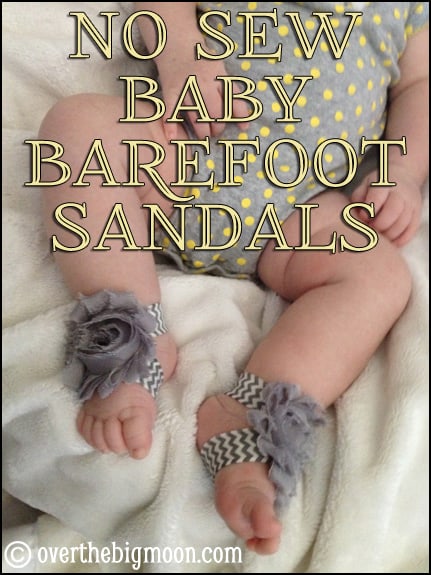 My baby girl is 11 weeks old and until this week, had never worn a pair of shoes.  Her foot is pretty small!  I have a few 'Newborn' shoes and I have attempted to put them on her and they just plain look ridiculous or they're too big for her skinny little feet and ankles!
So, when I came across the pin to this T-Shirt Baby Sandals on U-Create from Tutu's & Tea Parties I realized I needed to go down this route for her shoe situation.  Then I was talking to a girlfriend and she told me that you could use elastic and a flower to execute the same look.  I ordered a tons of Shabby Flowers and Elastic when baby girl was first born to make her headbands. So, I went ahead and decided to make some elastic barefoot sandals!  There are lots of Etsy shops that sell them finished as well, but you can make them on your own for lots cheaper.
It's seriously SOO easy and makes for a cheap little pair of 'shoes'!  I got all my stuff from an Etsy shop.  There are a lot of different Etsy shops where you can get the Shabby Flowers and 5/8″ Fold Over Elastic!  So, just search on there and find what you like!  Plus, you can then make a little matching headband!

MY LATEST VIDEOS
Now, let's get started!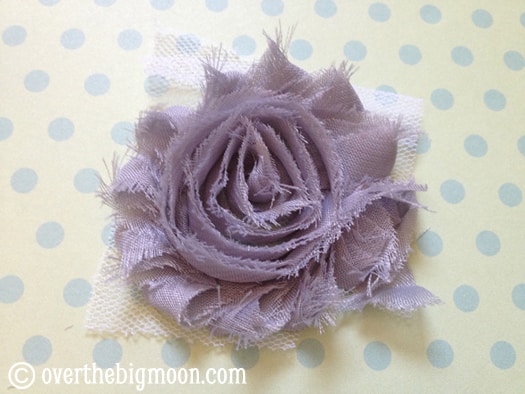 When you purchase the Shabby Flowers, they come with a netting on the back.  So, you'll need to start by trimming that up.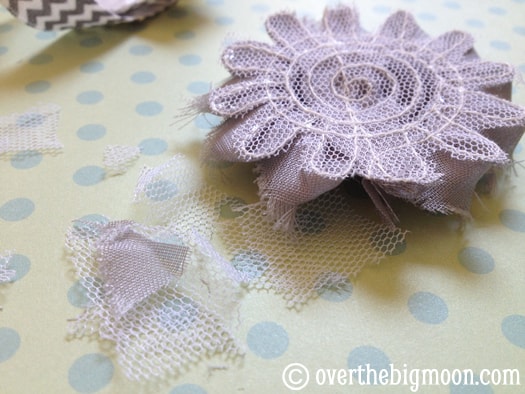 Then cut your elastic.  If you have the ability, then wrap the elastic around the babies foot and figure 8 up around the ankle to get your length.  Dylan's piece of elastic is 9 inches long.  Take the babies age into consideration and adjust the length accordingly.  I would suggest 8 inches for a newborn, 9 inches for 2-6 months and 10-12 inches for 6+ months.  Again, these are just rough suggestions.  Be sure to take the babies size into consideration if you are making these for gifts.
Take the elastic and fold it into a figure 8 and hot glue the ends together.  Then while keeping the figure 8 shape, move the seam to the center of the figure 8.  I then put a little dot of hot glue where the elastic crosses in the center to keep it in place.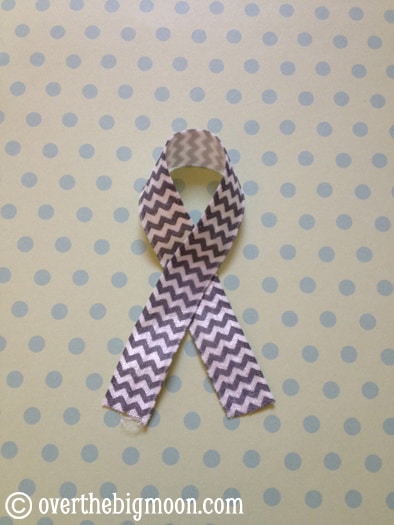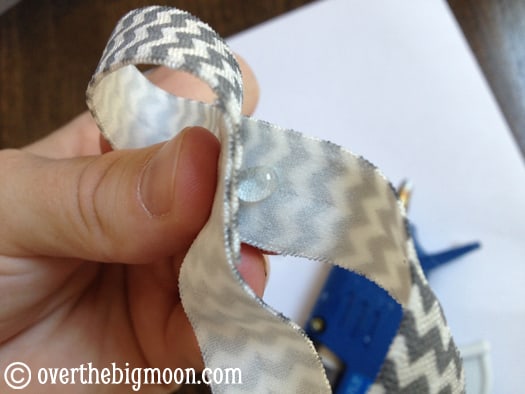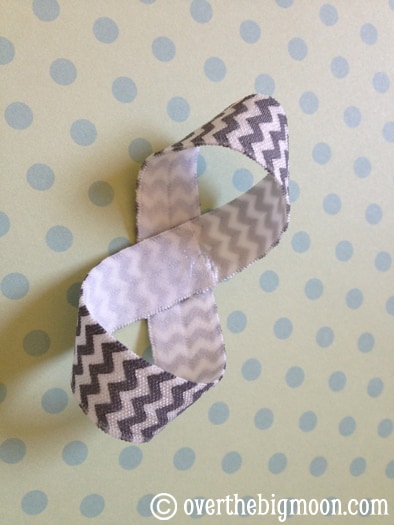 Then turn over your figure 8 and attach your flower using hot glue.
Last on the backside of the flower, take a felt circle and attach it with a good amount of hot glue.  You don't want the circle edges to lift, so be sure to cover the whole backside of the felt circle with hot glue.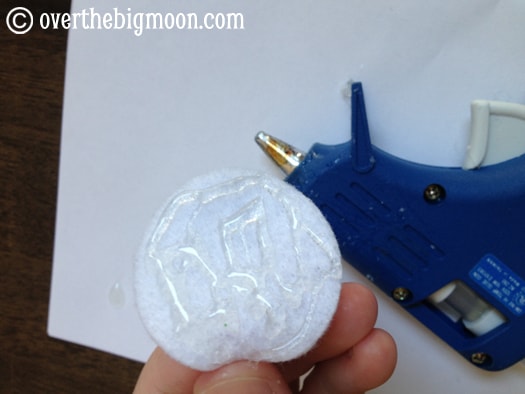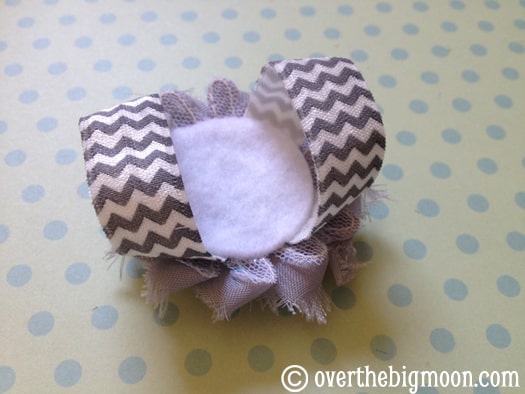 That's it!  Now repeat to make yourself a pair!  So easy and cute, right?!?  Good luck!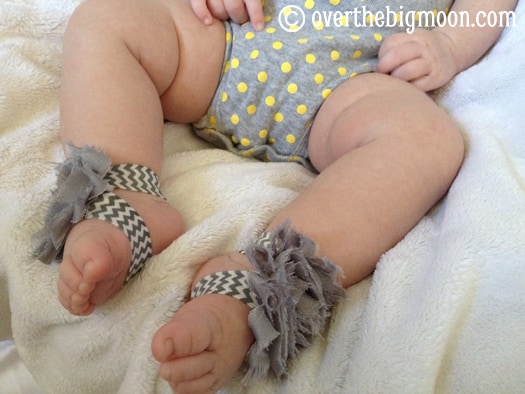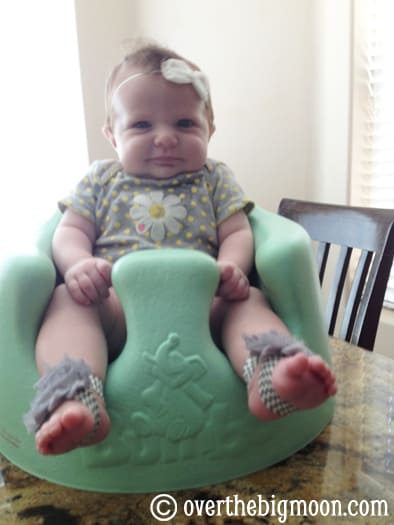 Does baby Dylan just look adorable!  Oh how this girl makes me smile!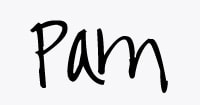 Want to keep up with us at Over the Big Moon….click here to learn how to subscribe!
We may be linking this post up to THESE great Linky Parties!
---
Pam Dana
Pam is a stay at home working mama that enjoys all phases of life! Between her 3 kids, fur baby (a beyond cute Goldendoodle), wonderful husband, friends and working, she stays pretty busy! But, she is loving every aspect of her life! Here on Over the Big Moon, she loves to share DIY's, recipes, printables, organization tips and more!
---