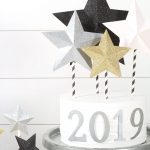 DIY New Years Cake Topper with Cricut
A fun and simple DIY New Years Cake Topper and New Years Cupcake Toppers made with my Cricut Maker!
This is a sponsored conversation written by me on behalf of Cricut. The opinions and text are all mine.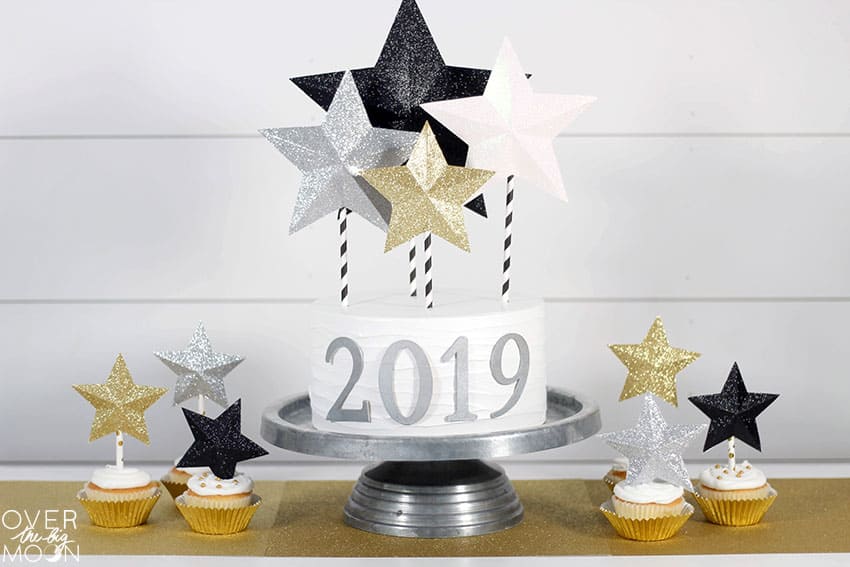 MY LATEST VIDEOS
MY LATEST VIDEOS
Hey friends! I am so excited to share this super fun DIY Star Cake Topper that I made from cardstock using why Cricut Maker and Scoring Wheel. The scoring wheel is a game changer when it comes to creating cardstock cape toppers friends! It literally made creating this New Years cake topper a breeze! And now I have this amazing New Years centerpiece that I can save and reuse for New Years each year!
Today I'm going to walk you through how I made this!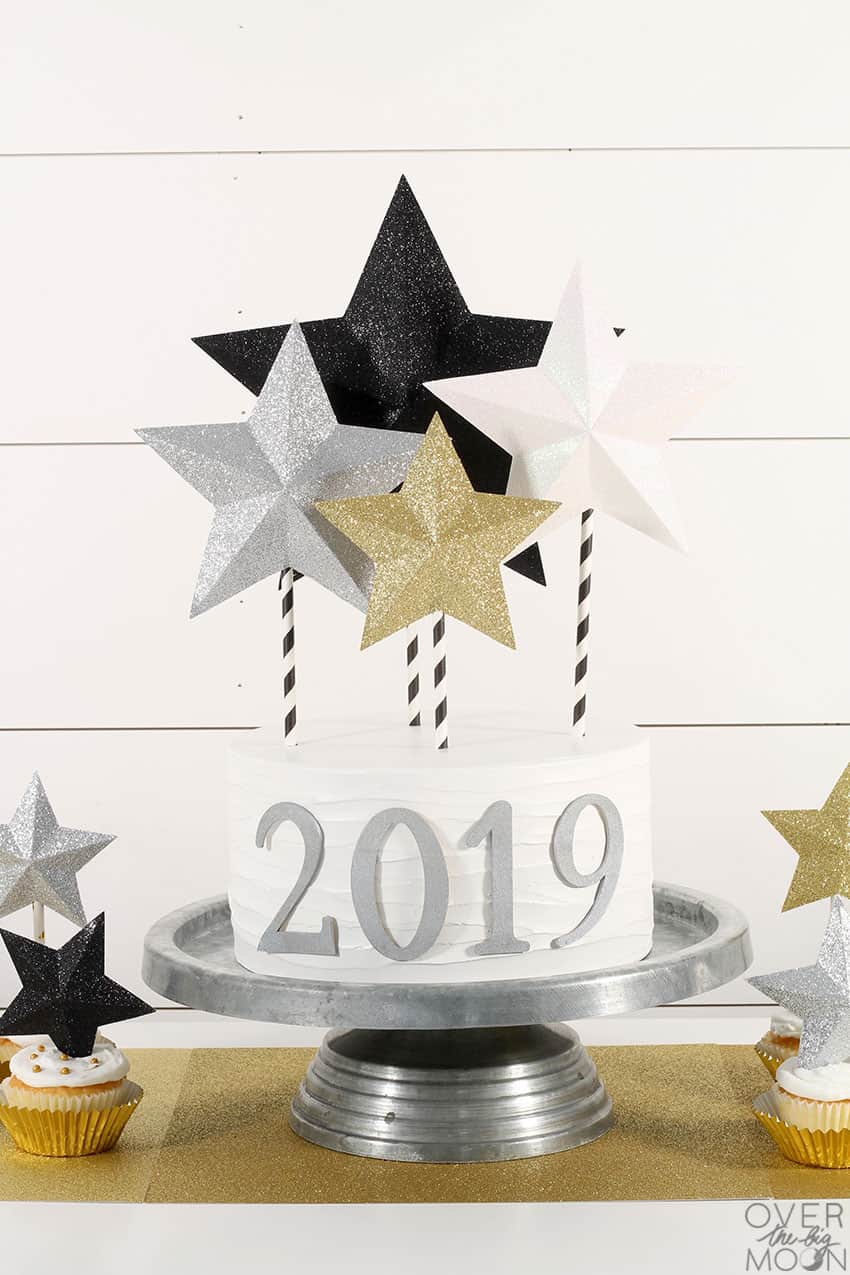 HOW TO MAKE CAKE TOPPERS
Items Needed:
Directions:
Start by opening the Cake Topper Design Space File HERE!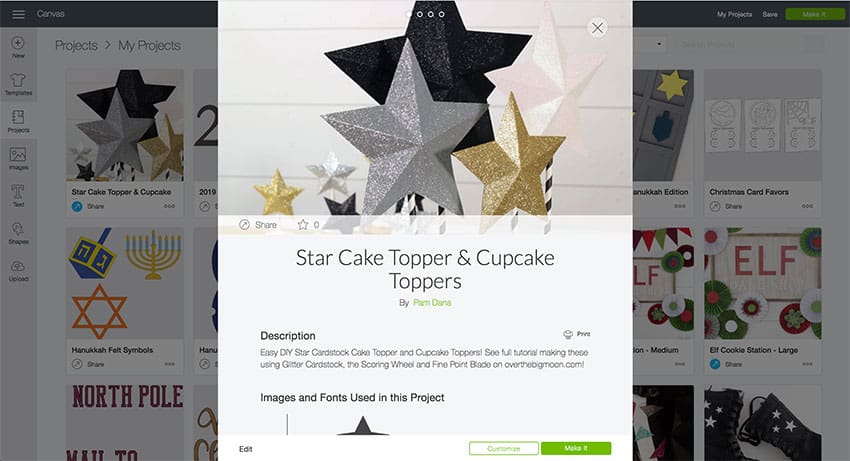 The current Design Space file currently has 5 different Star Designs meant for a Cake Topper. My cake was a little smaller, so I only used 4 of them. But, I wanted to keep the 5th star in the design, in case any of you have a bigger cake and want that 5th star. The design also has 12 Star cupcake toppers at the bottom of the design.
If you plan on making all the stars, go ahead and hit 'MAKE IT.' If you are only going to make some of the stars, then hit 'CUSTOMIZE' and make any changes to the Design Space file that you need to! You can delete stars, resize them, change their color, etc.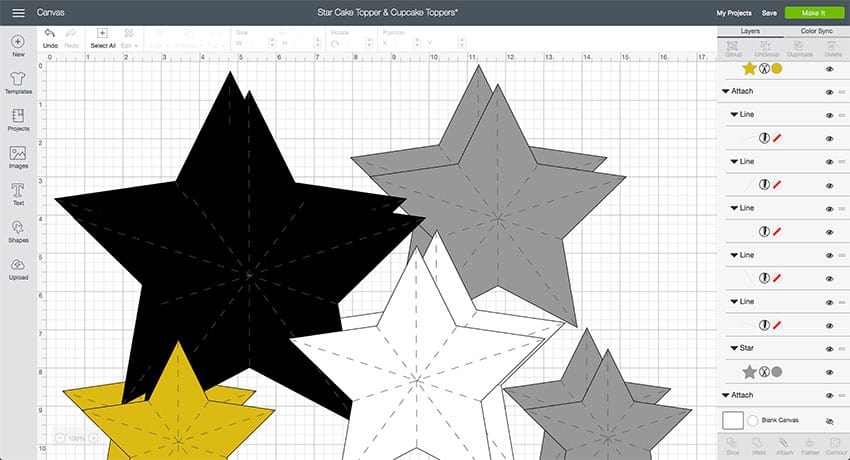 Once all changes have been made, hit 'MAKE IT' in the top right hand corner!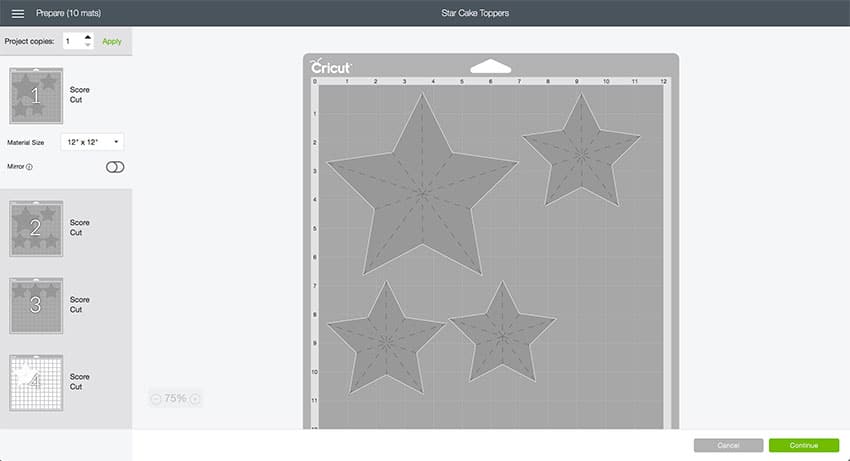 It will then load the images to the mats for you to preview. Go ahead and review them and make sure everything looks good! Hit 'CONTINUE.'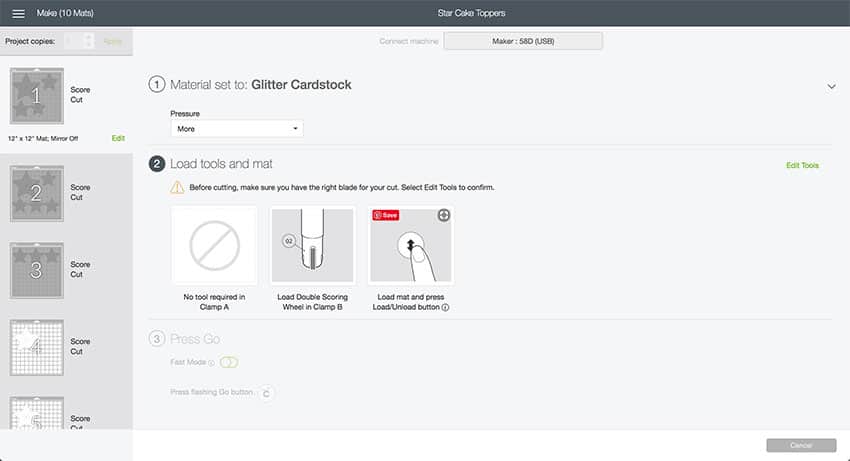 From the dropdown menu, choose your machine.
Then set your material to the type of cardstock you're using. I chose Glitter Cardstock for this project. A few notes on this: when scoring Glitter Cardstock, I generally change the pressure to 'More' in section 1, underneath the chosen material. The material is a little thicker than standard cardstock and I want the score lines to be clear! Also, when scoring glitter cardstock, I like to load the cardstock glitter side down on a Standard Mat, so the score lines are on the back side (not the glitter side) of the cardstock. When working with regular cardstock, I like to use a LightGrip Mat
So, depending on what type of cardstock you're using, load it on the appropriate mat and then load it in your machine!
When working on scoring and cutting paper projects, it's going to first score the paper and then cut it. So, with each mat, you're going to be switching out the Double Scoring Wheel and the fine point blade in your Cricut Maker!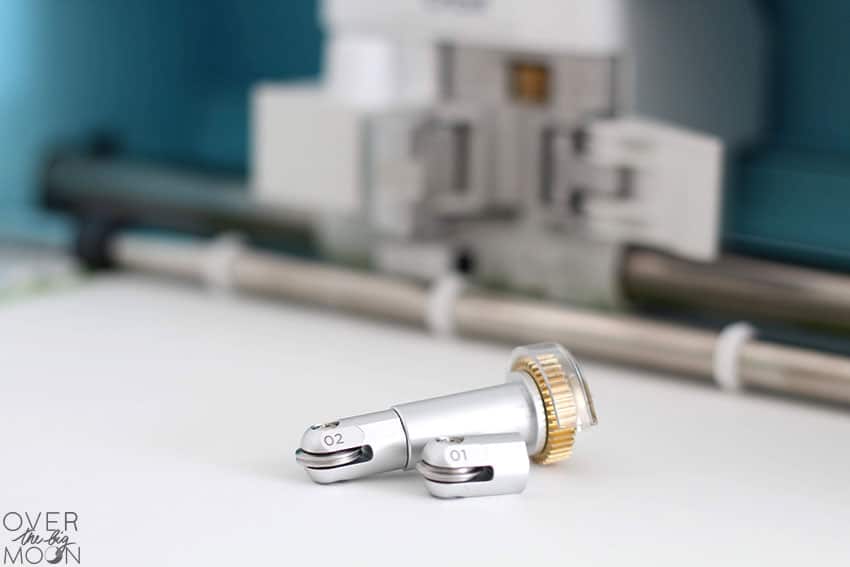 WHAT IS THE CRICUT SCORING WHEEL?
The Scoring Wheel is a game-changer when working on paper project guys! The Scoring Wheel is only available for the Cricut Maker, because it work the Adaptive Tool System that is only in the Cricut Maker. If you don't have the Cricut Maker, you can still score using the Scoring Stylus. The Scoring Wheel does provide deeper score lines, because with the Cricut Maker's Adaptive Tool System, has 10x the power!
The other stand out feature of the Cricut Scoring Wheel is that there are TWO scoring tools – the single scoring wheel and the double scoring wheel. There is one housing and you can switch the tip of the housing out for whatever scoring wheel you need for your project.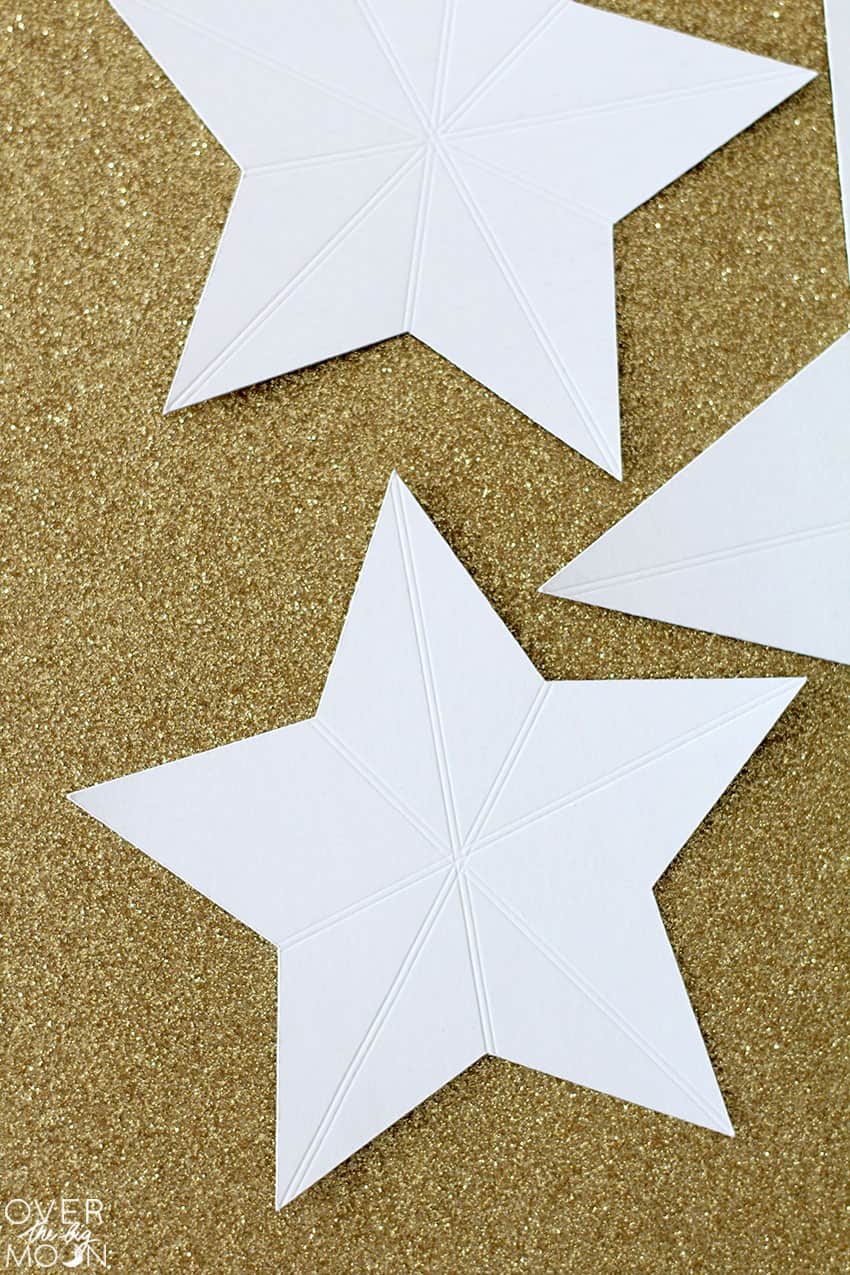 SINGLE SCORING WHEEL
The Single Scoring Wheel is used on basic cardstock. You'll get crisp straight lines that will make your folds clean and flawless.
DOUBLE SCORING WHEEL
The Double Scoring Wheel is meant to be used on thicker, coated papers and cardstocks. Previously when using the Scoring Stylus on thicker projects, when you fold the cardstock, the material would sometimes "crack". So, Cricut's engineers designed the Double Scoring Wheel to help prevent that from happening. It works by scoring two parallel score lines side-by-side. Then when you go to fold your material, the fold collapses between the two scoring lines flawlessly!
Now back to the project!
Load the Double Scoring Wheel into your Adaptive Tool System in your Cricut Maker and then load the mat into your machine as prompted. Again, if using Glitter Cardstock, it should be loaded FACE DOWN (glitter side down) on a StandardGrip Mat. I personally love to use my Brayer to make sure the cardstock is completely applied onto my mat.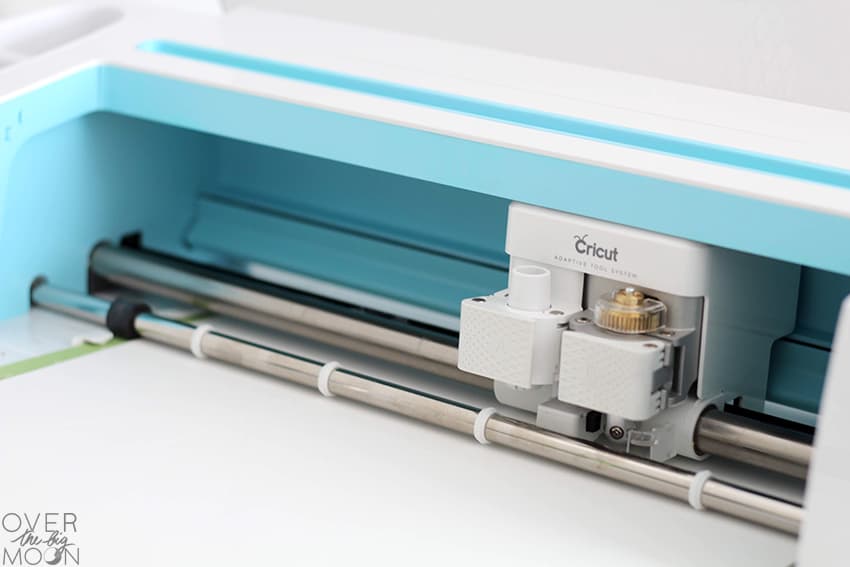 Once everything is loaded, hit the 'C' button on your machine to begin the cutting and scoring.
It will first score the cardstock with all the needed score lines, then Design Space will then prompt you to switch out the Scoring Wheel to the Fine-Point Blade. Once you've done that, hit the 'C' button again and your Cricut Maker will begin to make all the cuts!
Repeat this for each additional mat!
Once all the mats are done cutting, it's time to start folding all your stars. Folding the stars is something that after you fold the first one or two, you'll be super quick at. I like to first go through the star folding it almost like an accordion, one line at a time. Then, after I have made all the single folds, I got back and fold it and shape it!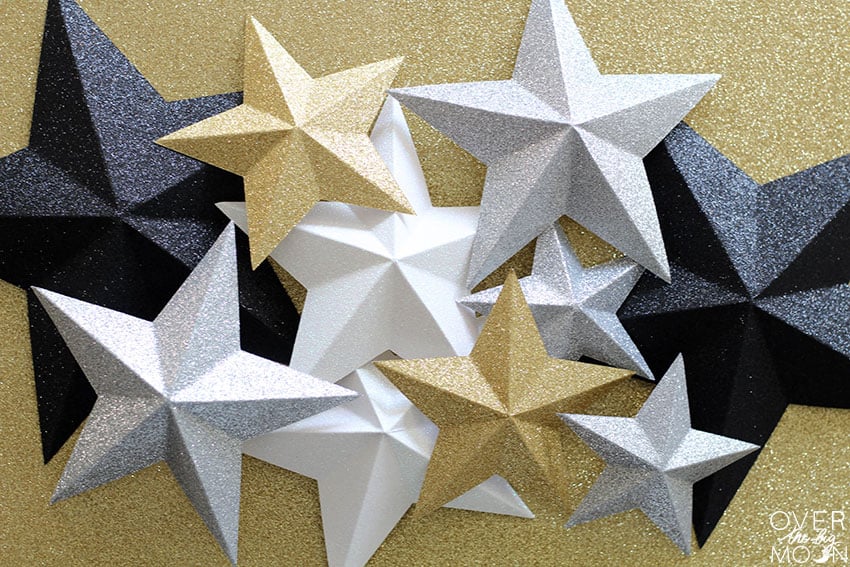 Then after all the stars are folded, it's time to assemble the two sizes to create the full 3d star!
Take the two sides and put them together.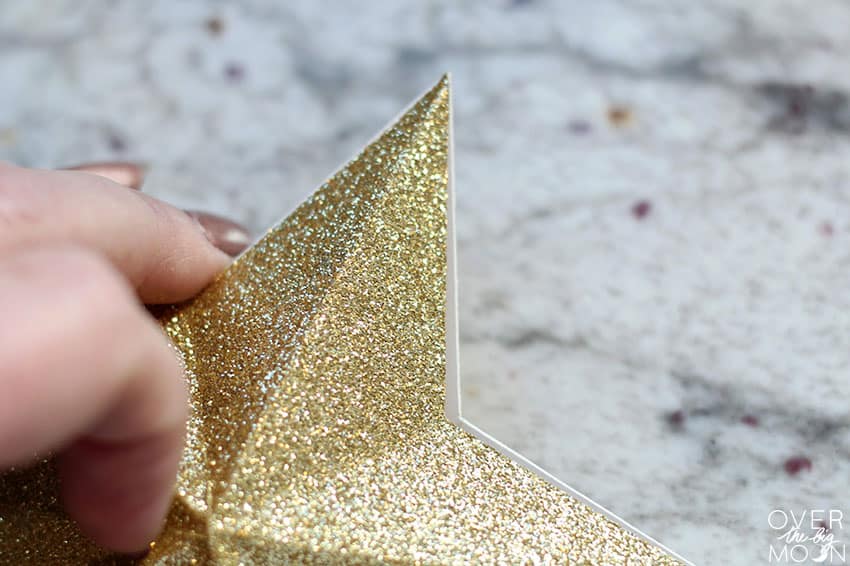 To assemble, use your Hot Glue Gun. Start at a tip and go around at each point and drop in the star and add a dab of glue and then attach the other side of the star. Take a moment to let each dab of glue set, before moving onto the next area of the star.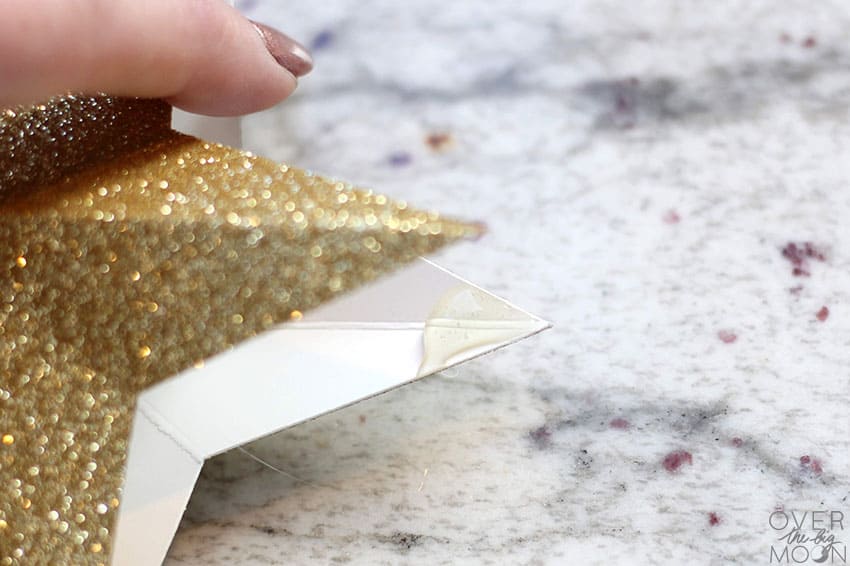 Leave an opening at the bottom of the star to put a paper straw in to attach it to the cake. When you're ready to put the straw in the bottom of the star, then add a small dab of glue and put the straw in. Hold it on both sides of star, making sure that the straw is going to set straight. You don't want the straw crooked!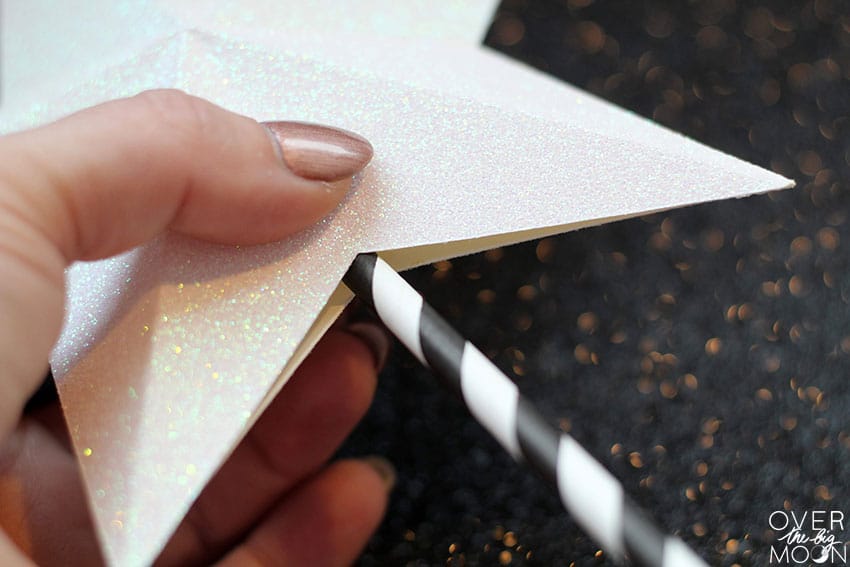 Once all the stars are assembled and the straws are put in the stars that are going to be used for the cake topper, it's time to assemble.
Arrange the Large stars on the cake however you want! I only used 4 on my cake, because it was a smaller cake!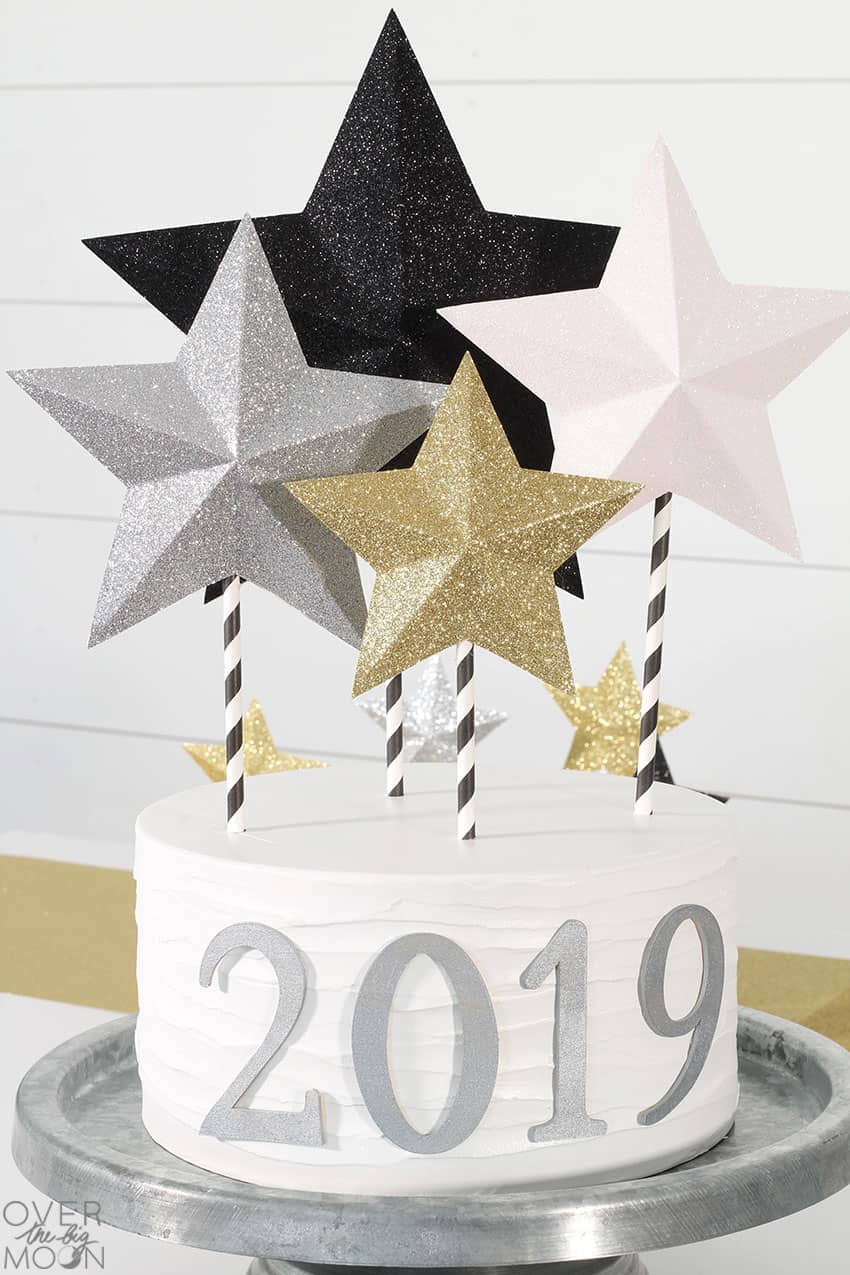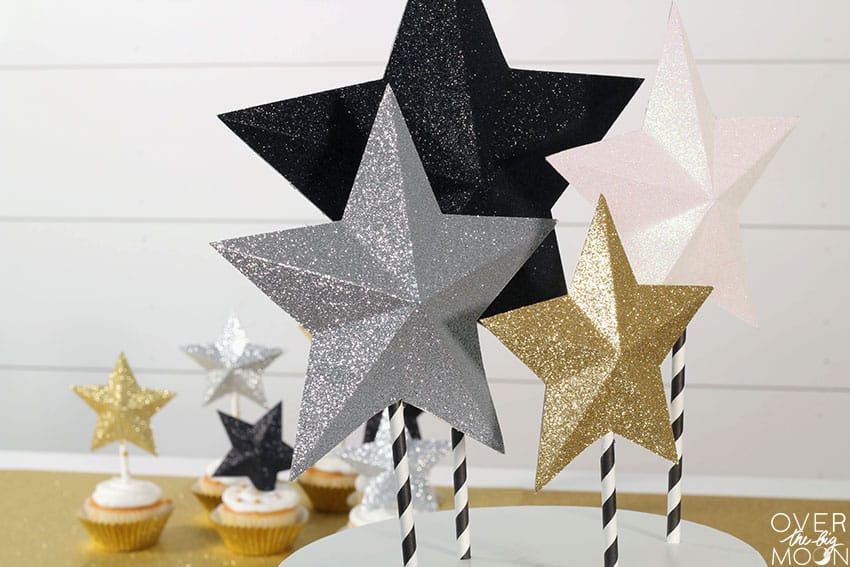 DIY CUPCAKE TOPPERS
Then I used the small stars as Cupcake Toppers! I put some right on the cupcakes and put straws in some of them. That way there are some height differences on your table display!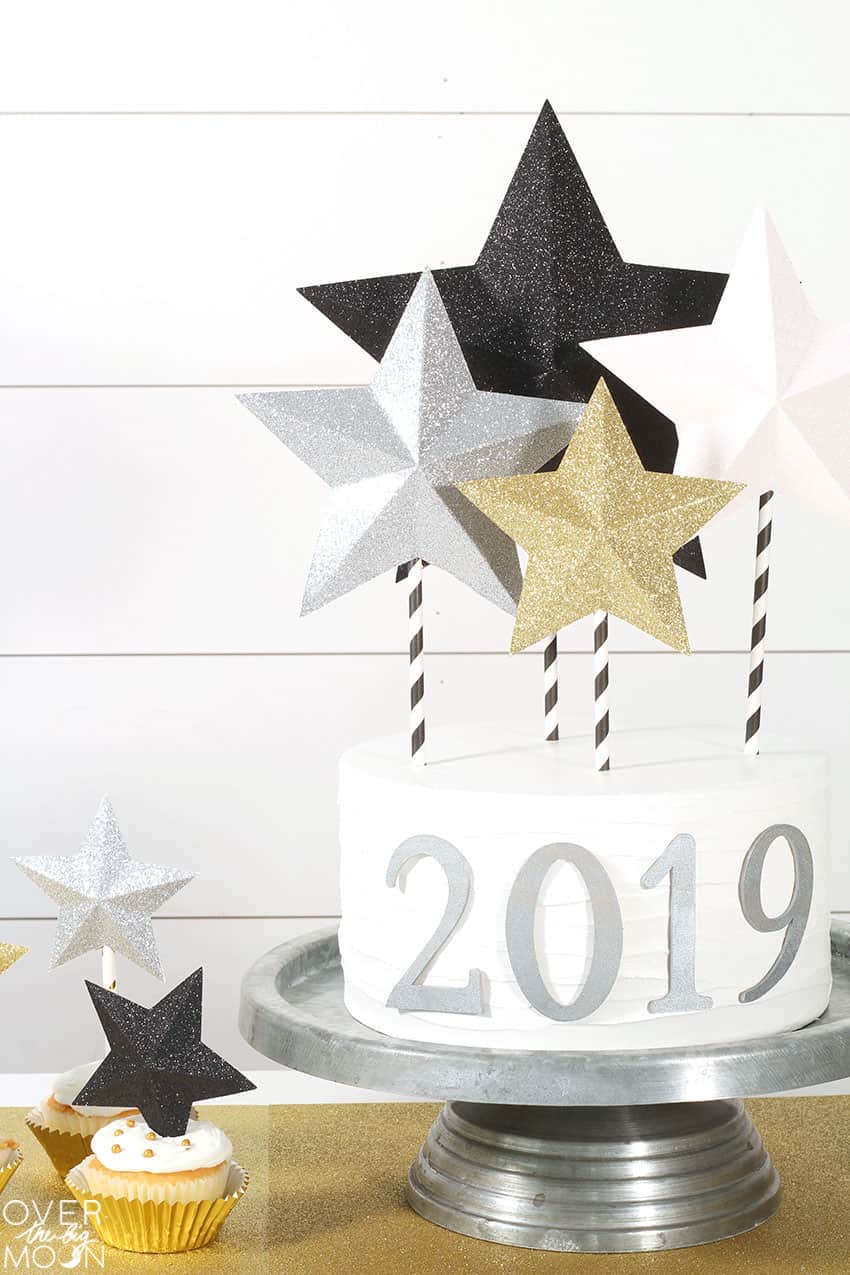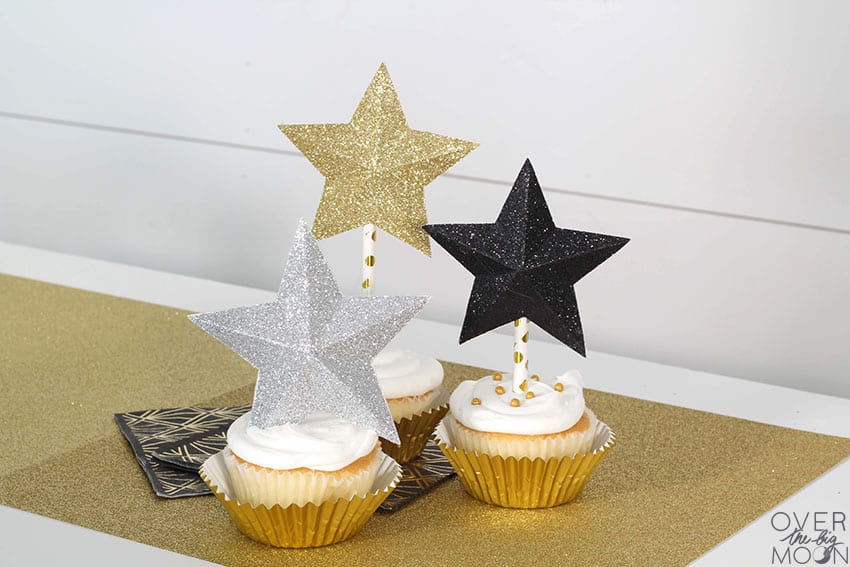 To finish off the cake, I decided to cut a '2019' out of some thin Basswood that I got at Hobby Lobby! if you've never cut Basswood, then you may want to pop over and ready this article at I shared on the Cricut Blog – Using the Knife Blade to Cut Balsa Wood and Basswood.
To start, just open up this 2019 Cricut Design Space File!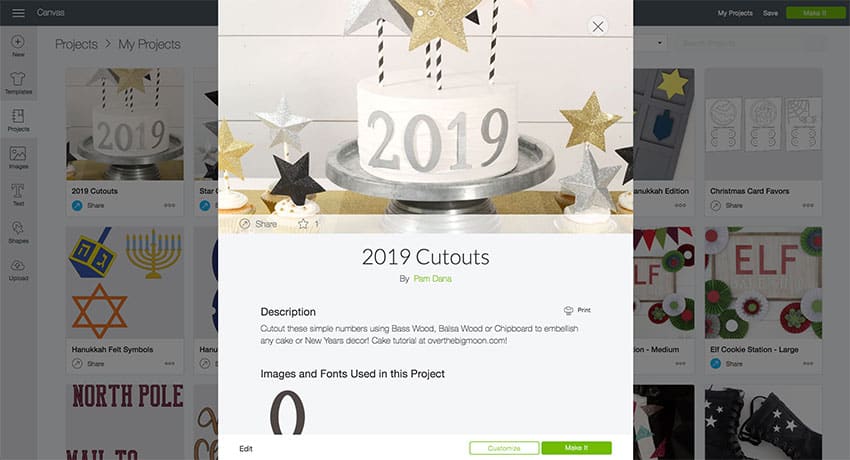 The design is currently sized so each number is 3″ tall. If that sizing works for you, then just hit 'MAKE IT.' If you need to resize the numbers, then hit 'CUSTOMIZE."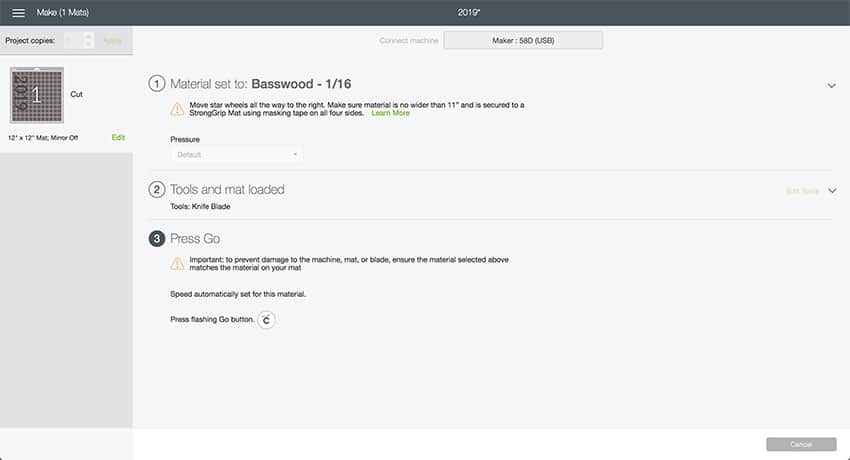 Once everything is ready to go, then send the file to cut. Set your material to Basswood – 1/16 (or 3/32 if that's what you bought).
Switch out the tool in your Cricut Maker to the Cricut Knife Blade and move the star wheels on your machine all the way to the right. If you've never cut with the Knife Blade, then head over and read my Knife Blade 101 post! It has some great information that I'm not going to go into here!
Attach your Basswood to a StrongGrip Mat and reinforce with Painters Tape or Masking Tape! Then go ahead and cut the file! Because the Basswood was so thin, it cut pretty quickly!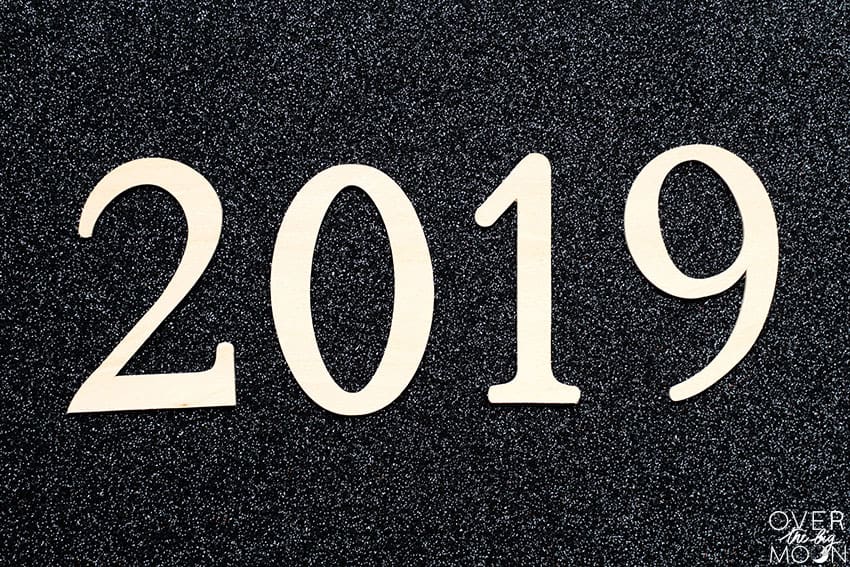 I then painted them silver and attached them to the front of my cake using a few dabs of icing! They're so lightweight, that the icing had no problem holding them in place!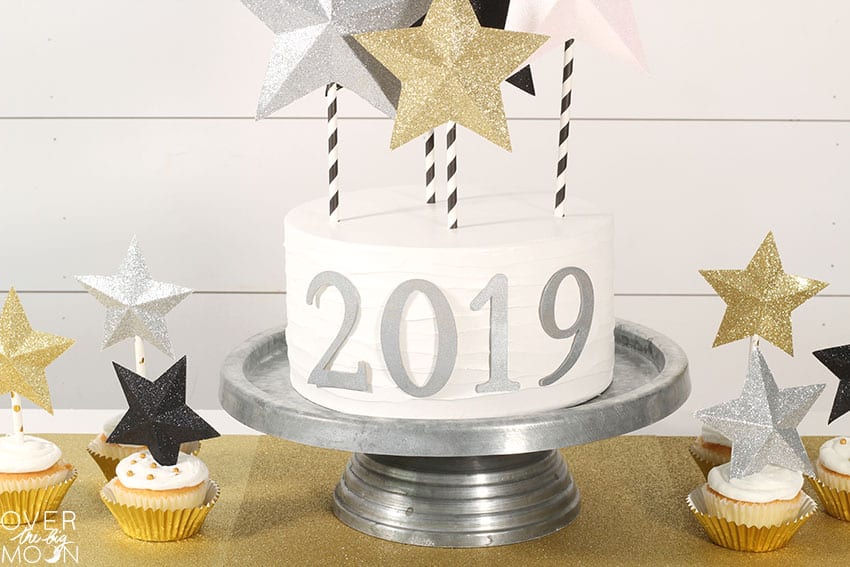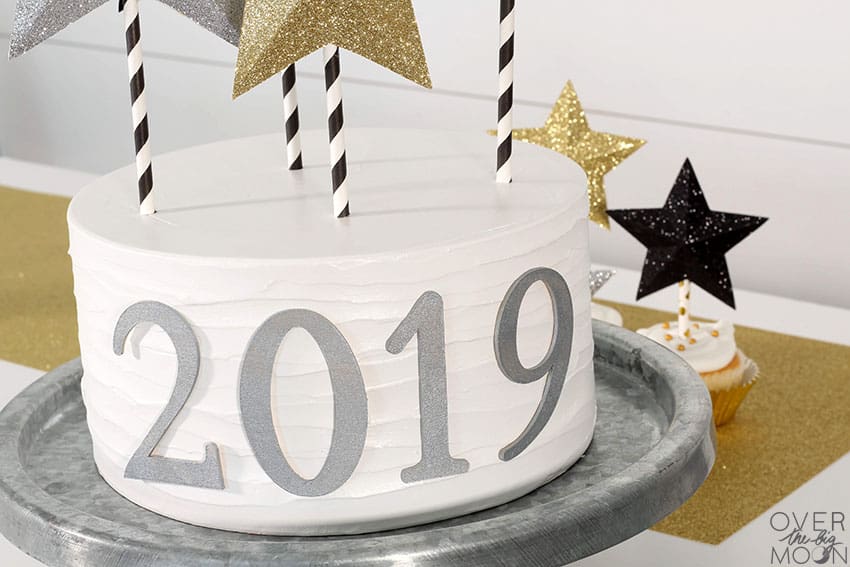 And Viola – we're all done!
Everything turned out so fun and I couldn't be more excited with how it turned out!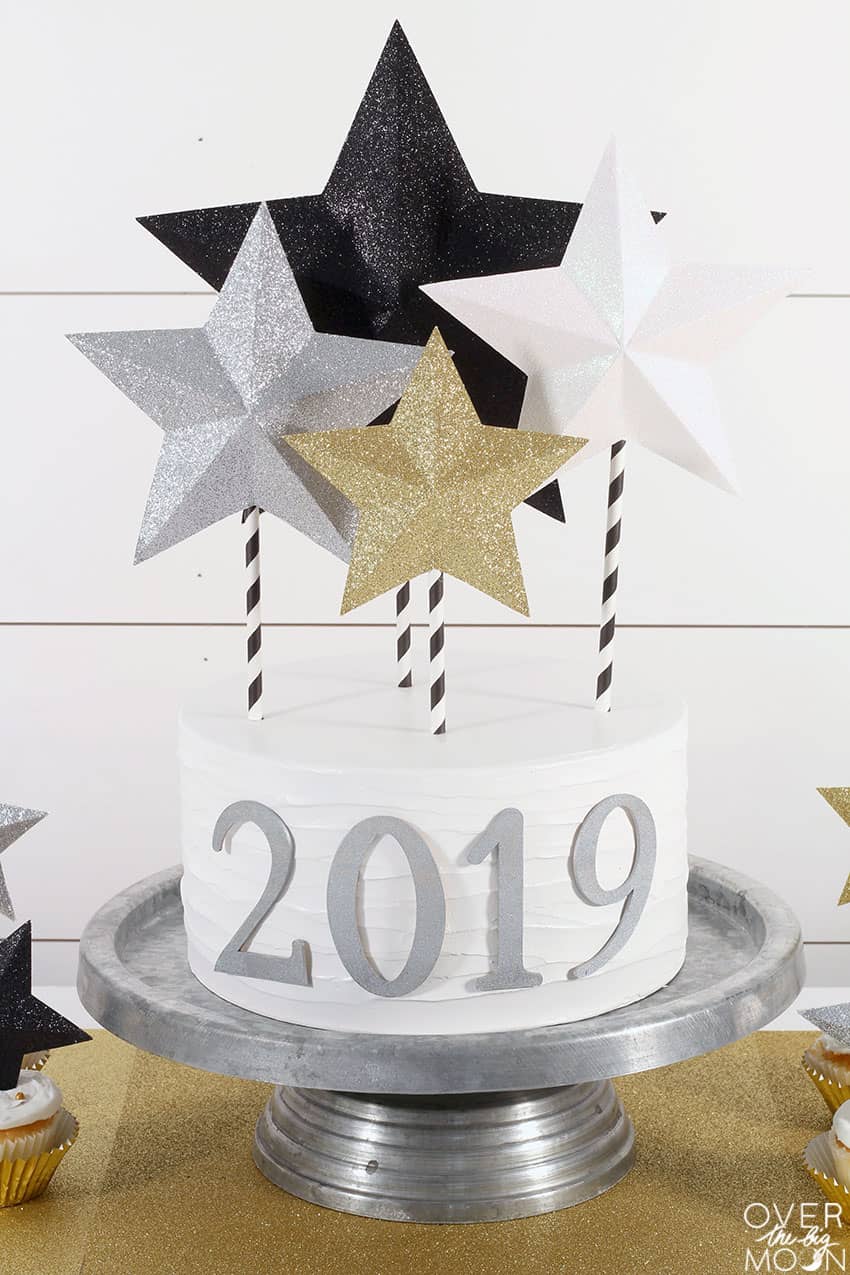 If you love this, then check out these other posts:
And I'd love it if you pinned the image below!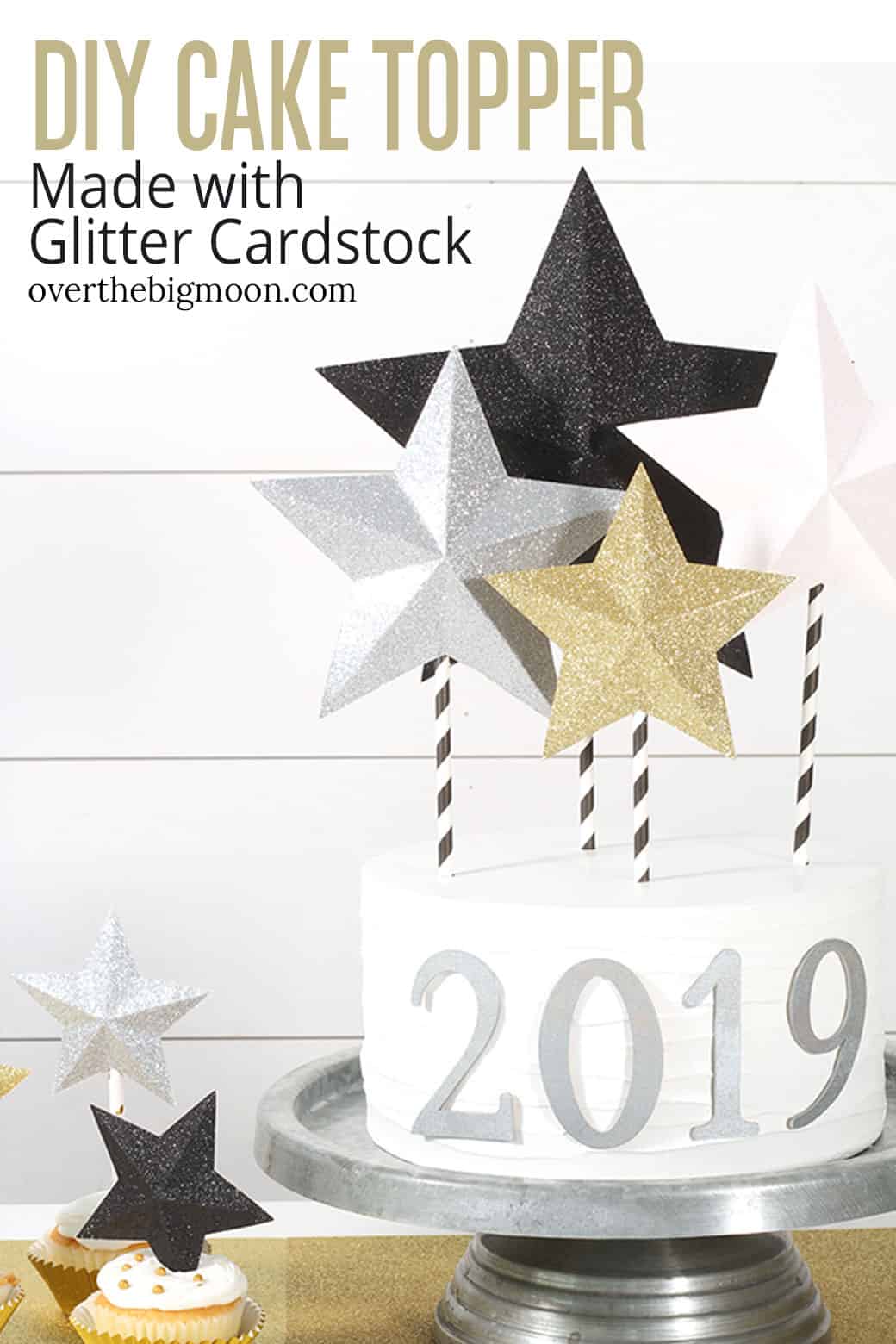 This is a sponsored conversation written by me on behalf of Cricut. The opinions and text are all mine.
---
Pam Dana
Pam is a stay at home working mama that enjoys all phases of life! Between her 3 kids, fur baby (a beyond cute Goldendoodle), wonderful husband, friends and working, she stays pretty busy! But, she is loving every aspect of her life! Here on Over the Big Moon, she loves to share DIY's, recipes, printables, organization tips and more!
---