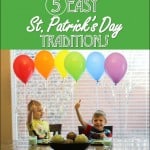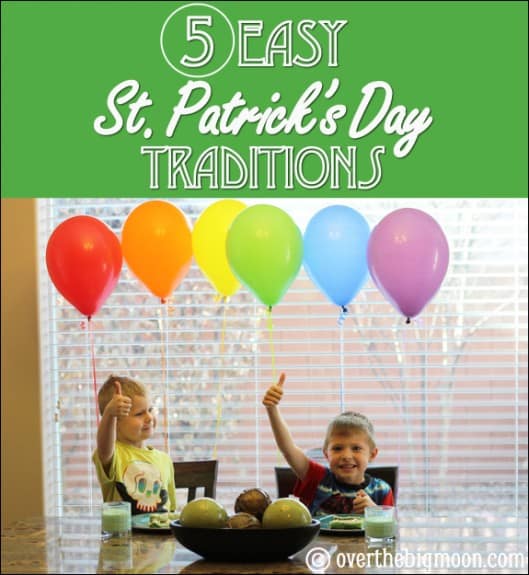 You guys, I'll be honest with you, I am barely hanging on right now – I am busy! Good busy, but busy! About a month ago, my husband transitioned his business into a new office and has been super slammed and I'm busy juggling the blog, being a wife and a mom! Life is amazing, really I can't complain (but, sadly sometimes I do). But, this year, I'm simplifying St. Patrick's Day. I love to recognize holidays and making them memorable for my kiddos, but there is not going to be a Leprechaun Hunt this year. For my own sanity – I've got to simplify St. Patty's Day.
So, I'm sticking to our easier traditions – here are the 5 I'm planning:
Green or Rainbow Balloons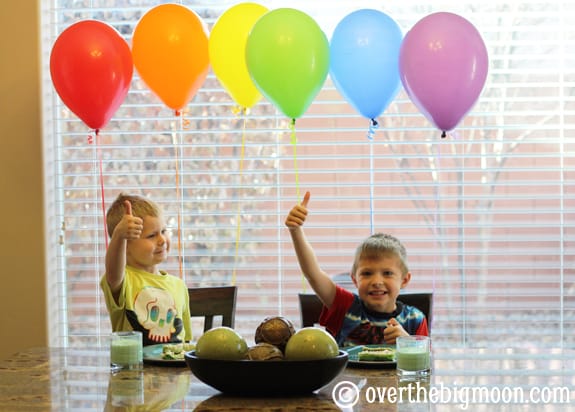 My kids LOVE balloons! Me on the other hand – I have a love hate relationship with them. They keep my kids entertained all day, but by the evening I want to attack them with a knife pin. Somehow they always seem to pop or deflate in the middle of the night though, so I keep my patience for that one single day. You could cover the ground in their room or the family room with green or rainbow balloons or even just tie a few on the back of their chair in the kitchen. I am planning on creating the balloon rainbow – it was a hit last year!
Green or Rainbow Themed Food
You can take this one super simple and just do green milk or even doing a full green breakfast or lunch isn't that hard. And you don't have to do it for all meals – just choose one (or two)! Here are a few menu ideas:
Breakfast: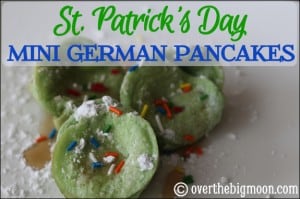 Cooked: Green or Rainbow Pancakes with Green Eggs served with Green Milk. I shared a simple idea the other day of Green Mini German Pancakes – check it out!
Fruit (colors of the rainbow): Strawberries, Oranges or cantaloupe, Pineapple, Kiwi or Green grapes, blueberries, purple grapes.
Make Ahead: Green Muffins served with Green Milk
Super Easy: Lucky Charms served in Green Milk
Lunch: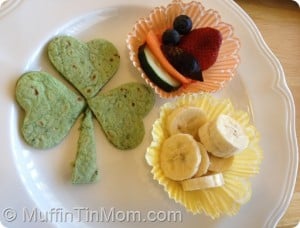 Cooked: Green Noodles with Sauce (cook noodles in water that has green food coloring in it)
Super Easy: Sandwich and use a cookie cutter to make it a shamrock or 4 Leaf Clover!
Super Easy: Make a Quesadilla in a Green Tortilla and make a clover!
Dinners aren't easy, so I don't feel like I can add them to this list. However, most people go with Corned Beef and Cabbage, but I just do our Rathskeller Pork recipe! If you want to try something fun, Lisa shared a St. Patricks Day Pizza idea!
Wear Green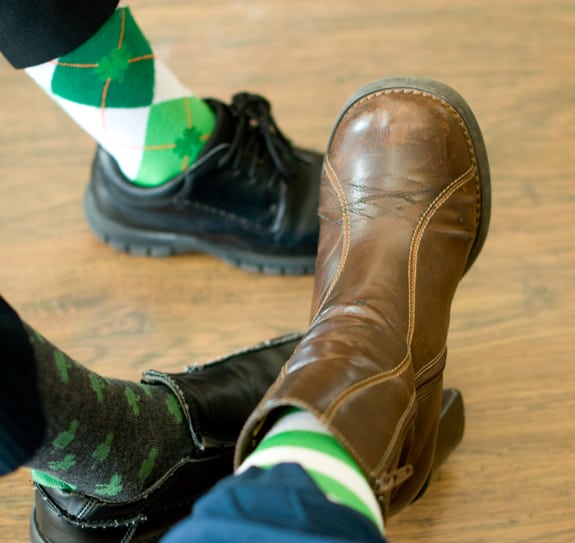 Okay, I know this isn't so original. But, it's easy and you can make it fun! Help your kid make their green NOT so obvious! I always loved the single painted nail as a kid or green socks is always fun.
Turn the toilet water Green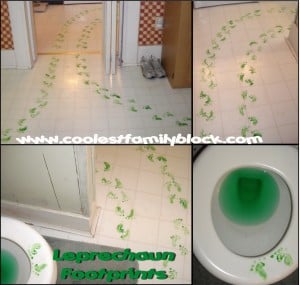 I saw this a few years ago and have done it every year and my kids never get sick of it! If you are ambitious you can make little footprints around your toilet that leads somewhere. This year I think I'll just do the green toilet water and maybe two little footprints on the toilet! If you are wanting to be super woman that go check out this post from Coolest Family on the Block! What a rocking mom – for real!
Simple Game, Activity or Craft
My kids could seriously do crafts, art projects or games non-stop on holidays! I have already shared a couple new games this year: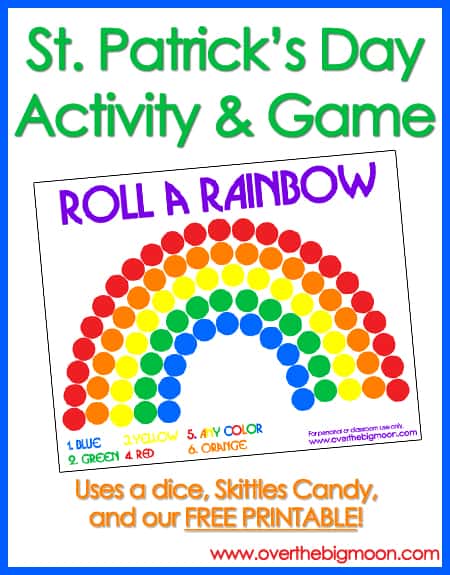 The other day I shared this fun Activity – Roll a Rainbow Dice Game!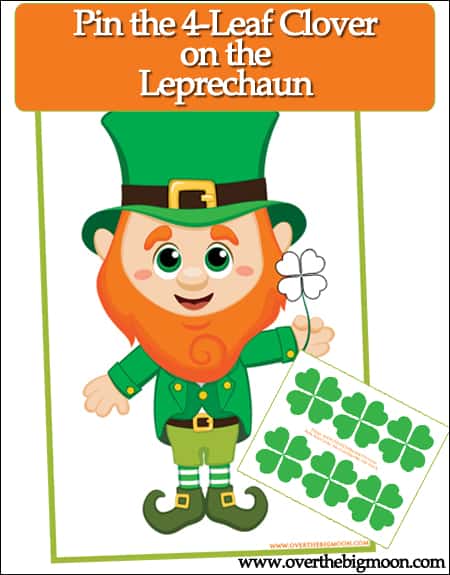 And last week I shared this free printable for Pin the Clover on the Leprechaun!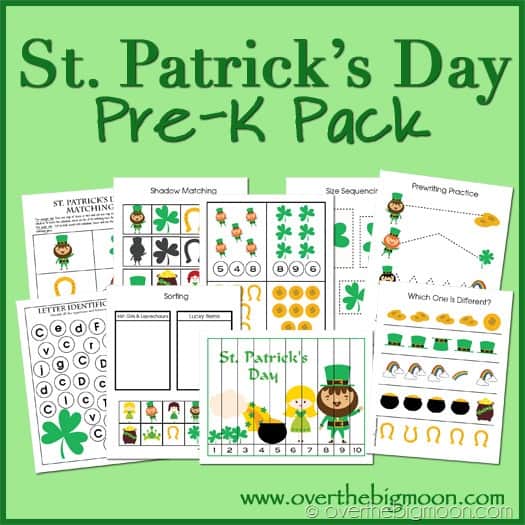 For the younger kids out there, my St. Patrick's Day Pre-K Pack is always a fun!
If your kiddos are more into crafts or art projects then I thought this roundup from Mom and Munchkins was really good!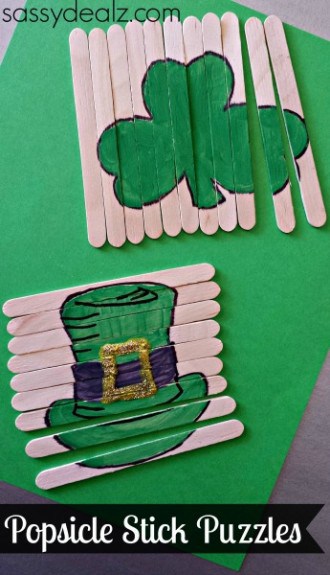 Have a fun and not exhausting St. Patricks Day everybody!!
---
Pam Dana
Pam is a stay at home working mama that enjoys all phases of life! Between her 3 kids, fur baby (a beyond cute Goldendoodle), wonderful husband, friends and working, she stays pretty busy! But, she is loving every aspect of her life! Here on Over the Big Moon, she loves to share DIY's, recipes, printables, organization tips and more!
---