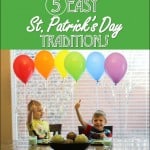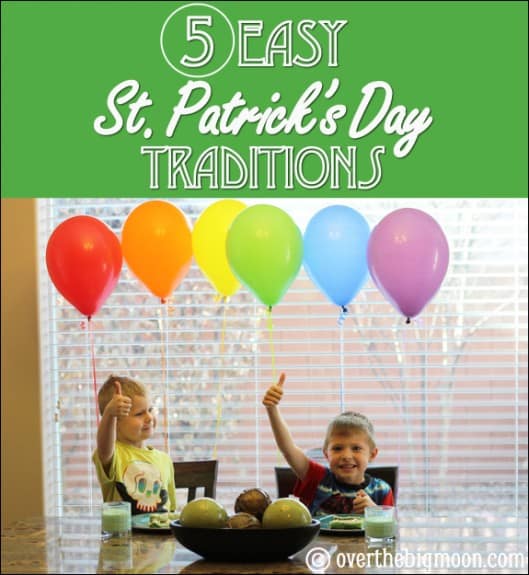 There are so many holidays to celebrate and while I enjoy going ALL OUT on some of them, I LOVE to simplify St. Patrick's Day. I think it is fun recognize holidays and make them memorable for my kiddos, but that doesn't mean I have to lose my mind in the process. I've got a handful of easy St. Patrick's Day Traditions that I like to incorporate into our festivities. Some years I only pick one tradition to do and other years I'll do three or four! It honestly depends on how I am feeling and what I've got going on in life. No matter what I do though, I know that my kids love it and we create fantastic memories!
ST. PATRICK'S DAY DECORATIONS
My kids LOVE balloons! You could cover the ground in their room or the family room with green or rainbow balloons or even just tie a few on the back of their chair in the kitchen. I am planning on creating the balloon rainbow again – it has been a hit year after year! How cute is this picture from the first year I did it, back in 2012!!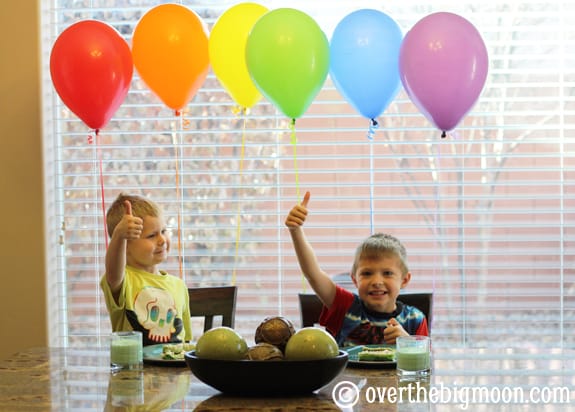 MY LATEST VIDEOS
MY LATEST VIDEOS
ST. PATRICK'S DAY FOOD
How about you make your food green for St. Patrick's Day?  This is an easy way to simply the holiday while still keeping it special. You can do one meal or try all of them. Check out my round up of 20+ St. Patrick's Day Green Food Ideas!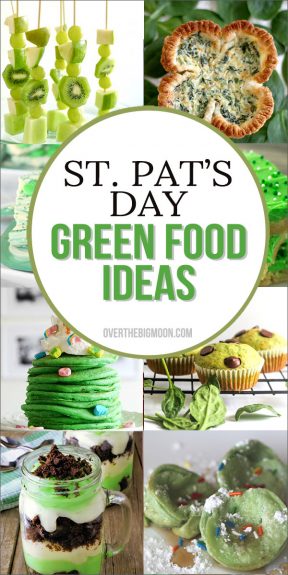 ST. PATRICK'S DAY DESSERTS
And if you want to do one type of meal for St. Patrick's Day, I'd love to recommend my three favorite desserts!  They are all easy and a great way to get the kids involved!
ST. PATRICK'S DAY GAMES
My kids could seriously do games non-stop on holidays! These game ideas are all free printables which means, all you need to do is download and print.  SO easy!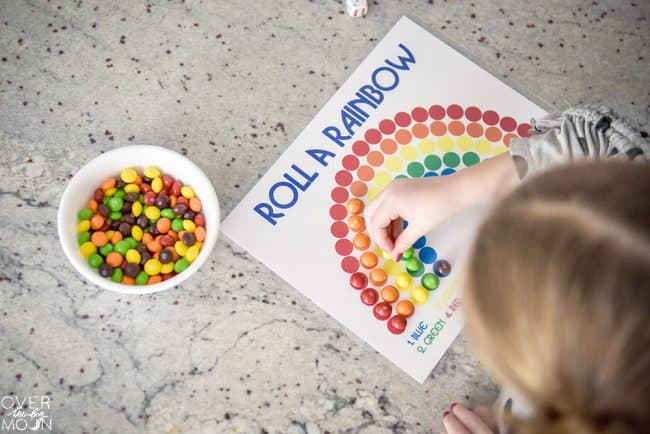 Roll a Rainbow at Over the Big Moon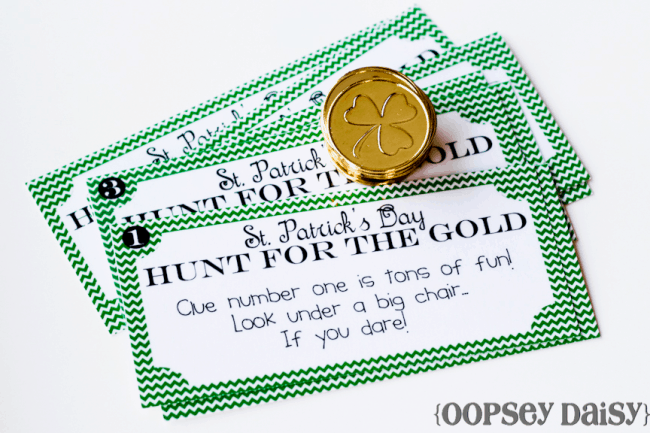 St. Patrick's Day Treasure Hunt for Kids at Oopsey Daisy
ST. PATRICK'S DAY GIFT IDEAS
A simple little gift for you family, friends, or neighbors is a sure way to brighten up the day!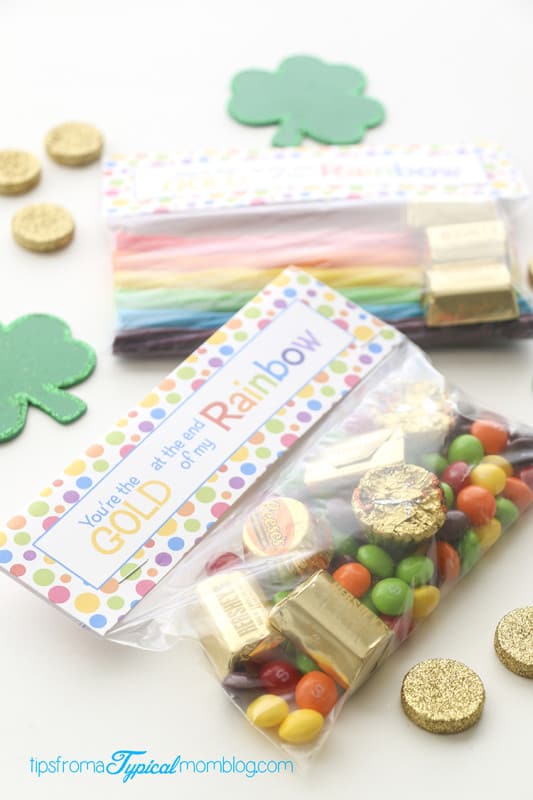 St. Patrick's Day Printable Treat Topper at Over the Big Moon
LEPRECHAUN TRAPS
My kids could craft all day and building a Leprechaun Trap is one of the funnest things for them!  This takes a little more time then some of the other traditions, but it always seems to be talked about year after year.  I love all these fun traps that you can either copy or use for ideas!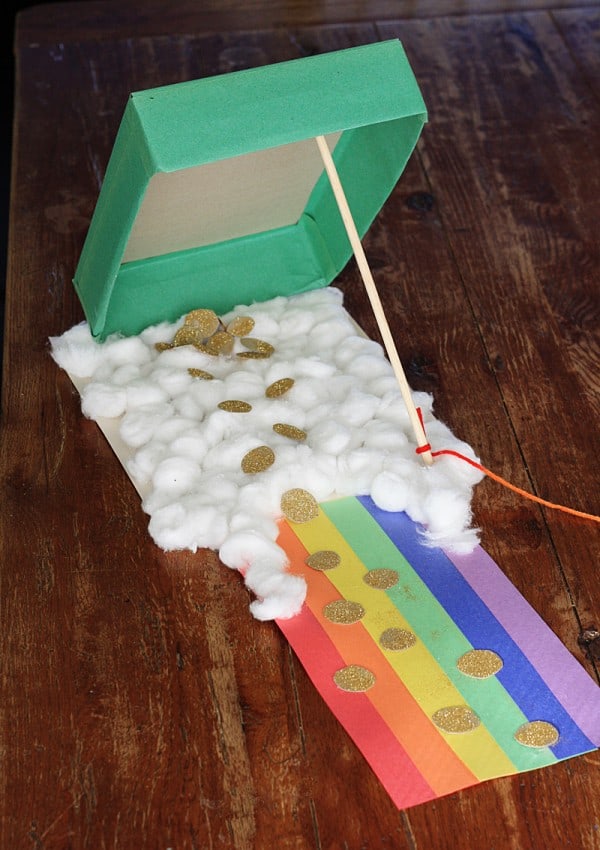 Cereal Box Leprechaun Trap at Crafts by Amanda
LEPRECHAUN MISCHIEF
Before you panic and start telling me this one will take too much work, I promise these are SO simple to do!  Some will literally require ONE step to complete.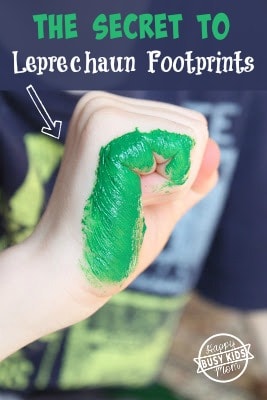 Leprechaun Footprints at Busy Kids Happy Mom
Have a fun and not exhausting St. Patrick's Day everybody!!
---
Pam Dana
Pam is a stay at home working mama that enjoys all phases of life! Between her 3 kids, fur baby (a beyond cute Goldendoodle), wonderful husband, friends and working, she stays pretty busy! But, she is loving every aspect of her life! Here on Over the Big Moon, she loves to share DIY's, recipes, printables, organization tips and more!
---