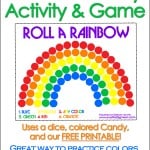 Roll a Rainbow – St. Patrick's Day Activity & Game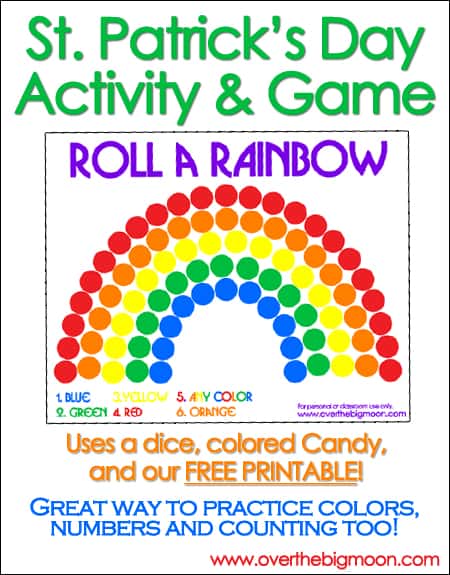 My boys have been obsessed with playing with our jar of dice lately. I'm really not sure why – but I figured with St.Patrick's Day coming up that I would put together a St. Patrick's Day dice rolling game. I've seen variations of this game out there that you color the rainbow, but I decided to use candy for mine! That way after they complete the rainbow, they get a treat! I was thinking that mini colored pom-poms would work good too!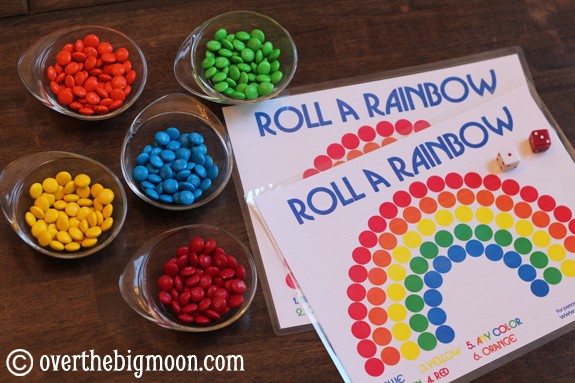 You can use Skittles, M&M's or any small candy really! Just make sure that you have candy in the colors: Red, Orange, Yellow, Green and Blue! I generally use the plain M&M's.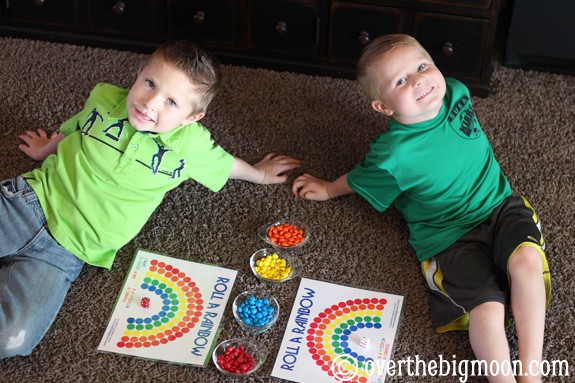 The game is simple really – roll the dice and put a candy on the colored circle that is assigned that number!
1. Blue
2. Green
3. Yellow
4. Red
5. Any Color
6. Orange
The game is designed on a standard 8.5×11″ paper, so it can be printed at home. I went ahead and printed ours on cardstock and then ran it through our laminator. You could also just put it in a page protector if you want too! That way in can be wiped off and stored for future years!
To enjoy -download the PDF below!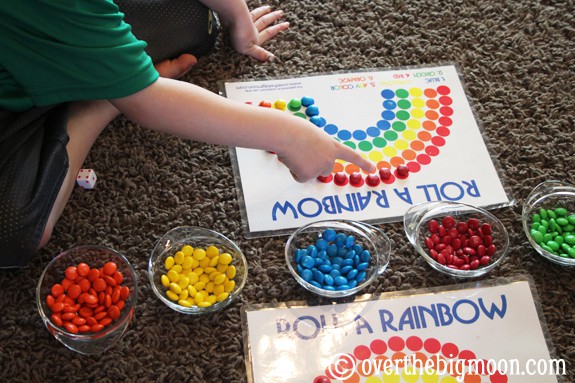 It is also a great way for your littles to practice their colors, numbers and counting!
Enjoy!
---
Pam Dana
Pam is a stay at home working mama that enjoys all phases of life! Between her 3 kids, fur baby (a beyond cute Goldendoodle), wonderful husband, friends and working, she stays pretty busy! But, she is loving every aspect of her life! Here on Over the Big Moon, she loves to share DIY's, recipes, printables, organization tips and more!
---